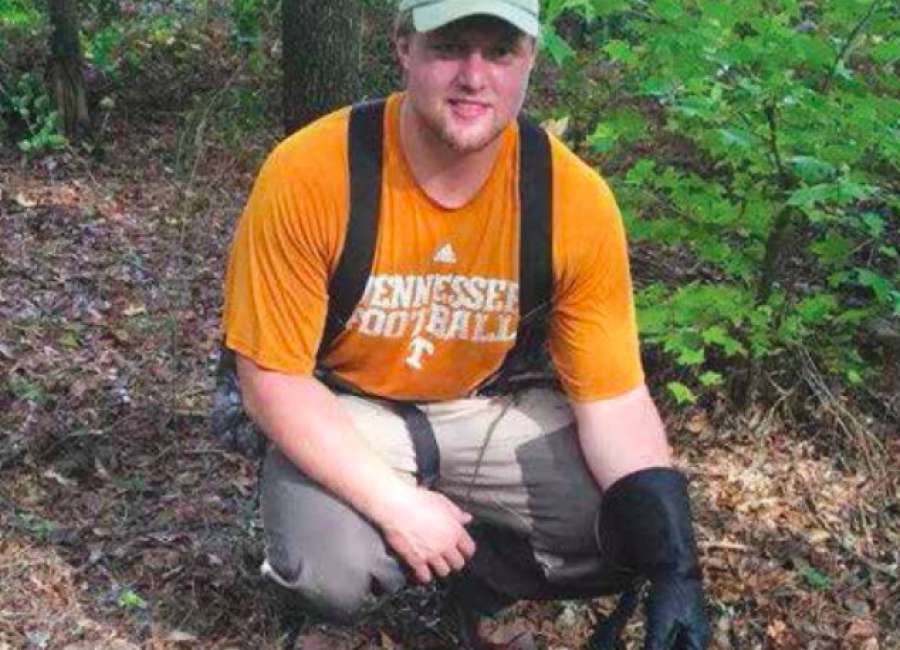 Who says there's nothing good on television?
University of West Georgia junior Christian Shellabarger would beg to differ, as a television documentary led him to become a falconer.
"When I was 14, I saw a documentary on falconry on TV and I started looking it up online," said Shellabarger, who's a biology major at UWG. "It was amazing and I knew I wanted to do it."
The first step in becoming a falconer – which is someone who keeps, trains or hunts with falcons, hawks or other birds of prey – is passing a test from the Georgia Department of Natural Resources.
Unfortunately for Shellabarger, a 2015 Newnan High graduate who played football and wrestled, he failed his first test.
"I was bummed about failing, but I ran into my future sponsor, Dale Arrowood, and he showed me his birds, and he helped me through the falconry process," Shellabarger said. "I was able to pass the test the next time I took it and get my first bird."
Shellabarger's first bird was a juvenile red-tailed hawk. He and Dale trapped it and Shellabarger taught it how to hunt, which is a necessity for juveniles in this species.
"What I learned was that the juvenile red-tailed hawks only have a 20-30 percent survival rate in the wild. Many of them don't know how to hunt, and that will hurt them in the end," said Shellabarger, 20.
He said the process of training a young predatory bird to hunt can take anywhere from one month to a year, depending on the bird. Shellabarger said once you possess the bird, the bonding process starts.
First the bird is fitted with an anklet on its leg, which is attached to a leather strap with a knot on the end called a "jess." The jess can be strapped to a leash on a swivel, which is attached to a thick leather glove. That's called "tethering" down your glove for the bird.
The process begins once the bird is on the glove. Shellabarger said a falconer puts either chicken, mouse or squirrel pieces sprinkled with vitamins on the glove, which are called "tidbits," and the bird eats that as a reward. The bird jumps on the glove for the tidbits, then does short-distance flying to get its reward.
"Once you establish the bond with your bird, then you can take it outside and do long-distance flying for the tidbits," he said.
Long-distance flying is anywhere from 100 feet or farther. But there's a catch: Shellabarger said that once outside, the bird has to be attached to a rope called a "creance" – which is a safety line for the bird.
"You don't want to go outside and lose your bird," he said.
Shellabarger now has two female Harris hawks named Calypso and Iris. Calypso is the older bird, while Iris is still a juvenile. He said working with Harris hawks is great because they're the second-smartest raptors, next to the vulture. They also have great vision and hunt in packs. That is rare for birds of prey, which are usually solitary.
"Harris hawks can see the light on a candle in the dark from 10 miles away," he said.
He said Harris hawks are also streamlined and well-equipped to handle the Georgia terrain, and they're not as aggressive as the red-tailed hawks.
"You can pet my birds like they're dogs. You can't do that with red-tailed hawks," Shellabarger said. "The red-tails will snap at you if you try to touch them."
Harris hawks will snap at any small rodents or squirrels, once they catch them. Shellabarger said Calypso and Iris have caught and killed 10 squirrels already during this falconry season, which began on Sept. 15 and ends March 15. He said the ideal hunting season for his hawks will be when it gets a bit colder and all the leaves fall.
"The birds will be able to see squirrels a lot better once the leaves are gone from the trees," he said.
Shellabarger has to make sure his hawks keep their weight, which is currently 830 and 850 grams, so they will be ready to hunt.
"I weigh my birds about three times a day. Harris hawks burn about 20-30 grams per day," he said. "It's amazing how much they have to eat to keep their hunting weight up."
He said he feeds them chicken legs, mice and the squirrels they catch. He said everything they catch is used for food and he keeps the food in a chest freezer away from the family fridge.
"My mom gets mad at me for bringing home so many rodents and such," he said. "I just tell her that I have to feed my birds."
He said he feeds them a lot in the summer months, when they molt and grow their new feathers before falconry season starts up again.
"I've got to keep them fat so they can be ready in the fall," he said.
Shellabarger said it was a bit rough to hunt with his birds when he was in high school, as he had to juggle schoolwork, sports and falconry. He's got more time to hunt with his birds now, flying them at least three or four times a week.
"I was a weekend warrior when I was in high school, although sometimes I flew my birds in the mornings back then," he said. "I've had a lot more time since I've been in college."
Shellabarger is part of the Georgia Falconry Association and said there's another falconry organization called the Georgia Game Hawkers Club. He's willing to help anyone interested in becoming a falconer and can be reached at cashellabarger@gmail.com.