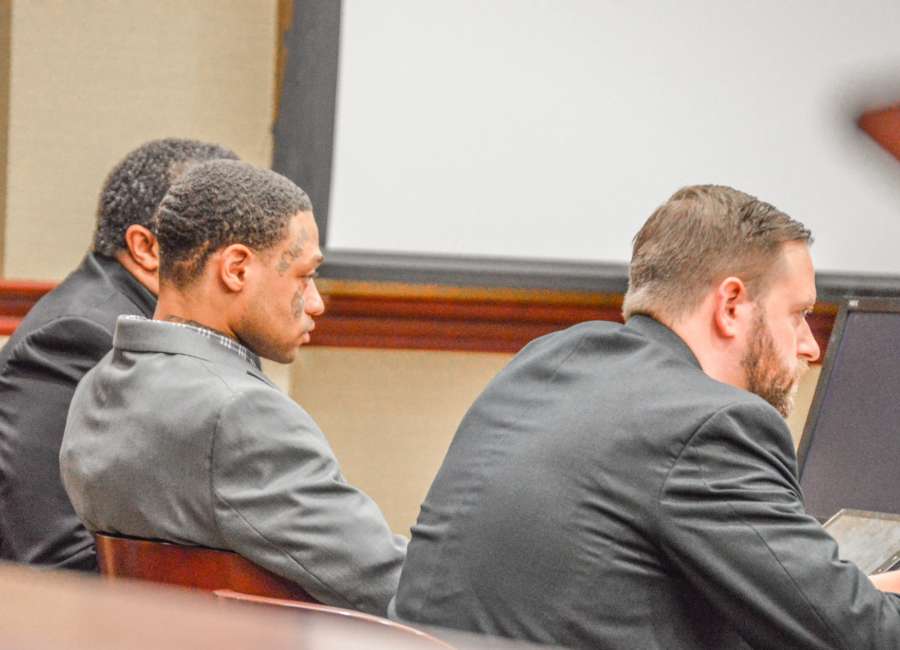 It took a Coweta County jury less than four hours on Thursday to find Willie Louis Turner II guilty of murder.

The 12 jurors found Turner guilty on all three counts against him: malice murder, felony murder and possession of a firearm by a convicted felon.
Turner hung his head as the verdict was read aloud in the courtroom.
The 23-year-old man was accused of shooting and killing Travalas Vonchez "Vallas" Acres, 40, while they were sitting in a car near the Target parking lot in the early morning hours of Feb. 19, 2016.
Acres' family cried tears of joy and whispered, "Thank you Jesus," after the verdict was announced by presiding Superior Court Judge Emory Palmer.
Lashanda Acres, Travalas Acres' wife, gave a victim impact statement before Turner was sentenced.
She wept as she told the court that Travalas died two days after their fifth wedding anniversary. The couple was going to celebrate the weekend the he died.
" … Instead, I found myself the widow of my deceased husband and planning a funeral," Mrs. Acres said through tears.
Travalas, a native of Lannett, Alabama, graduated high school and served in the Navy, she stated. He also had two daughters; a 19-year-old and a 4-year-old.
"There are no adequate words to describe our pain," Mrs. Acres said. "His murder took away my security, my rest and my peace. It has caused countless nights of my 4-year-old daughter screaming, 'I want my daddy,' over and over again.
"The memories of him are sweet, but they also come with the realization he is gone and never coming back," she stated. "We will never get a chance to hear his distinctive laugh, hear him say, 'I love you,' hear him tell stories about 'back in the day' ... (or) eat his well-prepared meals. He and I will never get to finish our challenge at home about who made the best biscuits. He won't be there at graduations, birthday celebrations or to walk his daughters down the aisle on their wedding day."
Travalas' sister also gave a victim impact statement. She did not mince her words and looked directly at Turner the entire time.
"I have waited one year, eight months and seven days to speak to you all," the woman said from the stand. "Willie Turner is a coward and a punk. I hate him for the pain he has caused my family … Knowing you will spend the rest of your life locked up gives me peace and makes me smile a little bit. I will spend the rest of the my life knowing that Willie Turner will never walk the streets again."
Turner became agitated after the reading of the verdict and the victim impact statements. He continually tried to talk to his friends and family sitting in the gallery behind him.
Coweta County Sheriff's deputies repeatedly surrounded Turner and told him to quiet down.
That didn't sit well with Turner as he stood for sentencing.
"I didn't kill that man," Turner shouted out in court as he turned to face Acres' family and friends.
He then menaced toward Newnan Police Sgt. David Schrepfer, who sat less than 10 feet away.
Schrepfer stared down Turner from his chair.
Coweta County Assistant District Attorney Kevin McMurry told the court Turner had prior convictions of statutory rape and failure to register as a sex offender.
Those convictions meant Turner was a recidivist.
Judge Palmer sentenced him to life in prison without possibility of parole, plus five years. Palmer also revoked the balance of the probation that Turner was serving on prior charges.
"I'll be back," Turner told Judge Palmer before he was led away in handcuffs.
"Mr. Turner maintains that he is not responsible for the tragic death of Travalas Acres and will appeal his conviction," Turner's defense attorney Charlie Cauble said.
"I'm so grateful for the opportunity to have a fair trial and for a verdict that provides justice for the victim's family and protects our community," McMurry said after sentencing.
"Thank you Jesus… hallelujah," Acres' family shouted outside the courtroom.
Lashanda Acres said she hopes the community will not remember Turner, but commemorate her husband, who is still deeply missed.
"He was our grill master … he loved the food industry," she said. "He was a man of faith who loved the Lord and would help anyone he could."
***
Melanie Ruberti
Email: melanie@newnan.com
Facebook: @MelanieNTH
Twitter: @MelanieNTH