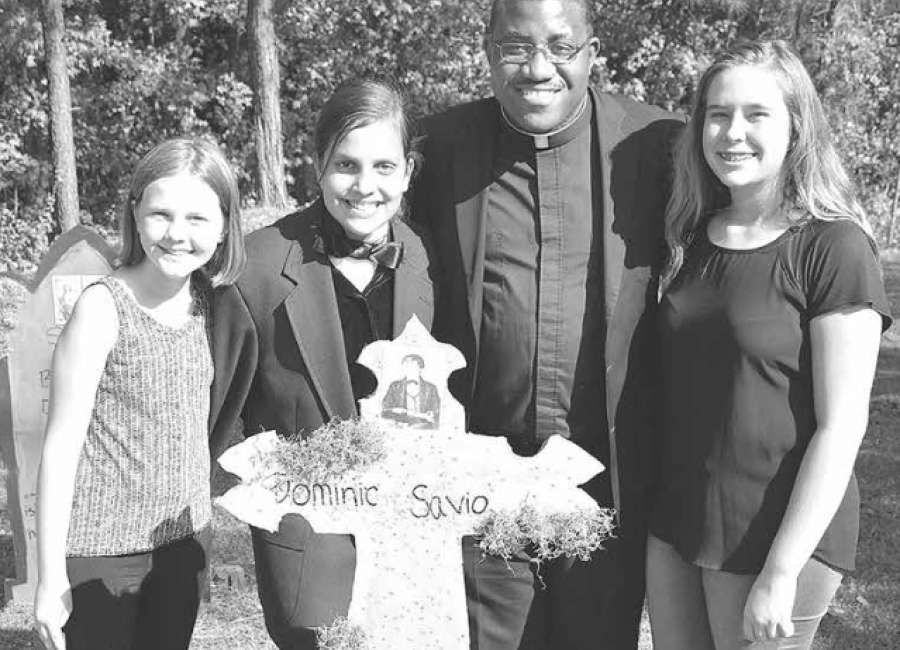 Autumn is here, and area churches are planning for events including fall festivals and trunk-or-treat.
Schools, community organizations and other groups are also planning events that have a fall or Halloween theme. Some events are are held on Halloween and offer an alternative to trick-or-treat, while others will be held earlier in October or sometime in November.
Peachtree City Church of Christ held a fall festival along with a GiveAway Day on Sept. 30. This marked the second year for the church to hold a GiveAway Day.
A wide range of items were offered at no cost to attendees. The festival included face painting, popcorn, a bounce house and an obstacle course.
Representatives with CVS were on site to administer flu shots. The church's Becoming Women's ministry hosted the event.
Glanton Elementary School's Parent-Teacher Organization held a Fall Festival on Oct. 6. The event in Grantville included a hayride and hotdogs.
Among the events on the calendar are:
• Fall Festival, Tabernacle of Prayer, 73 Sprayberry Road, Saturday, 3-6 p.m. Games, prizes, crafts and food are planned.
• Fall Festival, Poplar Road Elementary School, 2925 Poplar Road, Sharpsburg, Saturday, 5:30-8 p.m. Games, inflatable, face painting, a cakewalk and hayrides are planned.
A basket auction is also planned.
• Nature Trail Festival, McGuffey Nature Center, Coweta County Fairgrounds, 275 Pine Road, Sunday, 2- 4 p.m. This event, sponsored by the Coweta County Extension Service, will have outdoor learning activities and is open to elementary children and their families. There will be free food and prizes, and Smokey Bear plans to visit.
• Trunk-or-Treat, Resurrection Lutheran Church, Lora Smith Road, Oct. 21, 2-4 p.m.
Members will decorate trunks or hatchbacks in various themes, dress up and pass out candy. Teens will be in charge of games, crafts and the snack table.
Games, crafts and a hayride are planned.
• Fall Festival, New Hope Baptist Church, 3989 Corinth Road, Oct. 21, 5-8 p.m.
There will be "lots of fun stuff to do and a hayride," said church member Dianne Wood. Lorrie Allen, the church treasurer, said there will be games, door prizes and food, including popcorn.
• Fall Festival/Potato-Chili Dinner, parish hall, First United Methodist Church, Newnan, Oct. 25, 4:45-6:15 p.m.
• Fall Festival/Trunk-or-Treat, Unity Elementary School, Luthersville, Oct. 26, 5:30-7:30 p.m.
• Fall Festival, Sunnyside Baptist Church, 255 Greenville St., Oct. 27, 6:30 p.m. "Finger foods will be served," said church member Linda Pike. "Also, we will have our famous hayride, cakewalk, Bingo and all kinds of indoor games for the kids – with some new ones added."
• Fall Festival, Monkey Joe's courtyard, Ashley Park, Oct. 28, 11 a.m.- 2 p.m. There will be a pumpkin patch, face painting, a balloon artist, Halloween portraits, and trick-or-treating.
• Fall Festival, New Lebanon Baptist Church, Oct. 28, 3-6 p.m. A hayride, a pumpkin patch, inflatables, games, pony rides and a petting zoo. There also will be a cake and craft auction, according to Brittney Bunn.
• Fall Festival/Trunk-or-Treat, Powell Chapel United Methodist Church, 586 Old Atlanta Hwy, Oct. 28, 3:30 p.m. Tomeka Geter said there will be a bounce house and corn hole and other games, as well as free food and drinks.
Powell Chapel's event is sponsored by the church's youth and children's ministry.
• Trunk-or-Treat, Allen-Lee Memorial United Methodist Church, Lone Oak, Oct. 28, 4-6 p.m.
A hotdog supper will be held, along with decorated trunks with lots of treats.
• Trunk-or-Treat, Sharpsburg Baptist Church, 6413 Hwy. 54, Sharpsburg, Oct. 28, 5-7 p.m.
Janice Bearden, the event coordinator, said there will be candy, games, a hayride and a bounce house. Hotdogs will be served.
• Community Hallelujah Festival, First Avenue Park, Oct. 29, noon- 8 p.m. Sponsored by Purified Living Ministries Church.
• Trunk-or-Treat, Providence Baptist Church, Providence Church, Road, Oct. 29, 4- 6 p.m. Organizers are expecting close to 500 people will attend.
• Fall Festival, Woolsey Baptist Church, 115 Hampton Road, Fayetteville, Oct. 29, 4-7 p.m.
Woolsey is planning "a free, fun-filled and family-oriented Fall Festival," said member Patti Phillips. Activities will include trunk-or-treat, games for preschoolers, live music, a hay ride, a hay maze, pony rides, a cake walk and inflatables.
"For the first time, there will be an antique car show," Phillips said. "The public is invited to come and enjoy a hotdog dinner, popcorn, hot chocolate and TCBY yogurt, while supplies last."
• Fall Festival, East Newnan Baptist Church, Oct. 29, 5-7 p.m.
Church member June Harris said "an evening of fun" is planned. There will be Trunk-or-Treat, as well as a chili cookoff, a cakewalk and other games and prizes.
• Trunk-or-Treat, Cornerstone United Methodist Church, Oct. 29, 5-7 p.m. Church member Mike Ferrante said there will be "an exciting Trunk-or-Treat option in our church parking area (with) many decorated trunks and candy galore."
• Munchkin Masquerade, downtown Newnan, Oct. 31, 10 a.m.- noon. This daytime trick-or-treating event for young children is sponsored by Main Street Newnan. Children in costume collect treats at downtown businesses.
• Do-It-Yourself Costume Carnival, Grantville Library, Oct. 31, 4 p.m.
•Fall Fest 2017, SonRise Baptist Church, 6 Shenandoah Boulevard,  Oct. 31, 5-8 p.m.
"Fall Fest provides a safe, family fun festival featuring inflatables, carnival games, a food court and hayrides," said Amy Autry, director of the church's Our Town Children's Ministries.
"Older kids will explore Harvest Lane, which is full of games, face painting and lots of candy," Autry said. "Preschoolers will enjoy playing in the Pumpkin Patch, where they will find games and activities designed just for them."
Children of all ages "can jump, slide, and climb their way through the Kiddie Corral, which will be full of fun inflatables," Autry said.
At the Orchard Café, families can enjoy complimentary hotdogs, cookies, chips and other treats.
• Trunk-or-Treat, First Baptist Church, West Washington/College streets, Oct. 31, 5:30-7:30 p.m.
"We will have a free hotdog supper and a parking lot full of trunks ready to give out candy to the community as they enjoy a fun night in Newnan," said Susan Hester, children's director at the church.
"Last year we gave out over 1,500 hotdogs during the two-hour event," Hester said. This year's theme at First Baptist is "Be a Spark in the Dark!"
The goal of the event is to "share the love of Jesus with our community and become a light to those who are hurting and lost," Hester said.
• Fall Festival, Grace Community Fellowship, 75 Roscoe Road, Oct. 31, 5-8 p.m. Rose Gilley said there will be free hotdogs and popcorn and lots of games. Chick-fil-A coupons will go to the first 100 attendees.
• Feast of the Tabernacle Celebration, Friendship Baptist Church, 194 Poplar Road, Oct. 31, 6-8 p.m. There will be booths with fun and prizes, as well as food and Bible stories.
• Fall Festival, indoors, Macedonia Baptist Church, 1504 Macedonia Road, Oct. 31, 6-8 p.m.
"The community is welcome to enjoy lots of games, bouncers, a cakewalk, door prizes and much more," Peggy Holloway said. "Food will be available."
Complimentary meals will be offered to children age 11 and younger.
• Fall Festival, Rehoboth Baptist Church, 155 N. Main St., Luthersville, Oct. 31, 6-8 p.m. Food will include hotdogs, chili and popcorn.
There also will be a hayride, face painting, glow-in-the-dark games and inflatables. In addition, there will be a cakewalk, a pie-eating contest and a photo booth.
• Fall Festival, St. Paul's Episcopal Church, Roscoe Road, Nov. 4, 4-7 p.m.
This is the church's first Fall Festival. There will be games, food and beverages, music, bounce houses, prizes and pumpkins.
• Fall Festival, Sargent Baptist Church, Nov. 4, 8-2 p.m. "Sargent Baptist Church is planning a bigger and better Fall Festival this year. Our primary goal is an outreach to our community," said Buster Meadows, chairman of the festival committee.
"We plan to have lots of games and prizes for the kids," he added. Inflatables will be on-site.
"There will be a variety of crafts available for purchase, yard sale items, homemade ice
cream, baked items, including fried pies and, of course, our barbecue plates," Meadows said.
Home-cooked barbecue and stew along with sides will be available for $8 per plate. Orders can be delivered if five or more plates are purchased at one location.
In addition, this year the church is planning a chili cook-off with servings of chili free to festival attendees.