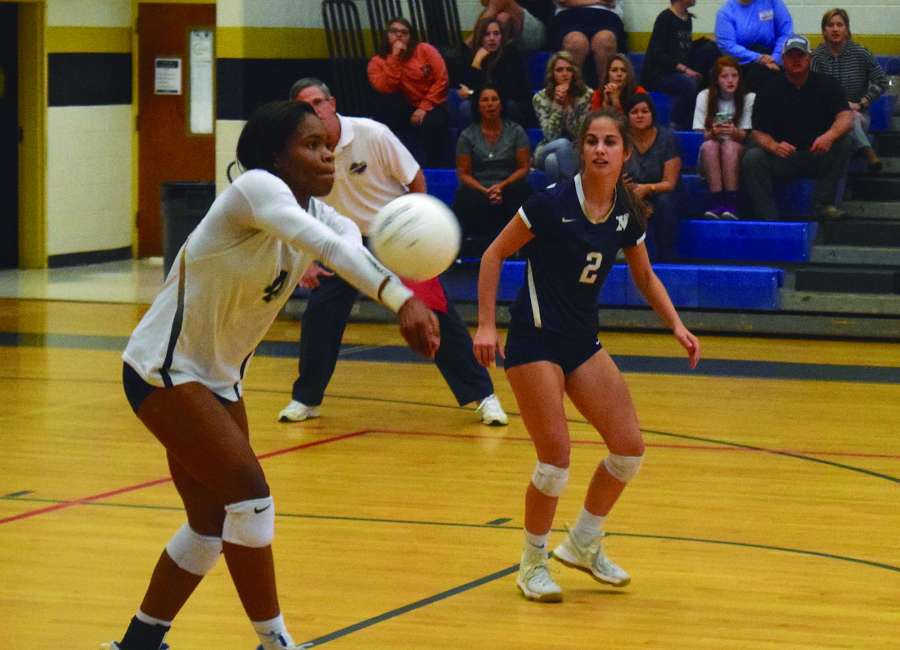 The Newnan High Lady Cougars volleyball team is making a return trip to the Elite Eight.
Newnan dispatched of the Kennesaw Mountain Lady Mustangs in three straight games Tuesday at Max Bass Gym to advance to Saturday's Class AAAAAAA state quarterfinals, while also giving head coach Krista Wilson her 100th career coaching victory.
"It's great to get back to the Elite Eight. Last year, we got here, and we were excited just to be here. This year, I expected us to get to this point," Wilson said. "My girls have worked so hard, and they are on a mission to keep winning. They just won't give up."
The Lady Cougars (36-5) had to push themselves against Kennesaw Mountain, especially in Game 1. Newnan ran off to a 3-0 start, but the Lady Mustangs charged right back and took a 9-7 lead due in part to Newnan mistakes. Kill shots from Crystal Burk and Taitum Boston kept Newnan close, but KM jumped out a 17-12 lead, forcing a timeout from Wilson.
The timeout seemed to spark the Lady Cougars. Sisters Madison and Mary Beth Headley got kills. Seconds later, Bella Boston and Anna Marie Campbell got a block for point to help Newnan get within one, 17-16. Both teams kept scoring, but Newnan took the lead for good at 21-19 on a block from Campbell and Taitum Boston. KM made several mistakes and that allowed Newnan to finish the game on a 4-1 run and win 25-20.
The Lady Mustangs were determined to win Game 2. KM jumped out to a quick 4-2 lead but Taitum Boston, the team's primary setter, made a nice assist to Madison Headley for a kill to cut the lead to 4-3. Later, two kills from Burk put Newnan up 17-15, but pesky KM kept clawing back. A serving ace from Newnan libero Hallie Goolsby put the Lady Cougars up 20-17, but KM soon tied the game at 21-all. Newnan buckled down and again had a 4-1 run to win the second game, 25-22.
Game 3 was no contest. Newnan jumped out to an 8-3 lead, and a kill from Madison Headley seconds later put the Lady Cougars up 12-4. KM just couldn't solve Newnan's defense, and soon the home team led 20-9 before eventually winning Game 3 and the match, 25-9.
"It feels great to make it back to the Elite Eight; we're hoping to make it further this year," said Taitum Boston. "My main goal when I am on the court is to get the perfect set for my teammates so they can get kills. I think we did a great job tonight."
Campbell said she was happy to get the win over a stronger than expected Lady Mustangs squad.
"They were really good, but we made mistakes early. Once we stopped that, we started to score on them," Campbell said. "I think we're a lot smarter as a team and we've worked really hard. I think we have a great shot to advance."
All eight teams remaining will be reshuffled this week before Elite Eight play begins Saturday. The top four seeds will play their Elite Eight match at home Saturday while the bottom four seeds will hit the road.