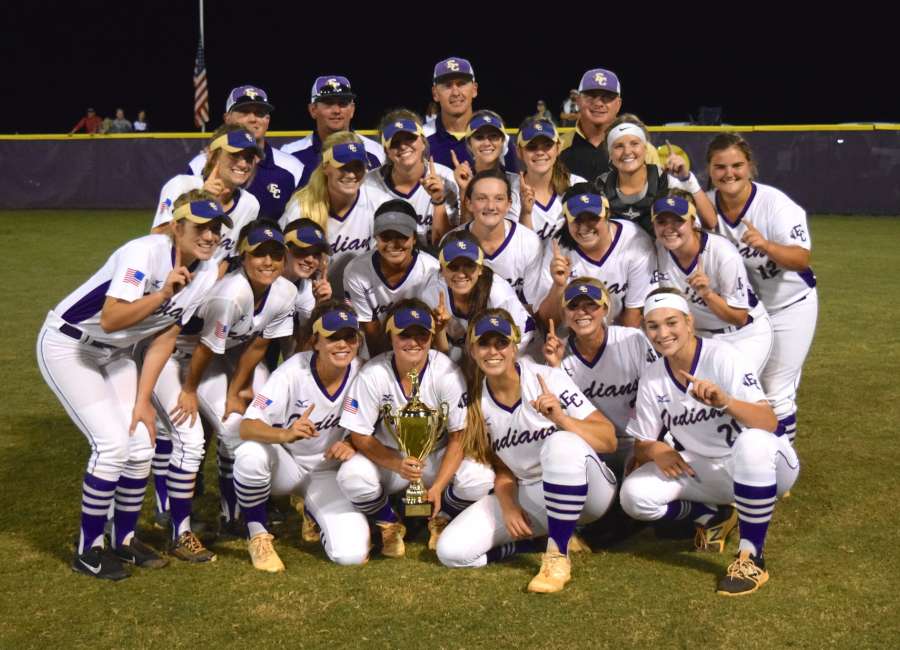 East Coweta junior Kelley Lynch had herself a good 17th birthday Thursday evening.

She pitched a complete-game one-hitter with 15 strikeouts and also hit a home run to lead the Lady Indians softball team to a 3-0 victory over the Newnan Lady Cougars in the finals of the 2017 Region 2-AAAAAAA Tournament at East Coweta High.
The Lady Indians (28-0) won their eighth straight region championship and 12th region title overall in team history. Newnan (22-4) got to the region title game by defeating Campbell High 14-1 in the earlier game.
Region champ EC will be the No. 1 seed for the state playoffs, Newnan is No. 2, Campbell is No. 3 and Westlake will be No. 4. Both EC and Newnan will be at home for the first round of state.
"It always a huge honor to pitch in a region championship game and it's great to win region, especially on my birthday," said Lynch. "But the region title is a stepping stone to get to our bigger goal, which is to hopefully win the state championship. Everyone on this team wants to win every game."
Lynch hit her sixth home run of the season to straightaway center field in the first inning for the quick 1-0 lead. In the bottom of the second, EC's Rachel Vaughan singled and Ansley Gunter followed with a two-run blast of her own (her sixth homer as well) for the 3-0 lead.
That was all the scoring in the game, as the Lady Cougars (22-4) battled EC all evening long. Newnan senior pitcher Addie Andrews settled down after the first two innings, allowing only three EC hits over the next five innings.
"My teammates put up the strongest effort tonight, but we couldn't pull it out. This is definitely the best team I've played on here at Newnan High," Andrews said. "We have great team spirit, and I love playing with these girls and winning region runner-up with them."
Unfortunately for the second-place Lady Cougars, Lynch was on a roll on the mound. At one point from the first through the fifth innings, Lynch struck out 11 of 12 batters. Only junior outfielder Hailey Bloom managed to get a hit off Lynch, and that was in the first inning.
The Lady Cougars did show some fight in the top of the seventh inning. Bloom walked and Ansley Houston reached on an error to get the tying run at the plate with no outs. But Lynch got a strikeout and a pop up for two quick outs, and Bloom was thrown out at the plate to end the game.
"I have to give credit to Newnan; they played very well and they have a team that can make a run in state," said EC head coach Franklin DeLoach. "But I'm very proud of my team. Kelley pitched a great game and we had some intense moments, especially in the seventh inning, but they worked through them and kept their heads."