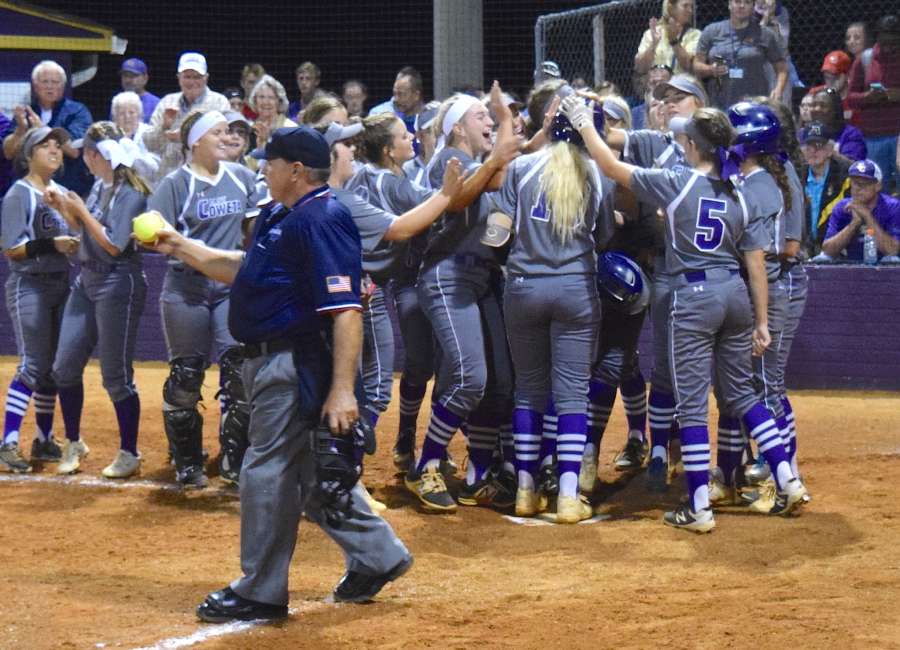 The East Coweta Lady Indians softball team moved one step closer to an eighth straight region championship, defeating the Newnan Lady Cougars 6-0 Wednesday evening in the semifinals of the Region 2-AAAAAAA Softball Tournament at East Coweta High.
The No. 1-seed Lady Indians (27-0) advance to today's region championship game at 6:30 p.m. at ECHS. Newnan (21-3) will play Campbell High from the loser's bracket at 4:30 p.m. today. 
If the Lady Cougars win, they will face EC again for the region title.
"You saw two good Coweta County teams battling it out today. Great softball was played on both sides of the ball," said EC head coach Franklin DeLoach.
Defense was the name of the game during the first three innings, as neither team could dent the scoreboard. EC starting pitcher Rachel Vaughan was locked in on the mound, getting six strikeouts in those three innings while Newnan starter Ansley Houston was just as effective. 
She didn't strike anyone out, but she induced several ground ball outs, including three straight outs in the second inning.
When EC did hit the ball to the outfield early, Newnan's defense rose to the occasion. EC infielder Ashlynn Gunter sent a base hit to left field, and it was recovered by Newnan's Hailey Bloom, who threw a strike to catcher Reagen London at home plate and tagged out Lilly Agan to end the threat.
EC finally hit paydirt in the bottom of the fourth inning. Ansley Gunter reached first base on a fielder's choice, and her pinch-runner Kenadie Cooper advanced to second on a ground out. Two batters and two outs later, Carmen Prior ripped a single to center that scored Cooper for the 1-0 EC lead.
"I was just trying to start a two-out rally and move the runners over," said Prior, a junior. "I wanted to go opposite field with my hit, and I was able to drive a run in. That jumpstarted our offense."
It surely did. 
In the bottom of the fifth, EC's Kelley Lynch smacked a home run to deep center field and Vaughan helped her cause with a sacrifice fly for the 3-0 Lady Indians' lead.
Lynch's sixth-inning double scored Olivia Davis, and EC scored off two Newnan errors for the final 6-0 margin. Lynch went 3 for 4 at the plate with two runs scored and two RBIs, while Vaughan pitched a complete-game two-hitter, with 11 strikeouts and one RBI.
"Both teams came ready to play today. We didn't panic when the game was scoreless after three innings," said Vaughan, a senior. "We just kept playing our game and just tried to get hard hits. Once we started hitting, the runs came for us."
Bloom – who also made a nice diving catch in the fourth inning – and Darby Keene got the only hits for Newnan off Vaughan on Wednesday.