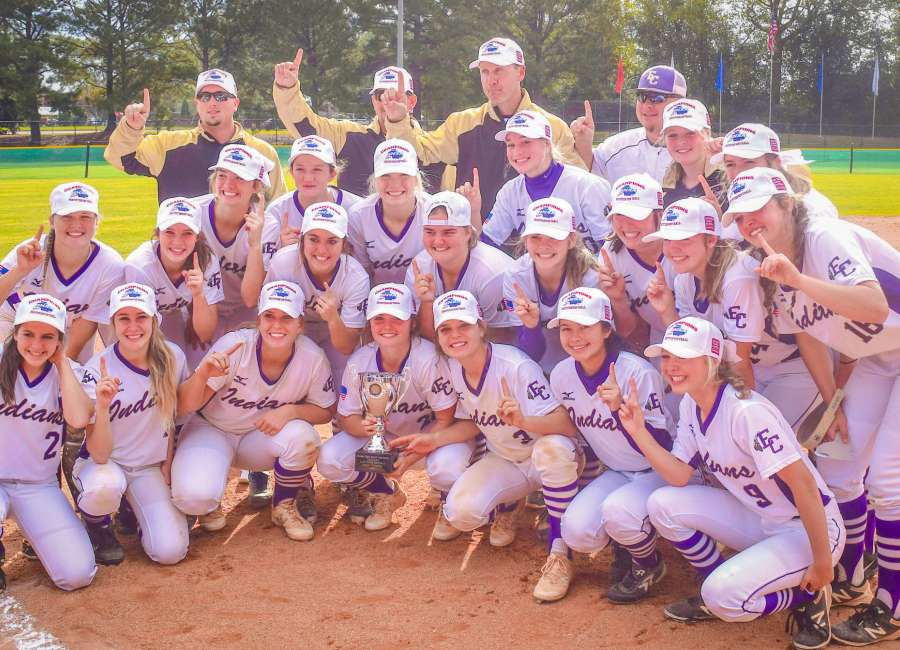 COLUMBUS — The East Coweta Lady Indians softball team completed the perfect season Saturday, beating the Etowah Lady Eagles 10-0 in five innings in the finals of the Class AAAAAAA State Softball Playoffs at the South Commons Complex Stadium.
The Lady Indians won the 2017 state softball title in grand fashion, ending their unprecedented run to the championship in the state's highest classification without a single blemish at 36-0.
Their team motto all year long was "Beat Everybody" and they did just that. The Lady Indians finally conquered Columbus after years of heartbreak for EC and head coach Franklin DeLoach.
How sweet it is!
"We never cracked under pressure this year. It is so crazy that we won the first softball title in school history and I'm so happy for my teammates," said EC senior pitcher Rachel Vaughan. "Everyone stepped up and took care of business and now we are champions."
Vaughan herself had a great day on the mound, keeping the Lady Eagles off balance all morning. Her two-run home run in the second inning gave the Lady Indians the 4-0 lead and that jump-started the EC offense.
The game was blown open in the top of the third inning, as EC scored five runs— including a two-run homer to left center from sophomore Caison Byars— to increase its lead to 9-0.
"When Caison hit her homer, that's when it started to hit me that we had a chance to win this game," said senior Olivia Davis. "We were getting one pitch and one out closer to getting what we've worked so hard for and that was a championship."
"This is amazing. To go out on top during my senior year with Rachel and Olivia by my side is very special," said senior Ashlynn Gunter. "I wouldn't have it any other way. This feels so good."
Gunter's sister Ansley, a sophomore, closed the scoring for EC in the fourth inning. Vaughan started the inning with a double and she was replaced on the base by pinch-runner Kenadie Cooper. Ansley Gunter then ripped an RBI single, which scored Cooper for the final 10-0 margin.
The EC defense shut Etowah down in the fourth and fifth innings and when Ashlynn Gunter threw out the final runner in the fifth, the game was called due to the mercy rule. The happy Lady Indians hugged each other and their coaches and shed tears of joy before accepting their state championship trophy.
"This feels really good to go 36-0 and win the state title after being disappointed last year. Everyone stepped up in the playoffs," said junior pitcher/shortstop Kelley Lynch. "Everyone played their role —
Caroline had a huge double and Caison hit a homer today. Rachel and I did well on the mound against Etowah yesterday and today, keeping them guessing."
"Winning this title is a sense of relief. We played our brand of softball all season long and our hard work paid off," said junior Carmen Prior. "We came out ready to play today and we finished with a perfect season. I'm so proud of my teammates for coming here and being the first team in Class AAAAAA to finished undefeated."
Third-inning heroine Caison Byars said she wasn't over-thinking anything when she blasted her homer.
"Coach DeLoach told me to smooth everything out at the plate," Byars said. "When I hit the ball, I ran hard and when I looked up, it was going over the fence."
DeLoach said the road to the 2017 championship actually started one year ago.
"We had a program meeting with the parents in the EC theater room right immediately after we lost last season. We all challenged ourselves to buy in for the 2017 season," he said. "We replaced the talk about getting back to Columbus with the talk of just playing one game at a time. I'm happy for the girls, I'm humbled and I'm very happy for the entire Indian nation. This win was for everyone in the EC family, including former coaches, players, parents and school administrators."