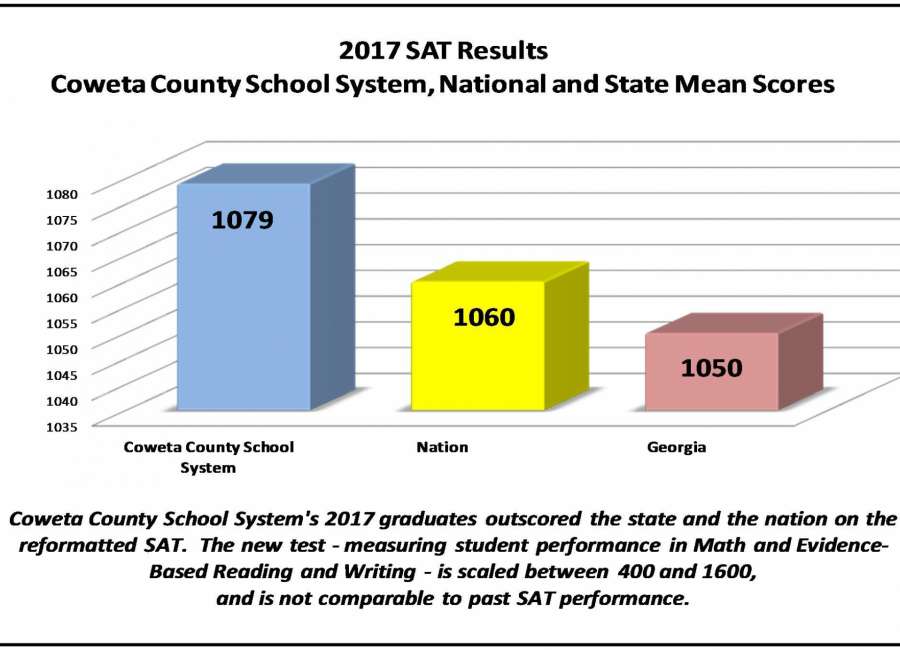 Courtesy of Coweta County Schools
Special to The Newnan Times-Herald
The average score on the SAT was 1079 for 2017 graduates in the Coweta County School System, placing the system 19 points above the national average and 29 points above the state average on the college entrance exam.
This was the first year of reporting for the newly reformatted SAT.
Reporting shows test results for 2017 graduates on the SAT's new math and evidence-based reading and writing tests sections and is scaled between 400 and 1600 points.
While the new format precludes direct comparisons to last year's results, 2017 was the third year in a row that the Coweta County School System scored higher than the state and national averages.
All three Coweta high schools also outscored state and national averages on the exam.
"Opportunities to evaluate the level of rigor in our curriculum against the state and nation are often difficult to obtain," Coweta Superintendent of Schools Steve Barker said. "The SAT is one such measure that allows this type of comparison.
"These positive results reflect a rigorous advanced curriculum, strong instructional delivery from our teachers, and dedicated work by our students," Barker added. "Our community should be proud of their efforts."
Coweta County's average score was 552 on reading/writing and 528 on math, while national scores averaged 533 on reading/writing and 527 on math. Georgia averages were 535 on reading/writing and 515 on math.
East Coweta High School students scored an average of 546 on reading/writing and 523 on math for a combined 1070; Newnan High School students scored an average of 547 on reading/writing and 521 on math for a combined 1068; and Northgate High School students scored an average of 562 on reading/writing and 540 on math for a combined 1102.
The mean scores are for students in the graduating class of 2017 who took the new SAT during high school. Within each assessment, test-takers are counted only once and only their latest scores are included.
School systems or schools with 15 or fewer test-takers were not reported by the Georgia Department of Education.
Compared to statewide results, the Coweta County School System placed 19th in average SAT scores out of 170 Georgia school districts reported in 2017. That places the school system in the top 12 percent of districts statewide.
Individually, East Coweta, Newnan and Northgate High Schools also ranked well.
East Coweta High ranked 95th (top 25 percent of Georgia high schools), Newnan High ranked 98th (top 26 percent) and Northgate High ranked 56th (top 15 percent) out of 386 Georgia high schools reported this year.
Georgia students overall outperformed the nation on the evidence-based reading and writing section of the SAT. This year's results show that a higher percentage of Georgia high school students met the College Board's College and Career Readiness Benchmark for that subject area.
Significantly more Georgia students take the SAT than the nationwide percentage – with 61 percent of Georgia graduates in the class of 2017 taking the SAT during high school, compared to 47 percent of graduates nationally.
The 2017 SAT results set a new baseline for future year-to-year comparisons and cannot be compared to previous results. Results from earlier reports were based on the old SAT, which was based on a different score scale and different benchmarks.