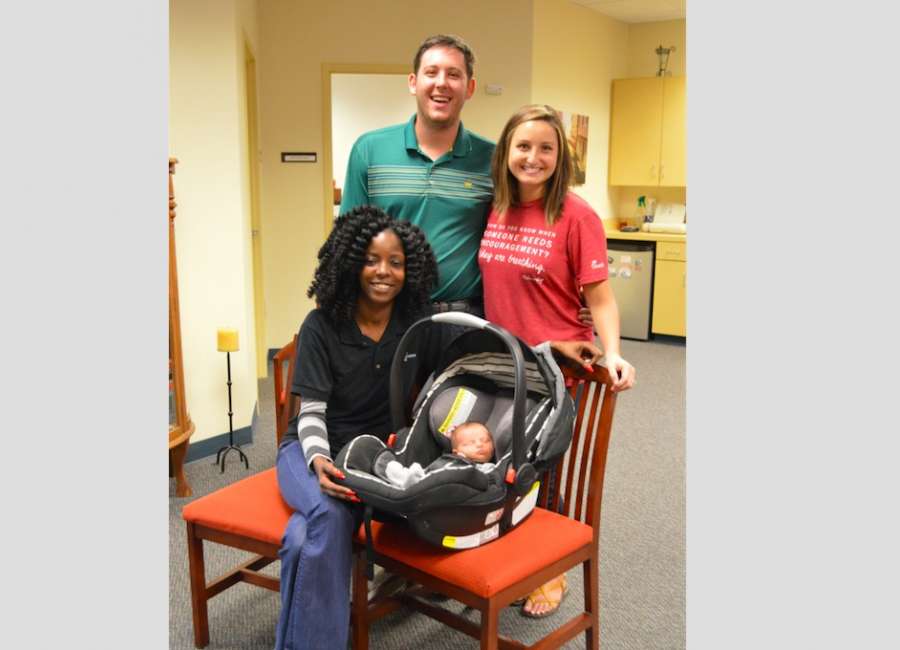 When Anna Marsh visited her obstetrician on Sept. 26, the doctor told her she would probably be going into labor in the next "few days."
She was already six days overdue with her second child. Later that evening, she began having some mild contractions, but they weren't regular. She didn't think they were serious.
Her husband, Cody, was a bit more concerned and decided it would be a good idea to go ahead and take their daughter, Reesa, to her grandparents in Fayetteville.
When Cody got home, Anna still wasn't taking the contractions seriously. "I said, 'It's probably fine, why don't you go play your softball game.'"
Little did she know that a few hours later, her husband would be delivering their daughter on their bathroom floor.
When Anna was in labor with their first daughter, Reesa, the contractions were extremely painful. But this time she could wait them out and go about her evening.
"That's one of the reasons why it crept up on us," Cody said.
When Cody got home, Anna suggested he go ahead and pack their bag for the hospital. "We waited until I was six days late" to even pack the bag, Anna said with a laugh from the Coweta 911 Center, where Cody, Anna and baby Raelyn got to meet Monica Equere – the communications officer who talked them through the birth.
They also got to finally listen to the 911 call. Both Cody and Monica expressed that the other seemed so calm and confident during the call – but neither one of them felt that way.
"You were very calm," Equere told him. "I was like – this guy really knows what he's doing."
At about 11:30 that night, Anna and Cody figured they would probably head to the hospital in the morning, so they decided to get some sleep.
Anna wasn't asleep long when she awoke to a contraction. Her water broke and suddenly she realized the baby was coming – immediately.
She woke up her husband.
"He started loading up the car. I said to call the hospital and tell them we're going to be on our way," Anna said. It's only a five- or six-minute drive.
Then suddenly, Anna felt like she couldn't move anymore.
"I came back inside and said, 'Baby, the car is ready to go,'" Cody said. "She said: I don't think we're going to make it."
He realized he could already see the top of Raelyn's head.
"I was like – no, we're not going to make it."
Anna said she wished she could have seen the look on his face at that very moment.
She told him to call 911 and that the operator would tell him what to do. When Equere answered the phone, Cody told her he thought his wife was going into labor.
Of course, "going" into labor was not what was happening at all.
Equere started to go through the list of questions to ask when a woman is in labor.
When she asked how far along Anna was, Cody told her he could already see the head.
Equere looked at her supervisor, and immediately started scrolling past all those questions that no longer needed to be asked.
Coweta's 911 communications officers go through a lot of training, but nothing can really prepare you for that kind of call, Equere said. "Being a mom, I wanted to tell him what my doctor told me, but that's not right."
"I was like – OK, this is simple. Just secure the baby's head."
Cody distinctly remembered being told, "Don't push, don't pull."
It was only a few minutes later that Raelyn came completely into the world. But she was silent.
"Her eyes were closed and her color was great. She just wasn't making any noise," Cody said. Equere asked if she was breathing. "I was like – I don't know," he said.
At that point, his anxiety level – and his voice – got higher. Equere told him to get a clean dry cloth and wipe the baby's nose and mouth. Then to pat her on her bottom and the bottom of her feet. Mom and dad were both patting when, at last there was a sound.
Equere said she thinks she might have been holding her breath as she waited to hear the baby's cry. "I kept telling myself – remember to breathe. You can't have a problem, you have to help them."
She was tracking the arrival of Coweta Fire Rescue. "I told them they're coming, let your wife know she's doing great," Equere said.
"It wasn't a long time, but it felt like forever. I'm thinking – they need to be there now. But it's only been two minutes. Two minutes is so long when you're having a baby at home with no medication."
Right after Raelyn started breathing, the paramedics and EMTs arrived. A lot of them.
"We sent the whole squad," Equere said.
"One of the guys was really, really comforting and calm," Cody said. "He was just smooth, and like we don't have anything to worry about."
The paramedics told them everybody looked healthy, wrapped up Raelyn and cut the cord. Baby and mom headed to the hospital.
It took Cody a few minutes to follow. After so much adrenaline, he was shaking. During the drive to the hospital, "I just prayed," he said.
"I was really just praising God, that the delivery was smooth and no stress," he said. "And then I'm like – holy crap, what just happened?"
When he arrived at the hospital, Cody asked who the obstetrician on call was. "They said, 'Tonight it's you – go ahead and start making rounds.'
"I said I've had enough for the night."
Anna's doctor wasn't on call that night, but she came to see them and to hear the story. "She was like 'Wow, that's a good one.' That's really all she could say," Anna said.
Well, that and telling Anna that for baby number three, "You better camp out at the hospital."
In the weeks since Raelyn's birth, "It hits me when I walk in the bathroom – I'm like, this just happened," Anna said.
"I sent her a picture one day, just a picture of the floor," Cody said with a laugh.
Cody remembers the paramedics asking if they wanted to keep their towels. "I said nah, just toss them out," he said. "We saved money on the delivery, so maybe we'll buy more towels."
Cody and Anna were full of praise for Equere.
"You are our lifesaver - God sent you down," Anna said.
But Equere couldn't have done it without her team.
"I have such a great support system," she said. "Once they knew the type of call I was taking, they made sure every other responsibility I had was taken care of. My supervisor at one time even entered in some notes."
Communications officers can get pretty competitive, in a fun way. "We're like, who can answer the most calls," Equere said. "Whenever somebody is like, 'You know I had more calls,' I said – did you birth a baby?"
After a 911 call ends, the staff often don't know the final outcome.
"We were harassing the medic units – we were like, 'Tell us what happened!'" Equere said. Everybody in the room needed to know, so they could move on with their shift.
Equere has been with Coweta 911 for just over a year. After she and her family moved to Coweta from Texas, she was a stay-at-home mom. But as her children got older, she decided to look into getting a job that would allow her to spend days with her children.
She saw that Coweta 911 was hiring. "I thought, no way would I ever be able to do that," she said. But she kept thinking about it. She had worked at a bank during the height of the housing crash and had dealt with homeowners going through crises. She thought maybe she could work at 911 after all. "I looked up a lot of videos and a lot of information" before applying, she said.
Early in the application process, "They show you some pretty traumatic stuff to see if you can handle it," she said.
Equere loves her job. "It's one of those feel-good things, especially in this county," she said. Every morning, 911 operators call on a group of local senior citizens to check up on them.
"I totally wanted to be a part of something like that," she said.
At Coweta 911, "We get a lot of birth calls – but it's not often it's THE CALL," Equere said.
"It's never, 'My wife is crowning – I can actually see the head.'"
Some of Cody and Anna's friends still don't believe that the birth really happened the way it did. "They said, 'We need proof,'" Anna said. With the 911 call on CD, now they have it.