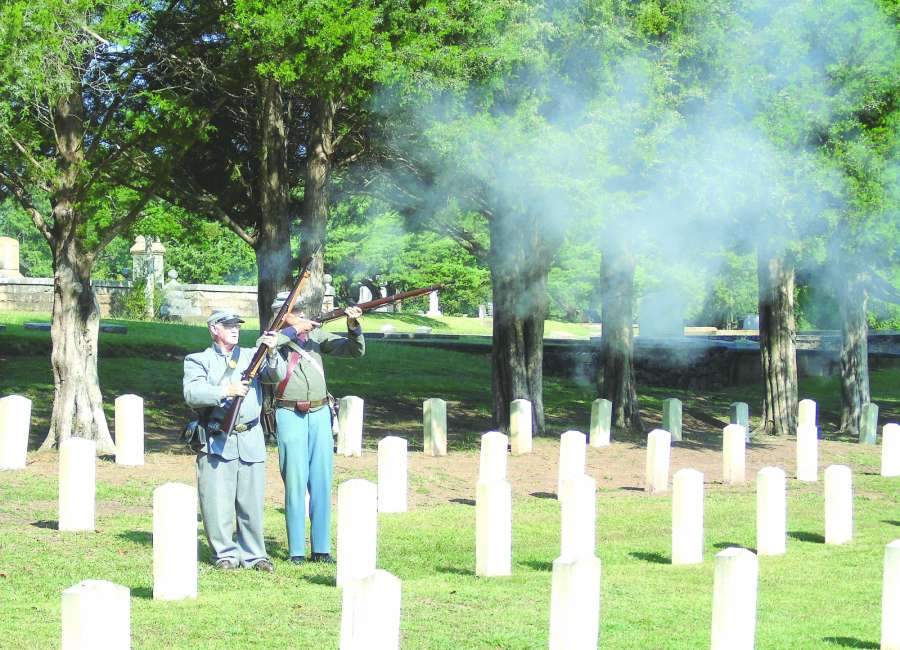 The valor of William Thomas Overby was remembered at a recent ceremony in the Confederate section at Oak Hill Cemetery.

Overby grew up in Coweta County and is often called "the Nathan Hale of the Confederacy" for refusing to give Union troops information on the whereabouts of his comrades. The ceremony was held Sept. 23 and include proclamations and a musket salute.
Many attendees wore Confederate-style uniforms, and some women were attired in hoop skirts and other 19th century fashions.
Local Sons of Confederate Veterans will be honoring the memory of William Thomas Overby on Saturday.
John Suttles, a local minister, was the speaker. Proclamations were read by Newnan Mayor Keith Brady and Coweta County Commissioner Paul Poole.
Born in Virginia, Overby grew up on a Coweta County plantation. Many of his relatives are buried at Cokes Chapel United Methodist Church near Sharpsburg.
Overby joined the Confederate military and was injured at the second Battle of Bull Run. He returned to duty and was captured near Front Royal, Va., in 1864. When he would not reveal where his unit was camped, he was hanged.
In 1864, Overby was buried in the family cemetery of one of his military comrades in Markham, Va. In 1996, his body was exhumed, and a memorial service and interment took place in January 1997 at Oak Hill.
Coweta Guards Camp 715, Sons of Confederate Veterans sponsored the memorial service.