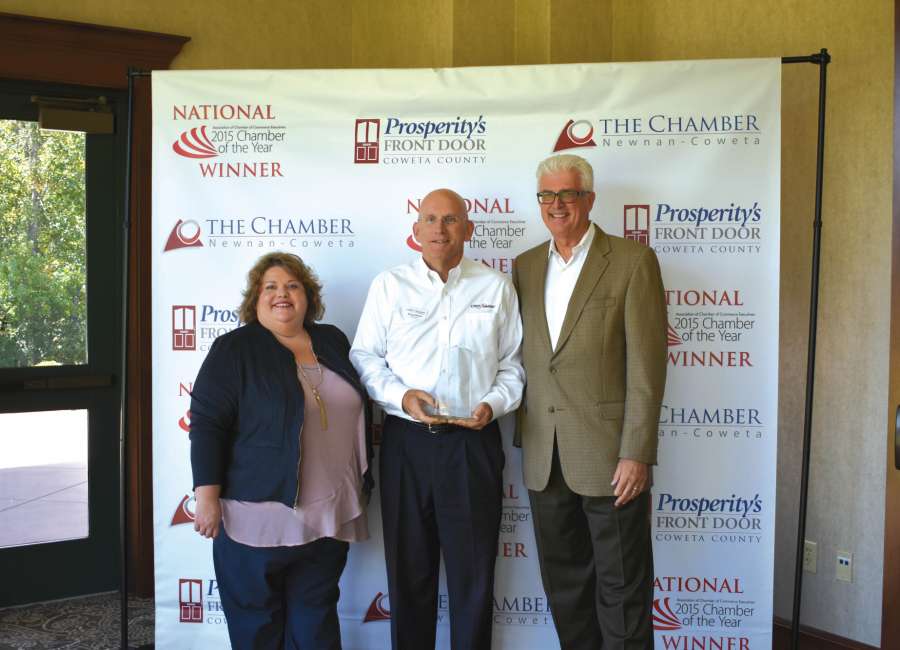 CMIT Solutions of Fayette/Coweta has been named the 2017 Small Business of the Year.

CMIT Solutions manages IT systems for businesses that depend on reliable technology, according to its website.
The company received the award at the  sixth annual awards ceremony, hosted by the Newnan-Coweta Chamber of Commerce on Wednesday at The Newnan Centre on Lower Fayetteville Road. Atlanta news anchor Monica Kaufman Pearson was the emcee.
The judges graded each applicant in six categories: revenue growth, growth strategy, uniqueness, industry longevity, community involvement and chamber involvement.
The top 10 finalists were: Entrepreneur Category (one to five employees), Dirt1x, Renee Horton American Family Insurance, Senoia Law Office, Fine Lines Art & Framing; Growth Category (six-19 employees), CMIT Solutions, Stirling Promotions, Monster Tree Service; and Employer Category (20-99 employees), Georgia Academy of Dance & the Performing Arts, Peachtree City Obstetrics and Gynecology, P.C. and Benton House Senior Living Community.
Renee Horton American Family Insurance was the winner for the Entrepreneur Category, Stirling Promotions was the winner for the Growth Category, and Georgia Academy of Dance & the Performing Arts was the winner for the Employer Category.
The 2017 Honorable Mention Award Winners are: Popped! Gourmet Popcorn and Fun Treats, 15 Perry Street- Newnan's Workspace, Blue Fern Merchant, Hair Looms, ORPA Consulting LLC, Footpaths Aromatic Reflexology, Goldens on the Square, Aquanaut Plumbing, 85 South Out and About, and ValueMax Car Rental.
Read the Thursday edition of The Newnan Times-Herald for the full story.