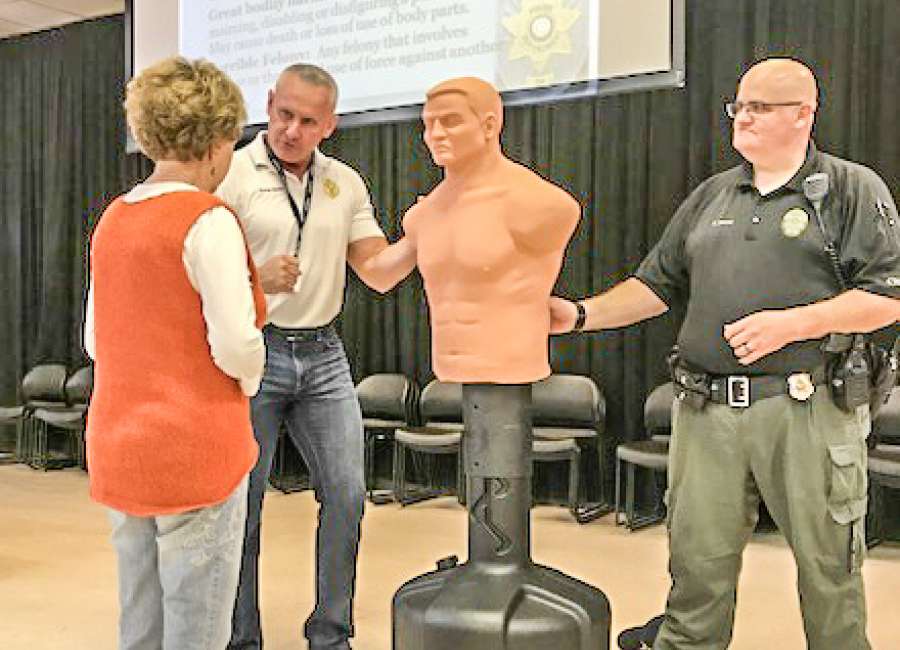 Over 25 women recently attended a women's self-defense class hosted the Chattahoochee Hills Police Department.

Chattahoochee Hills Police Chief Stoney Mathis led the class that featured a classroom presentation and a hands-on self-defense course.
Participants learned and practiced how to defend themselves using various techniques, but also were taught to pay attention to what's going on around them.
Jennifer Lisborg of Newnan was one of the 25 women who attended the course. While she came into the class well-versed in firearms, she said courses like these are always worth attending.
"I loved it," she said. "You can always learn something, especially from police who have been on different scenes of so many different crimes. They offer an incredibly unique perspective that allows you to see things from a much different vantage point."
Among the various offerings of the class, Lisborg said she was most impressed with the situational awareness aspect of self-defense.
"Things like not being distracted by your phone, parking in well-lit areas – we all forget stuff like that along the way," she said. "At the end of the day, you don't want to be a soft target. If you're willing to put up a fight, they'll move along to someone else."
Along with the classroom and situational awareness class, a gun safety and training course was also taught at the range. Each participant was taught how to safely load their weapon and fire a 50-round practice course.
Mathis said the event was a great success and hopes to have another one in the future.
"If we can prevent one person from becoming a victim then it will all be worth it," he said. "I use a quote: 'For evil to prevail, all you need is for good people to do nothing.'"