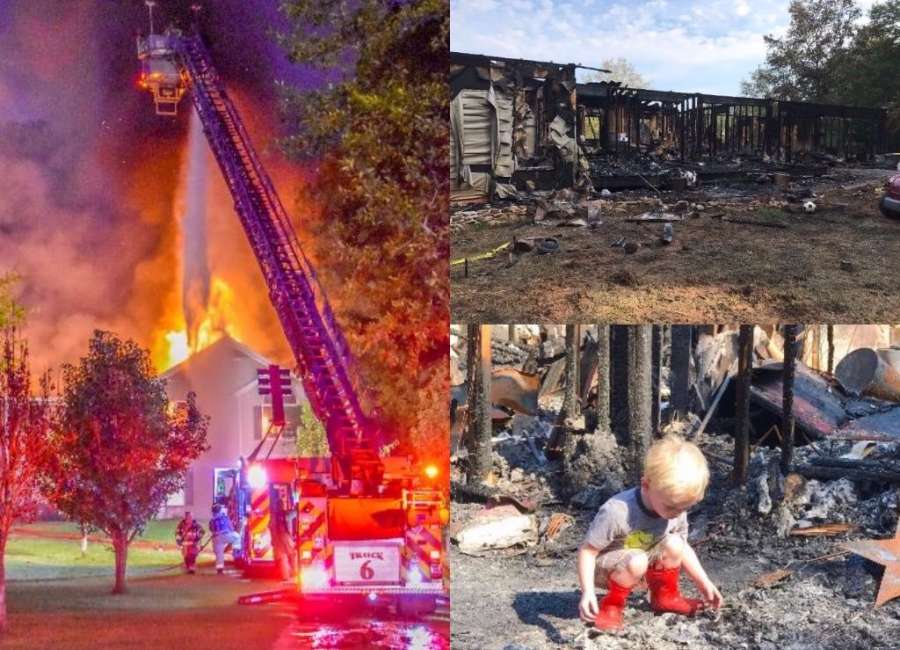 A mother who lost everything in a house fire said the quick thinking of her babysitter avoided a much larger tragedy.

Last week, the home of Shane and Tonya Cox was destroyed after an electrical fire reportedly started in a family playroom.
Babysitter Hayley Arnold was at home watching 2 year old twins, Jensen and Jared, when the fire started.
Arnold, 17,  said she was looking for a remote at the time when the boys ran into the room, alerting her to the fire.
Inside the playroom, Arnold found a mattress was on fire and immediately took the boys out of the house and unsuccessfully attempted to extinguish the fire with a hose.
Arnold said she tried to call 911 with her smartphone, but didn't have any luck. She took the boys to their great-grandparents house located on the property and successfully called 911 from their home.
Just after 7:30 p.m., firefighters arrived at their 400 Smith Road home and found heavy fire conditions through the entire top floor of the residence.
Once the fire was finally extinguished, investigators spent the next few days attempting to discover the cause of the blaze which was later determined to be an electrical fire.
Tony Cox said she's incredibly grateful for Arnold's intuition and keeping the twins out of harm's way.
"She's amazing to me in so many ways," Cox said. "Not many people could have thought so fast, even parents."
Over the weekend, the family has spent their days sifting through the charred remains of their home – a  17-year-old home designed by Cox and built by her father.
"We have insurance, but I never imagined having to start over from scratch," she said.
However, while the family sorted through the ashes, many visitors stopped by to offer assistance to the family who is currently staying with relatives. She said they're still in shock over the ordeal and want to find a home to rent but without paying for a year-long lease.
"Everyone has been so helpful," she said. "People I have never met are stopping by to donate their time and things like gift cards for restaurants. I can't believe how good people can be. It's amazing to see."
A GoFundMe page was created for those who are interesting in helping the family rebuild.
"I just want people to know how thankful I am for everything they've done and for all their prayers," she said. "It's devastating to lose your home, but we owe a tremendous debt to Hayley who made sure our boys were safe."