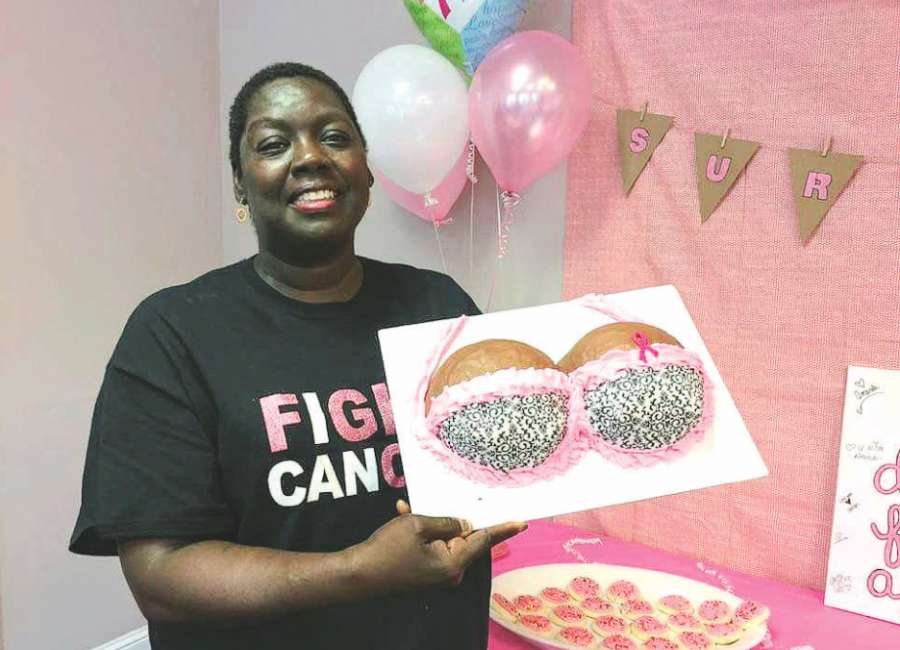 – By MELANIE RUBERTI, melanie@newnan.com
Dana Thomas always knew her chances were high for getting breast cancer.
But she never thought the diagnosis would come so early in life - nor would the disease be so aggressive.
Both Dana's mother and grandmother passed away from the disease when they were in their 60s.
Dana started receiving annual mammograms when she was 30 years old, but missed an appointment four years later. During a self-breast exam, the then-34-year-old mother of three children felt something ominous and immediately contacted her doctor.
Her worst fear was confirmed in January 2016. Dana was diagnosed with late Stage 2 Triple Negative breast cancer that had already moved into her lymph nodes.
"Dr. Sroka, my oncology surgeon, told me it was blessing that I found it when I did because the cancer came and grew so fast. My early summer mammogram would have been clear, and I would have not caught it at this stage," Dana explained.
Triple Negative breast cancer means the cancer cells test negative for three hormones: estrogen receptors, progesterone receptors and HER 2 receptors, according to the website breastcancer.org.
This type of cancer accounts for 15 - 20 percent of breast cancer cases and is usually only found in younger African-American and Hispanic women.
The cancer is very aggressive, but responds well to treatment, stated breastcancer.org. Unfortunately, Triple Negative has a high recurrence rate.
"When I started researching it online, all the info made it sound like 'doomsday,'" Dana remembered. "... I saw a lot of people fight (the disease) but the scary part is they all passed away. I know no one like me …
My doctor told me, 'I know there is a cure for you.' That was the first time I'd heard that."
The same month Dana was diagnosed with Triple Negative breast cancer, Anita Washington, 46, a mother of three children was also receiving similar bad news.
"I just just hoping and praying it was not Triple Negative cancer, but when I went to the breast specialist, she said it was that cancer," Anita remembered. "I couldn't believe it. I never felt any lumps or bumps. I never had any signs or symptoms. Even my bloodwork was normal. I had never ever been sick … I didn't know what to think. It was like an out-of-body experience."
Anita's cancer was found during a routine mammogram. A biopsy showed the cancer had also spread into her lymph nodes and pectoral area.  
Both women immediately started aggressive chemotherapy treatments.
"... Triple Negative breast cancers are more challenging to treat because their growth is not fueled by hormones," stated Dr. Diana Santiago with the radiation oncology department at Piedmont Newnan. "Medications like Tamoxifen and Aromatase inhibitors are not useful in treating it … using chemotherapy to treat Triple Negative breast cancer is an effective option.  In fact, Triple Negative breast cancer may respond even better to chemotherapy in the earlier stages than many other forms of cancer …"  
Anita was given double doses of chemo for two months, then a weekly round of treatments for another three months. She continued to work throughout her therapy.
"I wanted to push myself but when I couldn't do it, my staff helped me out," Anita said. "I always knew I was going to make it because I have God on my side. You're praying you're going to make it, praying for your family … then all your hair goes away and it's very shocking."
Dana endured 16 rounds of chemotherapy. Like Anita, she continued to push herself. She studied communications at Columbus State University and received an associate degree while battling cancer.
"I wanted to find a goal that wasn't cancer-related," Dana stated. "The hardest thing about fighting cancer was my mind. Physically, I lost my hair and my fingernails, and I couldn't go out in the sun. But mentally, you're always wondering if you're going to make it. Is the treatment working? I had to start saying, 'I'm going to to do it. I am going to make it.'"
Both Dana and Anita each completed several rounds of radiation.
While Dana endured a bi-lateral mastectomy with reconstruction and a hysterectomy; Anita opted for a lumpectomy.
Both women said they are now cancer-free.
"I feel blessed," Anita said. "I took a lot of things for granted ... I thought I may not have eaten well or exercised as much as I should have … now I do. I have to say I feel better now than I did before because I don't take life for granted anymore. I realized I needed to take time for myself. I meditate and pray. You can't take life for granted because you only get one shot at it."
Anita is now focused on her future and plans on writing a book.
Dana also began writing and made her fight against cancer public by posting about her journey on social media. She also became "the face" of Triple Negative breast cancer by posing in an advertisement for the Piedmont Healthcare system.
The 36-year-old woman was also chosen to be a part of the Association of Oncology Social Work, a national organization that helps determine how research is handled and how to adequately battle cancer.
Dana's journey is different than most survivors since breast cancer runs in her family. She worries about her 9-year-old daughter who is still too young to be considered for genetic testing.
But Dana tries to remain positive and hopes other breast cancer survivors will do the same.
"The attitude you have is the experience you will have," she stated. "The hardest battle is in the mind, not the body. Keep fighting and know that it is okay to have some down days, but don't stay there. Be positive you will be cancer free."