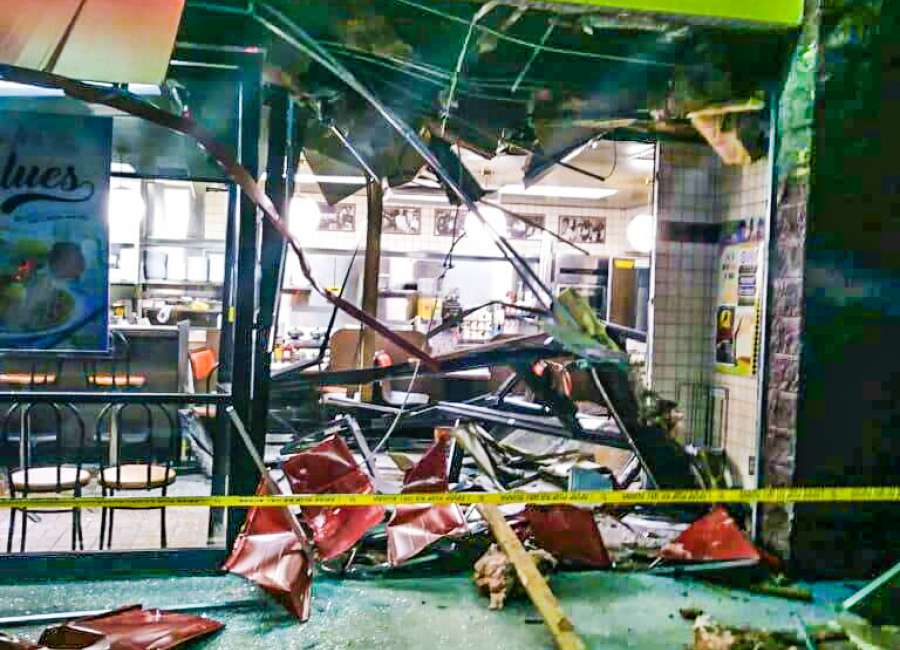 No one was injured after an alleged drunk driver drove his U-Haul truck through the front of a Waffle House restaurant early Wednesday morning.
According to police, the incident occurred at the Waffle House near Newnan Pavilion on Highway 34 just before 1:30 a.m., where two men had come in for a late night meal.
After paying, they returned to the truck, where the driver spoke to several people outside the restaurant and inquired how they were doing, according to Officer Van Meadows with the Newnan Police Department.
"When he opened the door to the truck, witnesses saw a few beer cans fall on the ground from inside the truck," Meadows said.
Waitress Yaz Traylor had finished ringing up the two gentlemen when she saw them get inside the truck.
"I guess he thought he had it in reverse," Traylor recalled. "But it was in drive and he drove that truck right on inside the Waffle House."
Traylor said the incident happened fast, but everyone managed to get out of the way of the incoming truck, including a cook who lost his shoe trying to dodge the vehicle.
The driver then reportedly succeeded in putting the truck in reverse and drove away, Meadows said. Witnesses saw the truck get on the interstate.
Authorities with the Coweta County Sheriff's Office located the U-Haul truck off Exit 51. When they approached the vehicle, the two men jumped out and fled from the scene, Meadows said.
The passenger, identified as Richard Clarence Giles, was found and taken into custody by deputies. The driver remains at large.
Giles, 45, was charged with obstruction of officers and taken to the Coweta County Jail. Investigators are currently following up on several leads, Meadows said.  
Employees said the restaurant is expected to remain closed for several weeks for repairs.