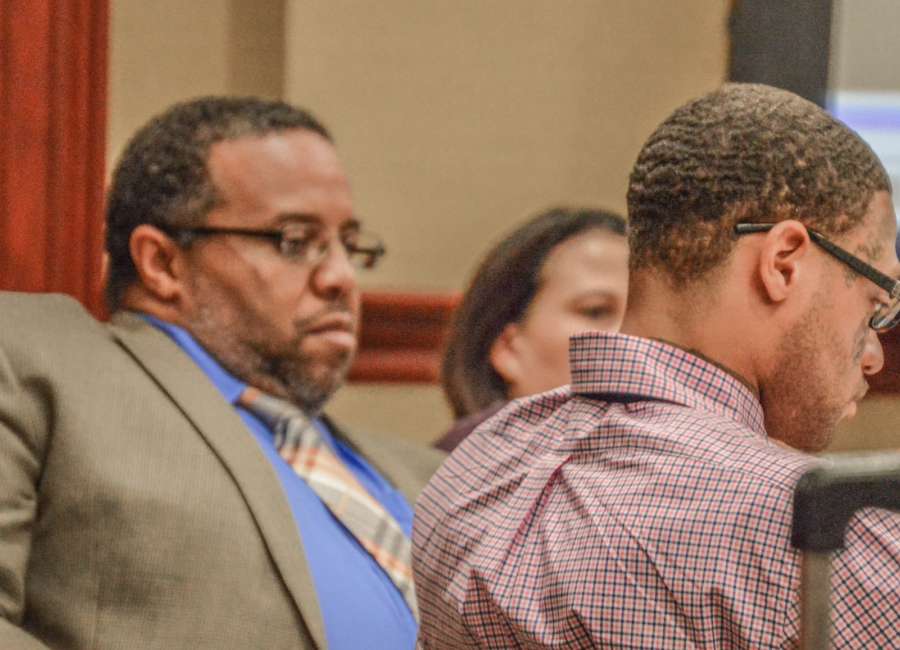 Willie "Little T" Turner's cousin took the witness stand in day two of the state's case against the 25-year-old man.
Jamelle "Mel" Moss did not hold anything back.
Moss pinned Turner as the trigger man who shot and killed Travalas "Baller" Acres, 40 near the Target parking lot on Feb. 19, 2016.
Moss was in the back seat of Acres' car with Turner when the gun was fired, Coweta County Assistant District Attorney Kevin McMurry told the court. Moss was reportedly sitting on the passenger side of the vehicle.
Acres was driving his car; Turner was allegedly seated behind him.
Moss purportedly told investigators with the Newnan Police Department he was looking down and texting his girlfriend when Turner shot Acres. He claimed to see a "hole" through Acres' head.
Moss testified he jumped out of the car and ran toward the Wendy's restaurant on the Newnan Crossing Bypass, where he asked his girlfriend to pick him up.
While he waited, Moss told the court he threw away the clothes he was wearing that night. But he claimed not to remember which dumpster he tossed them into - or where he later threw away his cell phone.
Moss admitted he met with Jonathan "Jon" Allen, another eyewitness in Acres' car that night. He paid Allen "hush money" to keep his name out of the murder investigation.
Defense Attorney Charlie Cauble told the jury about Moss' past history with the law.
Moss was convicted of shooting another man in the head when he was 17 years old. The victim survived and Moss served eight years behind bars in a Georgia prison, according to Cauble.
He was out on parole for that charge when Acres was murdered. Moss was also charged with terroristic threats and battery in early 2016 for allegedly assaulting his girlfriend.
Cauble told the court McMurry sent a letter to the Georgia Board of Pardons and Parole and asked that Moss be released early in exchange for his testimony in Turner's trial.
The defense attorney also played a phone conversation between Moss, his girlfriend and his mom that allegedly took place on Oct. 12.
In the call, Moss expressed his displeasure with the Coweta County District Attorney's Office, stating that they knew he wasn't involved, but were threatening him with more time in order to force him to testify.
However, he agreed to take the stand against his cousin in exchange for immunity from prior charges. Moss also made it clear that he was not scared to testify against Turner.
"Are you afraid of Little T (Turner)?" Cauble asked him.
"Hell no," Moss replied from the stand with a smile on his face.
Moss locked eyes with Turner as he was being led back to a holding cell behind the courtroom. Turner nodded at his cousin.
The state showed the jury the defendant did not want his cousin or anyone else in his family to testify against him through a series of audio recordings.
McMurry called Major John Lewis with the Coweta County Sheriff's Office to the stand. Lewis is the director of the Coweta County Jail.
He testified every inmate is issued a personal identification number when they arrive at jail. Inmates use the number before they make a phone call from the jail. All calls are recorded.
McMurry played a series of phone calls between Turner and his Aunt Gloria Moss for the court. Gloria is Jamelle "Mel" Moss' mother.
In a Feb. 25, 2016 call, Turner told his Aunt he did not have anything to do with Acres murder. He also stated he did not know Jonathan Allen and was the victim of a separate crime the night Acres was killed.  
"I don't even know Jon. I wasn't even there. I got wronged," Turner told his Aunt. "The only reason they're holding me is because of what this man (Jon) is saying … I don't know what they're talking about.
"I was robbed that night," he continued. "Four (people) robbed me. They jumped me … I even flagged down a '12' (police) for them to help me. Jon can't put me at no scene."
Turner also told Gloria Moss that NPD investigators did not find a gun or any blood on him that night.
In a phone call on April 12, 2017, the defendant told his aunt not to testify against him in court, even though she was subpoenaed by the state.  
"They (District Attorney's office) can't make you take the stand and put no charges on you," Turner said. "They can't make you testify on me ... you've got to come to court, but you don't have to say anything on the stand ..."
In a series of phone calls during the month of May, Turner told his aunt to persuade Jamelle Moss to also invoke his Fifth Amendment right.
"They just really want my family to go against me. They're playing with you all ... they know they messed up," Turner stated in the audio recording.  "They are in a bind ... They want me real bad."
Gloria Moss agreed with her nephew.
"They think Mel knows more than he's saying," she told Turner. "Let me tell you, Little T, they want somebody to go down for this …  either you or you and Mel together."
The jailhouse recordings were a major point of contention during Turner's first trial in May, 2017.
Presiding Superior Court Judge Travis Sakrison threw out the state's case and declared a mistrial.
According to court documents, prosecutors violated an order that barred any evidence that indicated the defendant (Turner) spoke to law enforcement officers.
That portion of the audio recordings was redacted and allowed as admissible on Thursday.
The trial will continue Friday morning and possibly into early next week.