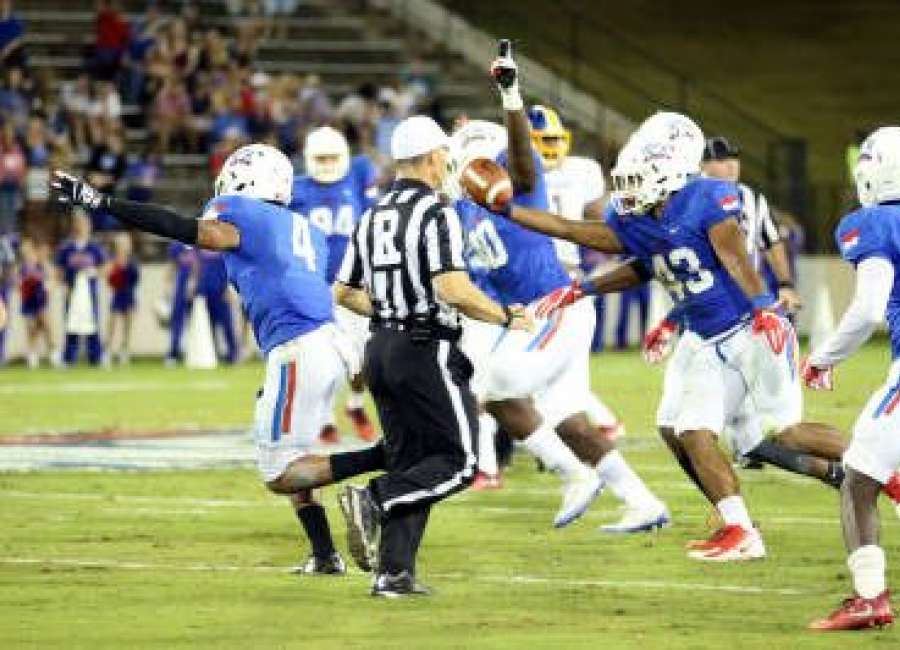 Send us your name and email address to enter a drawing for two tickets to Saturday night's game of the nationally ranked Wolves against Miles College.
Winners will be announced Thursday, and tickets can be picked up at the NTH office anytime Friday between 8 a.m. and 5 p.m.
The Wolves' 34-9 opening-night pounding of Fort Valley State caught the attention of coaches around the country over the weekend. By Monday they were ranked 25th nationally in the first regular-season American Football Coaches Association Division II poll, one of just two Gulf South Conference teams ranked.
You can be in the comfortable seats at University Stadium for Saturday's 7 p.m. kickoff against the Miles Golden Bears. Send us your email address and name by noon Thursday for the drawing for one of the two pairs of tickets to be given away.
Send it to circulation@newnan.com or text it to 678-953-4010.
UWG football team ranked 25th in Division II Coaches' poll
West Georgia, unranked in the preseason, moved into the Top 25 after last week's convincing opening night win.
The Wolves racked up over 500 yards of total offense, including more than 300 on the ground in their win over Fort Valley State.
The defensive effort was equally stout, as UWG allowed just 227 total yards in the contest, including just 107 through the air.
Only one other Gulf South Conference team is represented in this week's poll. North Alabama is rated 11th, despite its opening night loss. The Lions fell in heartbreaking fashion, 8-7, to fifth ranked Texas A&M-Commerce. Valdosta State, Florida Tech, and Delta State all received votes in the poll, but fell short of the Top 25.
Also, UWG's Sept. 23 opponent, Albany State, cracked  the rankings at number 20 following their opening night win over Valdosta State.
UWG returns to action this Saturday. The Wolves entertain the Miles Golden Bears in a 7 p.m. kickoff on Ra-Lin Field.
UWG ready for soccer opener
The 2017 season for UWG soccer begins today as the Wolves are set to welcome 13th-ranked North Georgia to University Field for a 5 p.m. contest to open the new season under first year head coach Stacey Balaam.
West Georgia is poised for another solid year as they return 14 players from an 11-7-1 campaign and a second straight trip to the Gulf South Conference Tournament.
Head coach Stacey Balaam took the reigns of the program back in March and makes her head coaching debut on Wednesday.
Junior Katie Mitchell, who played at Northgate High School, led the team in assists last season and is expected to hold down the midfield once again. In 2016, Mitchell had nine assists to go along with her six goals, which gave her a team best 21 points.
Seniors Katie Phillips and Kelly Geary return up top for the Wolves. The duo combined for six goals last season with Phillips scoring four, and while Geary only scored two, the Snellville native added three assists on the season.
It will be a new look in goal for the Wolves this season, as a pair of freshmen Jackie Donaldson and Jessica Hale have battled it out in preseason for the opening day start.
This year's roster features 15 newcomers including 14 freshmen and a sophomore  Morgan Haase, who played high school soccer at East Coweta, Madison Cobb, a freshman from Birmingham, Ala. headlines a talented group of freshmen as Cobb was named a top newcomer in the GSC in the league's annual preseason release.
North Georgia began its season this past weekend, getting off to an 0-1-1 start against GSC opponents after falling to Lee 4-3 in the opener on Friday and playing to a 0-0 draw on Sunday against Mississippi College. North Georgia  got each of their its goals from a different player, but freshman Taylor Malasek led the way with a goal and an assist in the loss.
The Wolves and Nighthawks are set for a 5 p.m. kickoff on Wednesday. It will be a busy week for the Wolves as they host GSC opponents Union and CBU over the weekend after Wednesday's opener.