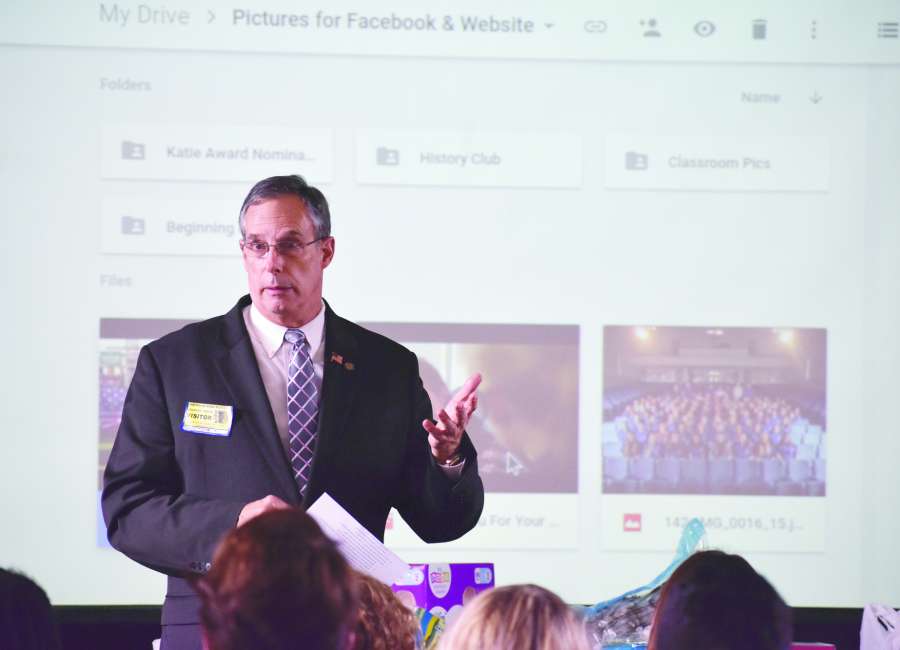 For the past seven years, Steve Quesinberry says he's been "obsessed" with the 23 young men from Coweta County who died in the Vietnam War.

A visit from retired Maj. Gen. James Jackson's visit may have helped the Newnan High School history teacher find another way to connect his current students with ones who may have walked the same school halls more than 50 years ago: By officially engaging with veterans of the same war that took those 23 young Cowetans' lives.
Jackson is director of the United States of America Vietnam War Commemoration program, which seeks out Vietnam veterans and presents them with certificates, lapel pins and gratitude for their service in the fiercely unpopular war. Jackson issued a challenge to students in Quesinberry's and fellow history teacher Frank Henderson's classes during a Tuesday visit to the school.
"Find a veteran who has not been thanked and present a pin to them on behalf of the country," Jackson told the students. "Because you're a part of this class, you've been empowered by the secretary of defense to represent the country and thank that veteran for their service years ago. Watch the reaction you're going to get. You'll come away a better person."
The commemoration program was kicked off in 2012 by then-President Obama. It aims, in part, to thank and honor those who served in the Vietnam War, as well as their families.
"Those families still remember their loved one that died," Jackson told the students. "It still impacts them. It's important that you remember that."
For the ones who made it home, it was at times a rocky re-entry.
"Some of them had a very turbulent return back to the United States," Jackson said. "Some were told to take their uniform off, that they couldn't wear it in the United States. They just got through fighting and burying friends of theirs and they were not allowed to wear the uniform they fought in."
Jackson said to receive acknowledgement of their service and sacrifice allows relief from a tremendous burden Vietnam veterans may have carried for decades.
"It's nice to see them let go of that," he said. "They didn't go to war for personal reasons. They went to war because the country sent them. All they want is for the country to say thank you for what they did."
The commemoration program gives the United States a chance to right a wrong, Jackson said.
"Veterans get thanked and feel good," he said. "Their country gets to correct something that happened years ago."
Quesinberry said remembering what can seem like ancient history to high school students is difficult but necessary.
"It still impacts people," Quesinberry told the students. "It's important that you remember that. There are still a lot of people that remember it, that still remember those people who died."
Jackson once was part of a gathering that included siblings of some of those killed in Vietnam. He was caught off-guard by the reaction of the survivors, he said.
"It surprised me that every one of them was in tears," Jackson said. "So you can ask if after 50 years, 'You haven't gotten over this?' The answer is no, they haven't gotten over it, in part because the country hasn't let them get over it. The country kept the wound open. It has a big impact on our country and our people. So don't ever figure everybody's 'just gotten over it.'
"We're 50 years late, and that's really a shame," he added. "But we get to present them with this lapel pin as a small token of our gratitude. And we get to say, 'A grateful nation thanks and honors you.' We're trying to fix it, and the American people are stepping up and doing a good job."
For more information on the U.S.A. Vietnam War Commemoration, visit http://www.vietnamwar50th.com .