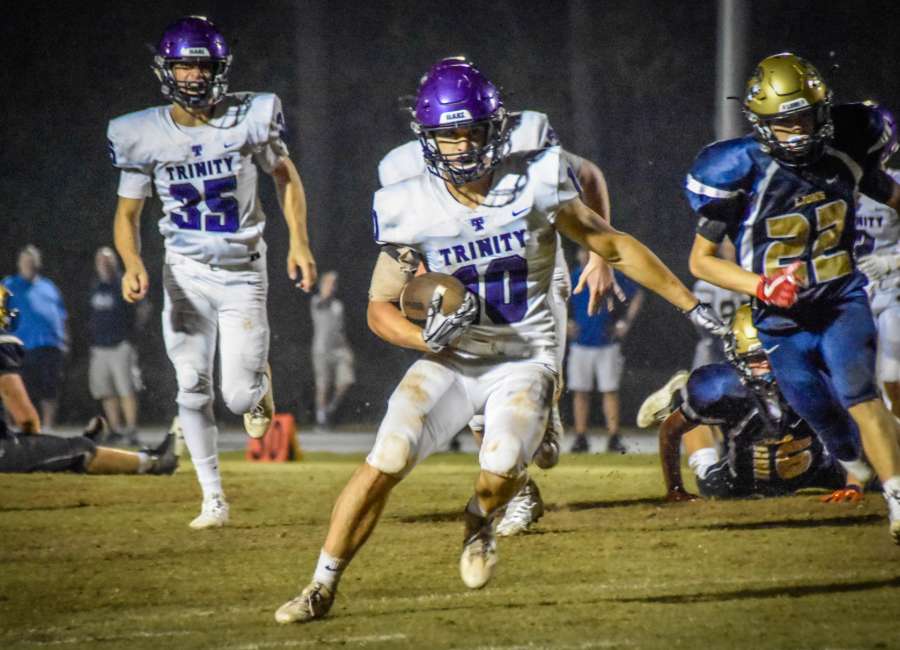 Trinity Christian quarterback Zach Seymour rushed for two touchdowns and the Trinity Christian Lions raced to leads of 33-0 after one quarter and 47-0 at the half en route to a 61-6 victory over the Loganville Christian Academy Lions Friday night in Trinity's homecoming game.
It was Trinity's first-ever win over LCA in four tries.
Click here for a gallery of photos from this game
Trinity dominated another opponent, winning its fifth straight game to improve to 5-2 overall and 2-0 in GISA Region 1-AAA play. LCA lost its fourth straight game to fall to 2-4, 1-2.
The Trinity Lions displayed their all-white jerseys for homecoming, matching the home crowd, which also dressed in white for the occasion.
While the homestanding Lions treated their fans to a show, the few fans who traveled to Sharpsburg from Loganville weren't treated to a fun evening. LCA punted on its first possession and Trinity senior Levi Robinson made some nice moves and ran 55 yards for a touchdown. Ethan Aldridge's point-after was good, and just like that, Trinity led 7-0.
The rout was on after that. The Trinity defense completely harassed LCA quarterback Jacob McFadden in the first quarter, who made several mistakes due to pressure from Trinity's Alex Seymour, Caleb Dallas, Brennan Burks and Davis McMurrain. McFadden threw two laterals (passes behind the line of scrimmage) that were recovered by Trinity, and he was picked off by Trinity's Jordan Mitchell.
Trinity took advantage of all three mistakes, getting a TD run from Luke Vermilya, a 35-yard TD pass from Zach Seymour to Jacob Blair and a TD run from Zach Seymour. When the smoke cleared, Trinity led 27-0 with 5:21 left in the first quarter. Trinity ended the quarter with a 44-yard interception return TD from Cameron Hellgeth for the 33-0 lead.
Trey Willoughby had a 1-yard TD run for Trinity to start the second quarter and Zach Seymour ran 54 yards for another TD to give the Lions the 47-0 halftime lead. Trinity outgained LCA 239-17 in total yards in the first half, with the Trinity defense holding LCA to -30 yards rushing in the half.
Trinity got TD runs from Tanner Price and Caleb Railey in the second half to give Trinity the 61-0 lead. LCA's Cameron Lifsey put the visitors on the board with a TD run with 1:15 left in the game for the final 61-6 margin.
"We have a hard-working defense which is blue-collar in nature. We made plays tonight and we are getting healthier by each game," said Dallas, a senior who recovered from a back injury to play in his first game of the year. "You can't play on our defense if you don't hustle and work hard."
"I got in a rhythm tonight and we got good blocking from the offensive line. We did have too many penalties, however," said Zach Seymour, who returned to play quarterback after breaking his thumb. "We're playing well, but we still have to focus on being better."
Trinity is off Friday.