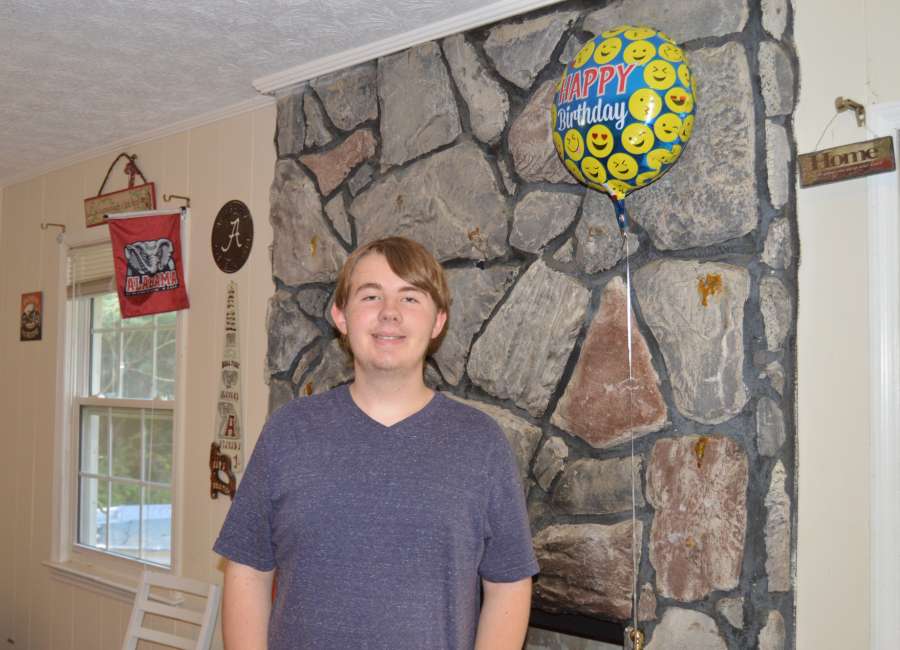 For teens, celebrating their 18th birthday is a big deal – but maybe more so for Payton Samples of Madras. 
The teen commemorated his birthday on Saturday, Sept. 16, with a pool party, surrounded by his family and close friends. He also celebrated another huge milestone: Saturday marked 10 years Samples has been cancer-free.
"I feel really great," Samples said during his party. "I survived an illness that not many survive from. "
Samples was diagnosed with leukemia when he was just 4 years old.
"The doctors told my mom I wasn't going to make it," the teen remembered. "But having cancer at such a young age, I didn't really understand the intensity of the disease. I just remember the needles and the treatment."
Samples underwent chemotherapy and quickly went into remission. A few years later, doctors discovered he had relapsed. This time, the cancer had spread into his central nervous system - including his brain. 
The then-8-year-old boy was again treated with chemotherapy, plus radiation treatments to his brain.
While in therapy, Samples missed celebrating several birthdays with his friends. When his mom asked him what he wanted, the young boy's answer surprised her. 
"He didn't want gifts or money to spend for his birthday," Jessica Rushton remembered. "He just wanted pennies … and a prayer with each penny."
"Later, I asked him if he wanted to wrap up the pennies and deposit them into the bank," added Bonnie James, Payton's grandmother. "He said, 'No. That would be spending a prayer and throwing it away.'"
Samples still has the coins tightly sealed in a jar inside his bedroom. He also kept thousands of "get well" cards sent to him by family, friends and total strangers from all over the world. The cards were part of a campaign for Samples to lift spirits while completing his cancer treatments.
Finally, in September 2007, doctors told Samples he was in remission. He's remained cancer-free for 10 years.
"He is a living, breathing miracle," said Layla Holloway, Payton's great-grandmother. "He beat cancer – and he did it twice."
"I am happy," Samples said on Saturday. "Conquering cancer is a huge achievement because I'm here today. It molded me into who I am emotionally and physically.
" … having cancer helped me mature," he continued. "I can provide empathy towards my friends. They always tell me, 'You're so kind, you say nice words and you always lift us up.' That makes me feel good and feel happy …"
Samples' battle with cancer also helped him prepare his half-sister Megan Samples for the fight ahead of her.
Two years ago, Megan was diagnosed with pleomorphic undifferentiated sarcoma, a cancer of the soft tissue. Doctors removed a 15-pound tumor from one of her kidneys, she said.
Megan then went through several rounds of chemotherapy and radiation.
"When I found out she had cancer, I reached out to her. I told her it would be a hard battle, but she's strong," Samples said. "We both share that trait – and being stubborn."
Megan is now in remission and is glad she has Payton to lean on.
"I'm so glad he's 10 years cancer-free," she said.
Samples said he is happy to be a role model, but he does not dwell on the past. The Newnan High School teen is now more focused on his future.
He hopes to become a graphic designer or massage therapist. The teen also plans to write a book of poetry.
But maybe most importantly, he is determined to keep a positive outlook on life.
"I'm happy with how my life turned out so far because I've met so many people and organizations that help children with pediatric cancer like myself," Samples said. "There's always a chance I'll relapse, but I'd rather focus on staying happy."
****
Melanie Ruberti: melanie@newnan.com