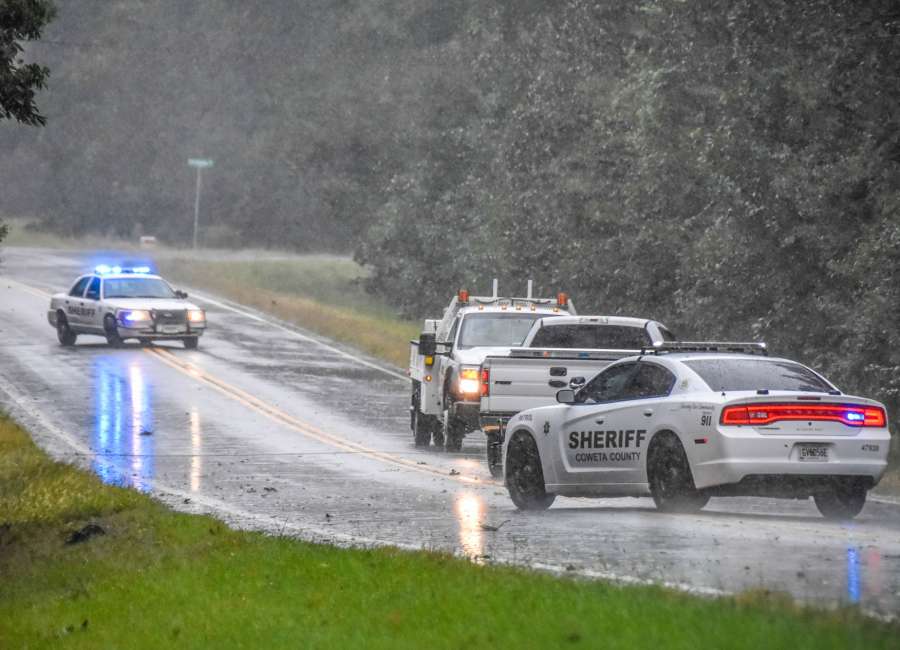 As weather conditions improved overnight, crews are now able to restore power to many areas in Coweta County.

Though many widespread outages are still active across the Coweta-Fayette EMC system, crews worked all night restoring power to approximately 10,000 members after 10 p.m. yesterday, according to Chellie Phillips, vice president of communications and public relations.
"Crews from Jefferson Energy in Kentucky arrived last night to help with restoration efforts, and more help is on the way," Phillips said. "We expect four crews from MasTec to be on site by lunch today and right-of-way crews from Trees Inc. and TCI have been working alongside EMC crews all night."
Phillips said there are currently over 250 employees out in the field working as of Tuesday morning.
Phillips urged members to continue reporting outages through their call center at 770-502-0226. The call center is manned 24 hours a day.
Jeff Phillips with Newnan Utilities said approximately 514 customers lost service, with a single tree causing over 400 of the outages yesterday afternoon.
"Even though we had many fallen trees and limbs, we were extremely fortunate that the damage wasn't more widespread," he said. "Services have been restored, and crews are responding to incidents as they occur. We sincerely appreciate the hard work of our employees and the patience of our customers during this storm event."
Georgia Power will start to assess damages today.
The utility company says much of the state including coastal Georgia and metro Atlanta experienced the most outages after parts of the state received widespread damage caused by high winds and heavy rainfall.
By early Tuesday, Georgia Power had nearly 800,000 outages. The company says Fulton County currently has the most outages with 105,390.
As the weather deteriorated Monday, companies like Georgia Power pulled crews from the field due to hazards involving falling trees, according to Georgia Power Spokesperson John Kraft.
"Statewide, this is a widespread event that is causing outages," Kraft said. "We won't be able to start the full restoration until these conditions subside and crews can safely get back out there."
Kraft said across the state, Georgia Power has seen more than 900,000 customers with interruptions in service – roughly 50 percent of their customer base.
"We appreciate everyone's patience and urge caution in cleaning up debris," Kraft said.  
Sheriff Mike Yeager said he's seen potential flooding in areas across the county and is working to determine possible closures in areas like Dyer Road of West Hwy. 16.
Crews have been attempting to clear trees out of the road across the county – it's a trend Yeager expects to continue for the next 24 hours. However, members from Coweta County Emergency Operations Center are working around the clock to ensure the public is taken care of.
"But I have to brag on our public safety and utility companies here in Coweta," he said. "After spending time at the EOC at Coweta 911, it makes me proud to see the teamwork that has tackled this situation."
Yeager said along with members from public safety and the power companies, representatives from county administration were also on hand to assist, such as County Administrator Michael Fouts and Captain Chuck Loftin with Coweta County Fire Rescue.
"We won't know the extent of the damage for several days," Yeager said. "While we're not out the woods yet, we have definitely fared well."
****
Clay Neely: clay@newnan.com, @clayneely