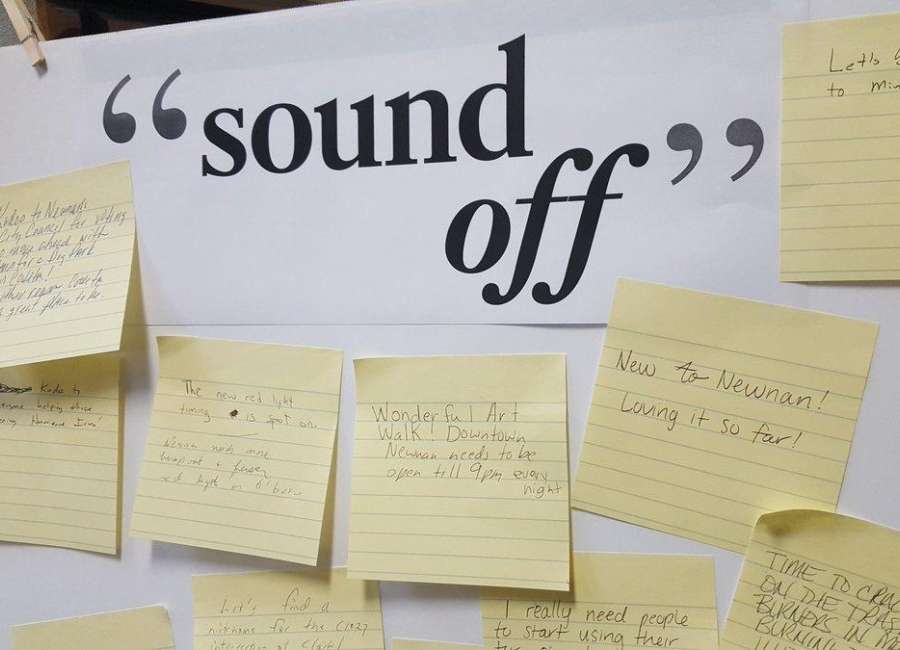 These are comments made by visitors to the NTH offices during Friday's Art Walk.

Let's build a memorial to Minnie Robinson.
New to Newnan and loving it so far.
Time to crack down on the trash burners in Meadowview. Burning trash is illegal.
Wonderful Art Walk. Downtown Newnan needs to be open till 9 p.m. every night.
The new red light timing is spot-on.
Newnan needs more bumpouts and fewer red lights on Bullsboro.
Kudos to everyone helping those fleeing Hurricane Irma.
The antifa is so shocking to Republicans because they've been taught Democrats don't hit back.
Hitler was history, too. But there are not statues of him anywhere. #TakeThemDown
Coweta should ban yard-waste fires. Our air quality is bad enough.
I wish more people would use their turn signal.
Love, love, love all of these neighborhood activities Newnan has. This city is the best.
Let's find a nickname for the crazy intersection of Clark/Temple/Jackson streets, such as Nut Job Junction.
I really need people to start using their turn signals. They are in every vehicle for a reason.
Oh, yes, I agree on turn signals.
We need more coffee shops. More jobs, more coffee equals happy people.
Kudos to Newnan's city council for voting to move ahead with plans for a dog park in Coweta. Another reason Coweta is a great place to be.