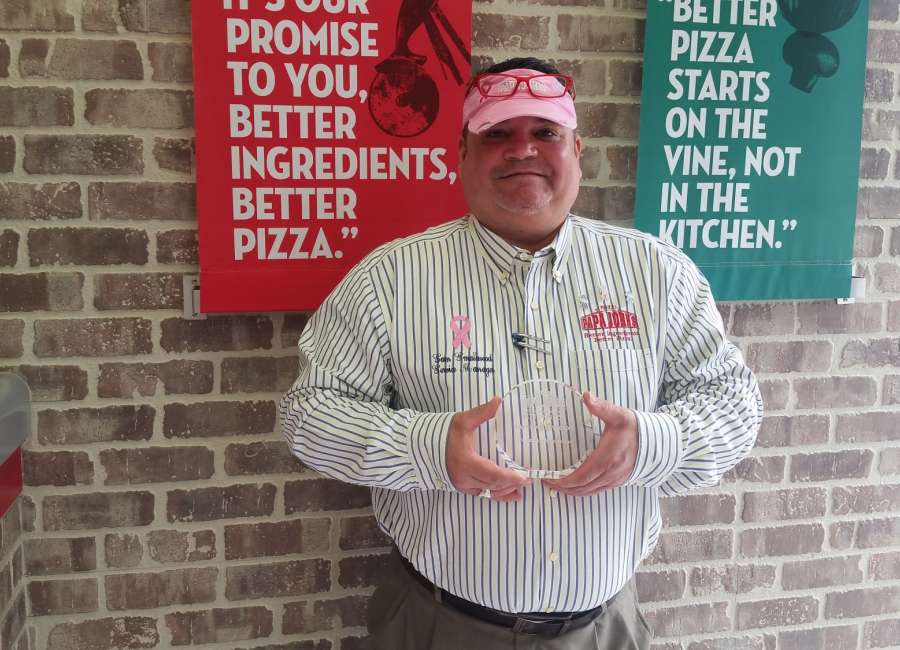 If you walk into the Papa John's store off Temple Avenue, you're bound to be greeted by customer service representative, Sam Smallwood. 
The energetic employee welcomes all his customers with a warm smile and friendly personality. Smallwood takes pizza orders, corrects mistakes and also makes it his mission to learn all his guest's names.
Smallwood's enthusiasm has won over dozens of people in the community - and recently earned him special recognition within the Papa John's company.
In May, the employee was flown to a corporate meeting in Colorado Springs, Colo., and presented with the Brand Ambassador award. It was given to Smallwood by Papa John's founder, John Schnatter.
The award recognizes employees who go above and beyond their job description and make a positive impact within the company - and the community.
Customer feedback via Papa John's email and app determines which employee within the store's 5,000 chain restaurants nationwide will receive the prize.
Smallwood beat out thousands of fellow employees to take home top honors.  
"It was very humbling. I'm very big-hearted so I got emotional," Smallwood said. "It means a lot that customers thought so much of me they told upper management. There's a lot of restaurants here that they could go to, but they come to see me."
Brook Payton is Smallwood's general manager at the Temple Avenue store. 
"He's really good to the community, the kids love him and he makes a positive impact on our elderly customers," she said about Smallwood. "I think he's a good a brand ambassador. That's the title we gave him. He has good customer service. He's a sweetheart."
Case-in-point, while The Newnan Times-Herald was interviewing Smallwood, a customer walked in the store. The employee immediately knew the man's name and excused himself to chat with the customer and give him a hug.
Smallwood, who was born and raised in Newnan, has worked at the Temple Avenue Papa John's for five years. He always keeps candy, crayons and coloring books on hand for the kids, plus allows children to autograph his hats.
The kids call him "Mr. Sam."
"When customers come through our drive-thru, the kids can see me at my register inside the store. One day a little girl didn't see me and she started to cry. I had stepped to the back to get a pizza, but when I came back out front and she saw me she stopped crying," Smallwood said. "It's real humbling that they look at me like that."
"He's amazing," Payton stated. "I have a 4-year-old who lost a tooth this week and she wanted to call and tell him about it before she called her grandmother."
Smallwood's youngest customers hold a special place in his heart. When a customer's 13-year-old son passed away last year, Smallwood attended the funeral," Payton said. He also gave a speech about how the teen made a positive impact on his life.
The Papa John's employee always wears cancer survivor pins on his uniform to show his support for survivors and regularly visits the Cancer Treatment Center of America in Newnan.
Smallwood said the store receives a lot of delivery orders from the medical center. He always picks up the tab with his own money - and sometimes transports the food himself. 
CTCA officials discovered Smallwood's generosity and held a luncheon in his honor to show their appreciation.
The recognition does not seem to faze Smallwood. For him, going above and beyond for his customers is part of the job.   
"I love what I do, absolutely love it," he stated. "My customers are like my family … I appreciate each and every one of them. I love all of them. If there's anything I can do for them, they know where I'm at." 
****
Melanie Ruberti: melanie@newnan.com