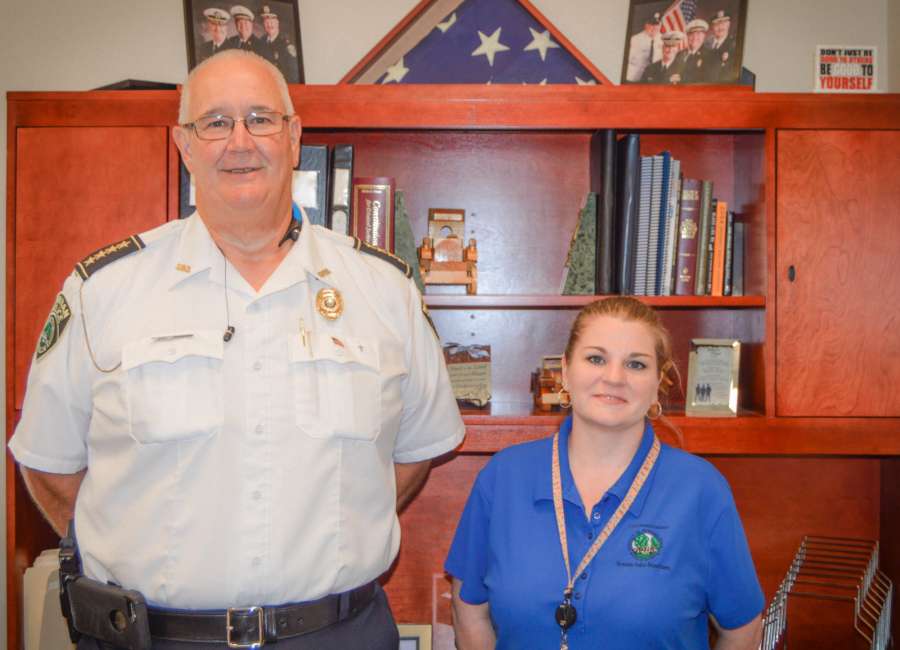 It turns out Newnan firefighters are not the only first responders with a knack for cooking en masse.
The Newnan Police Department has a few secret chefs of their own who know their way around a kitchen - starting with the top dog, Chief D.L. "Buster" Meadows.
"My dad made all three of us boys learn how to cook," Meadows said of himself and his brothers. "I like to cook breakfast … sausage and biscuits, grits, gravy, butter, lots of cheese … after you eat, you can't do a cholesterol test," he laughed.
Meadows would prepare his famous breakfasts around Christmastime, over a span of two days so all his officers could enjoy the meal. That includes detectives, dispatchers and administrative staff - a total of 97 people.
"I like to see them relax, have a good time and enjoy the meal without getting interrupted," Meadows stated.
The Chief made spaghetti for last year's awards banquet. Just last month he treated his staff to homemade ice cream - vanilla and cherry/pineapple.
NPD Communications Officers Tina Thompson and Priscilla Barron also share their passion for cooking with their colleagues.
During Tropical Storm Irma, Thompson baked batches of lasagna and Barron made gallons of chili, brunswick stew, vegetable beef soup and chicken taco soup for the entire department.
It was the dispatchers' way of saying, 'Thank you,' for their colleagues' hard work.
"I didn't know if our power would go out, so I just made gallons upon gallons of soup," Barron said. "I wanted to make sure all my guys could eat because we didn't know what the storm was going to do."
Barron and Thompson also host special dinners twice a year for co-workers on their shift.
Thompson's favorite dishes are chicken Alfredo and lasagna.
"I don't really have a secret recipe," she said. "The lasagna is one that I found years ago in a cookbook. But I don't go by measurements at all. It's usually a dash of this or a dash of that."
Chief Meadows, Thompson and Barron said it isn't about the meal that's prepared, but the fellowship surrounding it.
"My husband and I are 'servers,'" said Barron. "We love to do stuff for people … Cooking is something you can do and meet a physical need, and also meet an emotional need too."
"We find out what is going on with each other, learn more about each other and we aggravate each other, just like brothers and sisters do," Meadows said about the staff meals. "... It draws you closer to your partner … and there's a better sense of camaraderie.
"I think that trust also spills over into the community when we're out and about," he added.
******
Melanie Ruberti
melanie@newnan.com
Chief Meadow's cherry / pineapple homemade ice cream

Newnan Police Chief Buster Meadows describes his cooking style as, "simple, country cooking."
That description also includes his desserts.  
Chief Meadows likes to divert off the traditional measurements of a recipe and instead "sweeten" by taste, so measurements from a similar recipe off of tasteofhome.com have been added in the list of ingredients.
Here's a quick and easy recipe for his homemade cherry and pineapple ice cream:
Ingredients:
1 jar of cherries without stems

1 can of crushed pineapple

Milk *(about 4 cups)

Sugar *(about 2 ½ cups)

1 large can of evaporated milk *(about 1 cup)

Vanilla extract *(about 1 tsp.)

Ice

Ice cream maker
Recipe:
Grind up cherries and mix with crushed pineapple
Add in a can of whipped cream, milk, sugar and vanilla - until you are satisfied with the taste.
Place mixture in ice cream maker, along with ice and turn on the device.
Enjoy!
****
Have a recipe you'd like to share with us? Send it, along with a list of ingredients and your name to Newnan Times-Herald reporter Melanie Ruberti at melanie@newnan.com. We will courtesy you for your submission.