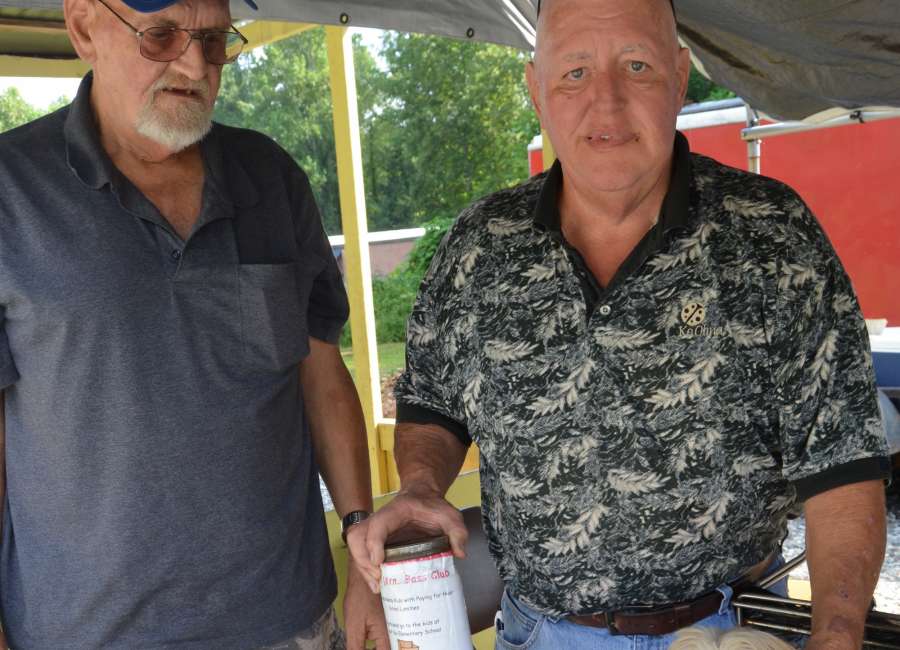 BY LINDA ERBELE
WHITE COUNTY NEWS
CLEVELAND, Ga. -- The elementary school children of White County School System started the 2017 school year with a clean plate – as far as old school lunch charges are concerned.

That's because of a heaping helping of generosity from the heart of produce stand operator Michael Meaders, who led an effort to pay off old lunch charges for every elementary student in the county.
"Two weeks before school started we had 'em all paid," said Meaders, who, along with his family, runs a produce stand south of Cleveland on U.S. 129. "We keep a little jar here for people to donate."
Meaders said he was determined to act after hearing a story on the news about kids and school lunches. He talked with members of the Yonah Mountain Bass Club, which gave him money. Then he put out a Facebook plea.
"It was unreal, the community response," Meaders said.
The outpouring continued. People gave him $100 bills, and lots of smaller denominations.
"At first, I thought, I will do my best for Jack P. Nix and Mossy Creek (elementary schools)," he said.
But the money came in and Meaders said he learned that it would take just "a couple more thousand" to clear the debt of Tesnatee Gap and Mt. Yonah Elementary. So he made another Facebook plea.
He said the community response to clear the more than $6,000 in lunch debt could "almost bring you to tears."
"Two weeks before schools started, we had 'em all paid," Meaders said.
White County School System policy is that students with unpaid school-lunch charges are treated exactly as other students – with the exception that their parent or guardian receives a phone call.
"No one knows the student has a charge," said school nutrition director Abby Rowland. "They get a full meal."
While some students may go a week or two before parents add dollars to their account, there are student account balances that exceed $100.
In many cases, the debt occurs early in the school year, before the parents get around to filling out the paperwork for free and reduced-cost lunches, Rowland said.
Parents are often not aware that even though their child is approved for free or reduced-cost lunches, previous charges for lunches do not go away and still need to be paid.
Rowland encourages people to send the forms in, even if their finances may not qualify for free or reduced-cost lunches.
"Even if your child does not eat in the cafeteria, sending back the completed form could assist your student with testing fee waivers," she adds. "The school receives additional federal funding based on both the number of students who apply and qualify, so you can be an integral part of providing increased funding for technology and other programs aimed at increasing our students' performance."
Applications are sent home to every student's family at the beginning of the school year. In addition, parents can submit an online application through the parent portal of Infinite campus. Under the "Family" heading, click on appliations/forms.
"Every family who submits an application will be notified of their students' status by our office," Rowland said. "If you do not hear from us, we encourage you to call our office and follow up."
Because the school lunch program is federally-funded, Rowland said they cannot just "write it off" as a loss. The "bad debt" stays with the system and looks bad during audits and reviews.
With Meaders spearheading local giving, the books have been cleaned up at the elementary school level – and he hopes to serve up more good news.
He's now working to raise money for the old lunch charges at the high school.