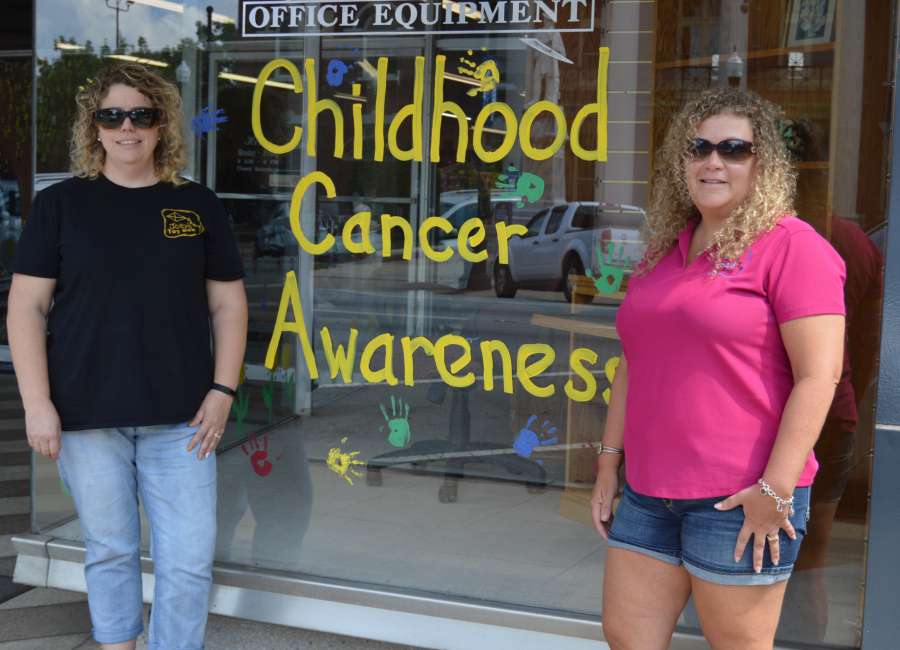 The color gold is a popular staple in the homes and businesses of Deidre Bembry and Kim Doolittle. 
The bright pigment now decorates the windows of dozens of businesses and restaurants from Newnan to Senoia. The campaign, called Paint the Town Gold, was headed up this year by Doolittle and Bembry.
The color serves as a symbol of hope in September during Childhood Cancer Awareness Month.
"We want that gold ribbon to be as visible and as recognizable as the pink ribbon for breast cancer," Doolittle stated.
The campaign started with a "gold out" during an East Coweta High School football game. The women and dozens of volunteers painted gold ribbons and inspiring messages on the windows of various businesses. The water inside the fountain in Ashley Park was also turned "Joey" gold for the month.
For Doolittle and Bembry, the vibrant hue is also a reminder of their children – their hard-fought battles against cancer and the legacy each child left behind.
Both women run separate nonprofit groups aimed at helping children diagnosed with pediatric cancer – and their families.
"No parents should lose their children to cancer," said Bembry, chairperson of Keris Kares. "Parents are not supposed to bury their kids. It's something I wrestle with daily. I don't want another family to have to deal with that." 
Bembry's daughter, Keris, was 4 years old when she was diagnosed with Diffuse Intrinsic Pontine Glioma, a rare form of brain cancer. The tumor grows near the brainstem, which controls the body's vital functions, such as breathing and heart rate, according to the Dana-Farber Boston Children's Center.
Doctors told Bembry the tumor was inoperable and there was limited treatment options. She also learned the disease has a 99 percent fatality rate. 
But Keris was a fighter, always full of spunk and dressed to the nines, Bembry said. The little girl endured several rounds of chemotherapy, radiation and was even involved in out-of-state medical trials.
Keris was given six months to live – 18 months at the most. She lived 20 months and died in July 2015. 
"I remember in the end asking her, 'Do you want to keep fighting? Do you want to give up?' She said she didn't know … but then gave us very specific instructions on how to care for each other... she knew the end was coming," Bembry said. "She said she was seeing angels … I know she was ready to go and she was peaceful … she never looked like someone dealing with cancer. She still ran and played with her friends. She lived her life to the fullest."
Keris and her mom started Keris Kares in January 2015, shortly before the little girl passed away.
The nonprofit organization holds several events throughout the year to raise money for families dealing with pediatric cancer. The funds allow families to pay bills, among other things.
While Keris Kares focuses on families, Joey's Toy Box concentrates more on the children afflicted with cancer.  
The nonprofit organization is run by Doolittle in honor of her son.
Joey Doolittle was only 3 months old when he was diagnosed with Rhabdomysarcoma, cancer of the soft tissue, explained Doolittle.
The little boy also went through chemotherapy and radiation – and was cancer-free for almost four years. He relapsed and lived three more years before passing away on July 4, 2008 – Independence Day. Joey was 9 years old. 
The idea for Joey's Toy Box started three months earlier while he was in the hospital, Doolittle said. Her son would be awarded with a toy for finishing treatment. One day he noticed there were not many toys left.
"There were only three toys left in the bag," Doolittle remembered. "Later that night he asked me if people would give a little kid money. I asked why. He said he wanted to make sure that every little kid would have a toy waiting for them."
Joey's Toy Box delivers new toys and electronics every six weeks to children in four Atlanta-area hospitals, Doolittle said. The organization also grants "Second Wishes" to critically ill children – which includes sending families on trips or treating the children to shopping sprees.  
While Doolittle and Bembry's nonprofit organizations serve a different population, both are focused on raising awareness about pediatric cancer.
"Only four percent of all monies given to fund cancer research and treatment go to pediatric cancer – the rest goes to adult cancer," Bembry stated. "We need everybody's hands on deck to move that four percent up. The more awareness goes up, the more funding will go into pediatric cancer."
Both women are grateful for the community's support during the Paint the Town Gold campaign. They hope to see more vibrant hues next year.
 ****
Melanie Ruberti: melanie@newnan.com