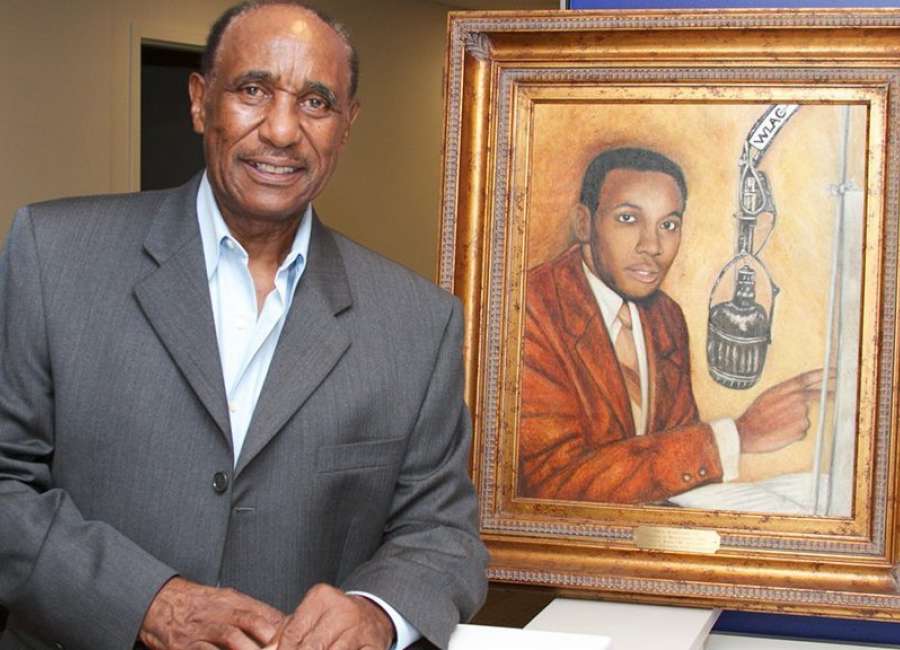 Don Whitehead first African-American in radio broadcasting
A tall, etched, crystal statue now proudly adorns a dining room table inside Don Whitehead's Newnan home.
The award and subsequent recognition symbolize a pinnacle point in Whitehead's career as a dedicated radio news journalist.  
Whitehead, along with three other men, were inducted into the Tennessee Journalism Hall of Fame on Aug. 15, in Murfreesboro, Tenn.
"I was flabbergasted," he said with a laugh. "I didn't know what to think when I got the letter (telling me) they (board members) were going to induct me into the Tennessee Hall of Fame. I didn't know what to think. The ceremony was nice … there was quite a lot of people there."
Whitehead was surprised a second time when he was presented with two more awards during the event. He was honored with proclamations from Tennessee Governor Bill Haslam and the state's general assembly.
"It was amazing," he said. "I thank God. He had a lot to do with it. I didn't know what was ahead of me when I took the job, but He knew."
Whitehead was the nation's first African-American radio news broadcaster – a position he almost declined.
The young man had his sights set on New York City, where he hoped to work in the theater. Instead, in the summer of 1968, Whitehead became the nightly radio newscaster at WLAC in Nashville, Tenn.  
For 10 years, millions of people living in the Southeast and Midwest hung onto Whitehead's every word.
It was not the color of his skin that attracted listeners; instead it was Whitehead's motivation to travel into racially charged communities across America where violence was almost an hourly occurrence.
The young broadcaster mainly met with folks on college campuses.
One of his first assignments was at Jackson State University in Jackson, Miss.  – less than a year after the assassination of Martin Luther King Jr.
"I was scared because of all the killings," Whitehead remembered. "Cities were being burned because of MLK's death … but I had sense enough not to go to a gas station by myself.
"At first I was overwhelmed," he continued. "Because all these students and faculty showed up just to listen to me … I met with all the faculty and even signed autographs."
Whitehead's animated and vivid interviews fascinated listeners captivated by the civil rights movement and unrest.
But there was a more important reason Whitehead toured college campuses. It was the same reason he was chosen to join the prestigious Tennessee Journalism Hall of Fame.
According to a press release issued by the Hall of Fame board members, Whitehead was, "... a voice for the people throughout the South, using the radio airways to encourage black youth to attend school emphasizing the importance of education."
The former journalist estimated he visited 38 college campuses from North Carolina to Ohio and as far south as Texas.
Whitehead was also known for his compelling interviews with some of the nation's most popular or influential people, including Jackie Robinson and Henry Kissinger.
More importantly, the young radio announcer paved the way for future journalists, according to Haslam's official proclamation.
"Once a young man came up to me and said, 'Mr. Whitehead, thank you for making it possible for me to become a broadcaster at a predominately white radio station.' That (comment) really touched me," Whitehead stated.
Whitehead left the broadcasting business in 1978. He worked briefly in sales before opening his own insurance company. He left Nashville and eventually moved to Newnan.
Whitehead is currently writing a book with his sister chronicling his broadcasting career.
Those memories are now a part of history – permanently etched in the Tennessee Hall of Fame for others to appreciate, too.
****
Melanie Ruberti: melanie@newnan.com