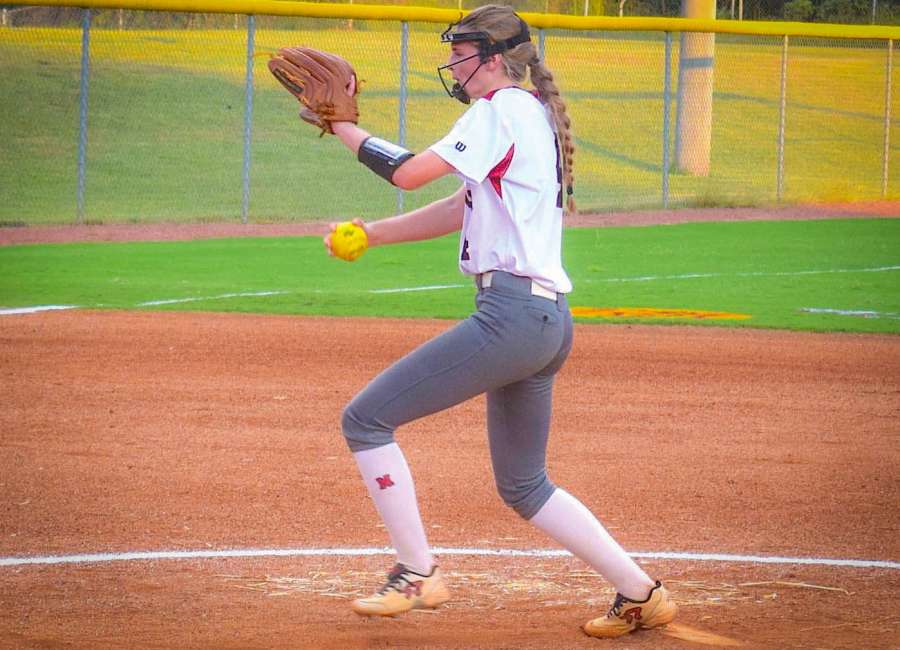 Northgate senior pitcher Liz Sebastian threw a perfect game and also knocked in six runs to help lead the Lady Vikings to a 16-0 home win over the Langston Hughes Lady Panthers Thursday evening in Region 5-AAAAAA action on Senior Night.
"It was a pretty good night for me and my teammates," said Sebastian. "I was excited all day. I have watched other teammates go through Senior Nights, and now it's my turn. It was fun."
It was definitely fun for the Lady Vikings. After junior Madison Maxey's RBI single made it 1-0 in the bottom of the first inning, the Lady Vikings loaded the bases before Sebastian came to bat. She promptly smacked a three-run double and eventually scored to make the score 5-0 after the first.
Northgate (9-8 overall, 5-1 region) blew the game open in the second inning. Senior Charla Echols got the party started with an RBI triple for the 6-0 lead and the rout was on. Two-run singles from Natalie Heath and Maxey made it 10-0, and two Lady Vikings scored on errors to give Northgate the 12-0 lead.
Sebastian helped her own cause in the inning with another three-run double for the 15-0 lead, and Hope Futral's RBI single closed the scoring for Northgate, making it 16-0.
Sebastian got two Lady Panthers out in the top of the third inning and was replaced on the mound by senior Trinity Ingleston, who recorded the final out. The game was then called due to the mercy rule.
"This was nerve-wracking and a good feeling at the same time. I'm glad we were able to get the win on Senior Night," said Ingleston, a Georgia State commit.
"It was a pretty special night. My senior year came up pretty fast," said Echols, a Michigan State commit. "I'm excited to play the rest of the season. Even though we're young, I think we can finish up strong and hopefully host a round of the state playoffs."
"Senior Night was emotional for me. We are pretty close as a team, and I'm going to be sad to leave my teammates," said infielder Madison Deese. "But it was cool to have a night just for us seniors. And we got a region win, so that's even better."
Northgate will next play in a two-day tournament, starting at 4 p.m. today.