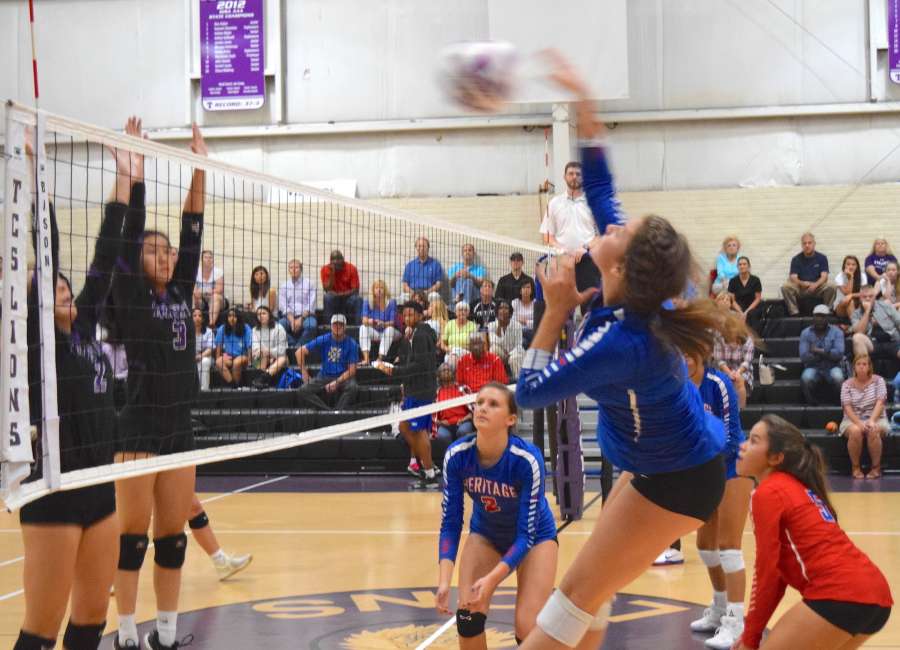 The Heritage School Lady Hawks volleyball team made the short trip to Trinity Christian School Tuesday evening, sweeping the homestanding Lady Lions in three games to remain undefeated in GISA Area 1-AAA play.
Heritage won 25-16, 25-22 and 25-16 to improve to 13-9 overall and 3-0 in area action. Trinity – the defending GISA Class AAA state champions – fell to 7-10, 1-1.
The Lady Hawks, who just won the Silver Bracket in last weekend's Rally High Volleyball Tournament, have served notice (pardon the pun) that they're not stepping on the volleyball court just for the exercise – they are playing to win.
"We were all looking forward to playing Trinity this year, since they beat us in the state finals last year," said Heritage senior hitter Keera McDonald. "It sure feels good to defeat Trinity on their home court. Our team dynamic and our chemistry is strong, and we're a close-knit group. We pick each other up all the time and do our best to win."
The Lady Hawks definitely did their best Tuesday night. They took control of the match early in game one. Heritage played solid team volleyball, bolting to leads of 12-5 and 18-8 thanks to kills and serving aces from Genevieve Richards. 
Trinity's Rachel Gregg kept the Lady Lions around with a couple of kills, and Savannah Poling also had a kill to cut the lead to 19-11, but they would get no closer. Heritage outscored Trinity 6-5 and a kill from Heritage's Cate Yancey won the game, 25-16.
Game two saw a much better output from Trinity. The Lady Lions made several saves and passes to teammates and took a 15-12 lead. Trinity then pushed its lead to 21-16 and looked to cruise to a victory, but the Lady Hawks weren't done. 
The visitors kept chipping away at the lead to cut it to 21-19, but a block for point by Trinity's Morgan Lane and Anna Montgomery pushed the lead back to 22-19.
That would be the last point of the game for Trinity. The Lady Lions made mistakes, and Heritage capitalized, embarking on a 6-0 run to rally for the 25-22 victory in game two.
The Lady Hawks kept their foot on the gas in game three, sprinting to an 11-3 lead thanks to three straight serving aces from Andrea Caceres. 
Trinity's Ava Taylor had two straight kills to cut Heritage's lead to 12-5, but Heritage got a tip shot from Yancey and a serving ace from Kadence Jennings to give it a 19-10 lead.
Trinity cut the gap to 22-16, but the Lady Hawks would score the final three points to win the game and the match, 25-16.
"We're inconsistent right now. We need to maximize our execution and minimize our errors. I told the girls that although it hurts to lose to our rival, no championship was won or lost tonight," said Trinity head coach Joe Herrera, who actually lost to Heritage for the first time in his coaching career. "Heritage is playing together, and they played well tonight. We look forward to seeing them again at their place next week."