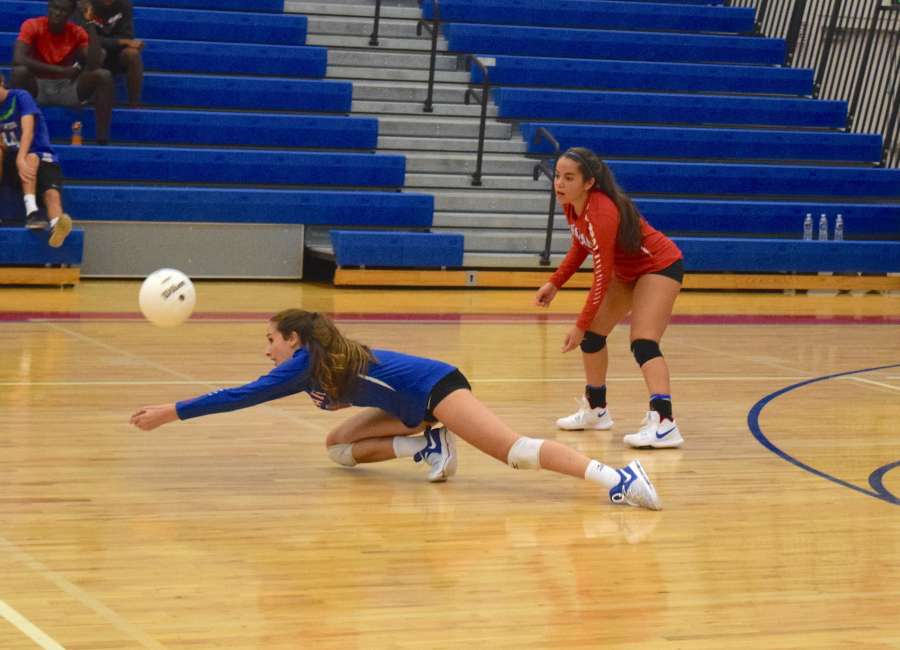 The Heritage School Lady Hawks volleyball team kept its perfect area record intact with a 3-1 win over the Oak Mountain Lady Warriors Thursday evening in GISA Area 1-AAA action at The Heritage Center.
With their fourth straight win, the Lady Hawks improve to 9-5 overall and 2-0 in region play.
It wasn't an easy victory for the Lady Hawks Thursday.
Heritage won 31-29, 22-25, 25-14 and 25-14 in the best-of-five series against an Oak Mountain team that played hard from the outset.
"We've been working on finishing sets and keeping the pressure on. We don't want to be satisfied until our last point is scored," said Lady Hawks head coach Mary Louise Hunt. "We're a young team, but we're gelling and I am proud of them. Oak Mountain is always a solid team, so it's a strong plus for us to beat such a competitive team."
In game one, the Lady Hawks couldn't open a big lead on Oak Mountain. Heritage freshman Genevieve Richards had a service ace for the 9-6 lead early, but Oak Mountain — thanks to big plays from outside hitters Kenzie Reid and Cameron Reid — stayed within striking distance.
Heritage senior Keera McDonald had a kill shot to give the Lady Hawks their biggest lead of the game at 23-19, but Oak Mountain fought back to tie the match at 23-all, the first of six ties in the game. In volleyball, a team has to win by two points or more, and Heritage finally came through. With the score tied at 29, sophomore hitter Cate Yancey had two straight kills to give the Lady Hawks the big 31-29 game one win.
Heritage kept it going in game two. Strong serves by junior libero Carissa Vazquez and a block for point from sophomore Olivia Ayers put Heritage up 12-5 and it looked like the Lady Hawks would cruise to a win. But Heritage's youthful mistakes caught up with them and Oak Mountain rallied to take a 20-19 lead. A block for point by McDonald and junior Andrea Caceras put Heritage in a 21-all tie but Oak Mountain went on a 4-1 run to win game 2, 25-22.
Heritage showed some heart after the game two loss, buckling down to win games three and four handily. Caceras had a tip shot for a point, Vazquez had a service ace and Richards had several kills to stake Heritage to a 17-9 lead. McDonald then had two kills and a block for point and Heritage led 22-12 before securing the 25-14 game three win.
In game four, Caceras had three kills and a service ace, Kadence Jennings had a service and Richards had a kill to put Heritage up 17-8. Oak Mountain made several errors in the game and a service ace from Yancey gave the Lady Hawks the insurmountable 21-8 lead. Heritage went on to win the game and the match, 25-14.
"I think we started overthinking everything in game two and that hurt us in that loss. After that, we settled down and figured things out," Yancey said. "It feels amazing to beat Oak Mountain and stay in first place."
"Oak Mountain always plays us strong. We started out well each game and we fought hard to win the three games we won," said Richards. "If we keep practicing hard and have fun on the court, we can keep winning matches. The harder we play, the better we play."
The Lady Hawks' next match is a home contest against area opponent St. George's Episcopal School at 6:30 p.m. Tuesday.