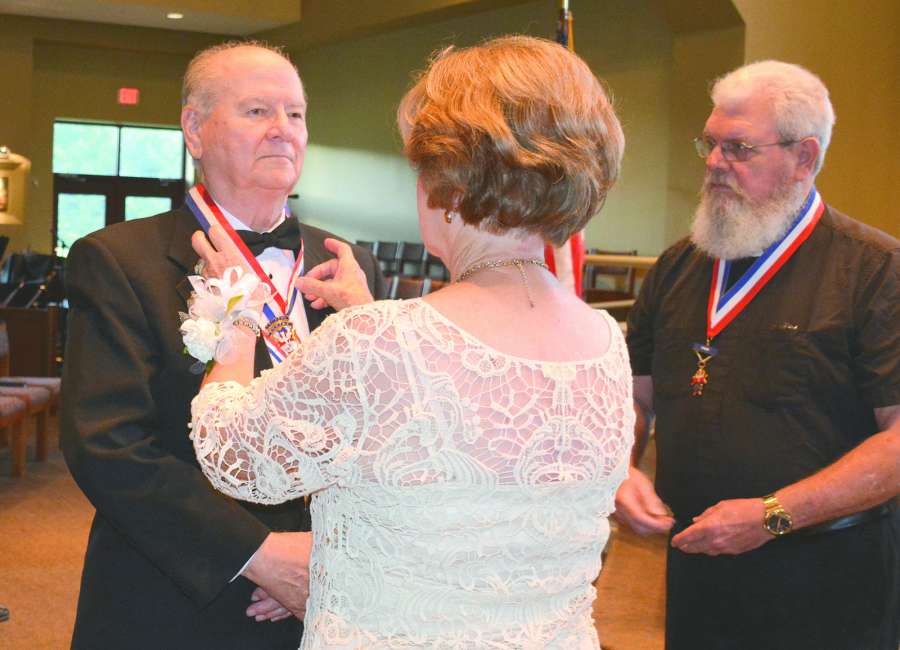 The annual Installation of Officers ceremony of the 4th Degree Knights of Columbus, Coweta Assembly 3199, was held at St. Mary Magdalene Catholic Church.
The ceremonies were held Aug. 12. The ceremony was presided over by Joe Costa, Georgia District Marshall.
The black-tie, formal event was performed on the church altar. Installed were John Michalewicz, Faithful Navigator; Tony Oresteen, Faithful Captain; Father Terry Crone, Faithful Friar; Deacon Jim Bishop, Spiritual Advisor; Mick Maguire, Faithful Pilot; Roland Roger Jr., Faithful Admiral; Ed O'Connor, Faithful Purser; Bill Horstkamp, Faithful Comptroller; Rudy Duyka, Faithful Scribe; Nils Anderson, Faithful Inner Sentinel; Nic Provenzano, Faithful Outer Sentinel; Jimmy Grubbs, One Year Trustee; Jim McCord, Two Year Trustee; and Mike Barrow, Three Year Trustee.  
During the ceremony, officers and their wives were escorted by the Bob Scott, Honor Guard Commander. Wives and daughters of deceased assembly members attended as special guests – Mary Ann Himes, Lisa Jones, Mary Key and Gayle Pizzitola.
The church hall was decorated in a patriotic theme by Mrs. Rudy Duyka and Mrs. Maggie Roger. Following the ceremony in the church, a potluck dinner was served.
The activities of Coweta Assembly 3199 are focused on patriotism. Members of the assembly participate in fundraisers and support activities for firefighters and troops.
Recent projects were a fishing tournament that resulted in $1,300 donated to Families of Fallen Patriots and 86 care packages sent to deployed troops in Afghanistan, Syria, Bahrain, Turkey, Guam and aboard a ship at sea.  
An annual event, open to the public, is the assembly's "flag retirement" ceremony held on Flag Day, June 14.