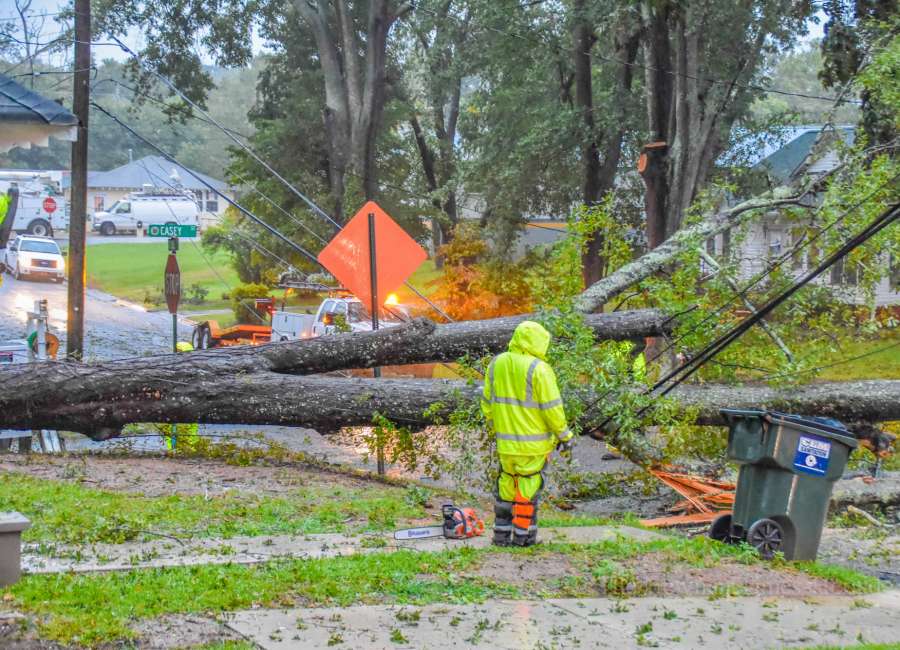 Thousands remain in the dark after a tropical storm downed lines across the county.

Approximately 4,548 Coweta-Fayette EMC members were still without power in Coweta County on Tuesday afternoon, according to Chellie Phillips, vice president of communications and public relations.
"Outages are widespread across the whole system," Phillips said. "We know of 40 poles that are broken and will have to be replaced. This count could climb higher as crews continue working and finding more trouble spots along the way. "
Along with EMC line crews, crews from Kentucky, MasTec, TCI, Trees Inc., and Newnan Utilities are out working to restore power, Phillips said.
"Wednesday, we'll have more crews from Tennessee, Carroll EMC and Pike Electric joining in the restoration efforts," Phillips said. "That will give us approximately 375 line workers helping to restore power across the system."
EMC hopes to have 80 percent back online by Wednesday evening, and 95 percent by Thursday.
"Once we get the broken poles cleared up we should see larger areas coming back on," Phillips said.
On Tuesday evening, more than 1,800 Georgia Power customers in Coweta were still without service, according to spokesperson Ashley West.
Jeff Phillips with Newnan Utilities said approximately 514 customers lost service, with a single tree causing over 400 of the outages Monday afternoon.
"Even though we had many fallen trees and limbs, we were extremely fortunate that the damage wasn't more widespread," he said. "We sincerely appreciate the hard work of our employees and the patience of our customers during this storm event."
Sheriff Mike Yeager said members of the sheriff's office and other members public safety spent a large amount of time attempting to clear trees out of the roads across the county.
As of Tuesday afternoon, the calls for falling trees had subsided, but he warned residents to be careful in the coming days.
"Unseen hazards still exist and trees can still be unsteady, so we advise folks to be safe," Yeager said. "Our crews, along with the road department and power companies are still working to clear up those possible hazards."
Yeager said there will be a debriefing on Thursday where his staff will assess their response to the storm.
"But I have to give our public safety and utility companies two thumbs up – they showed a tremendous effort and response," he said. "We have definitely fared well through this storm and we should be proud of these people who keep our community safe."
****
Clay Neely: clay@newnan.com, @clayneely