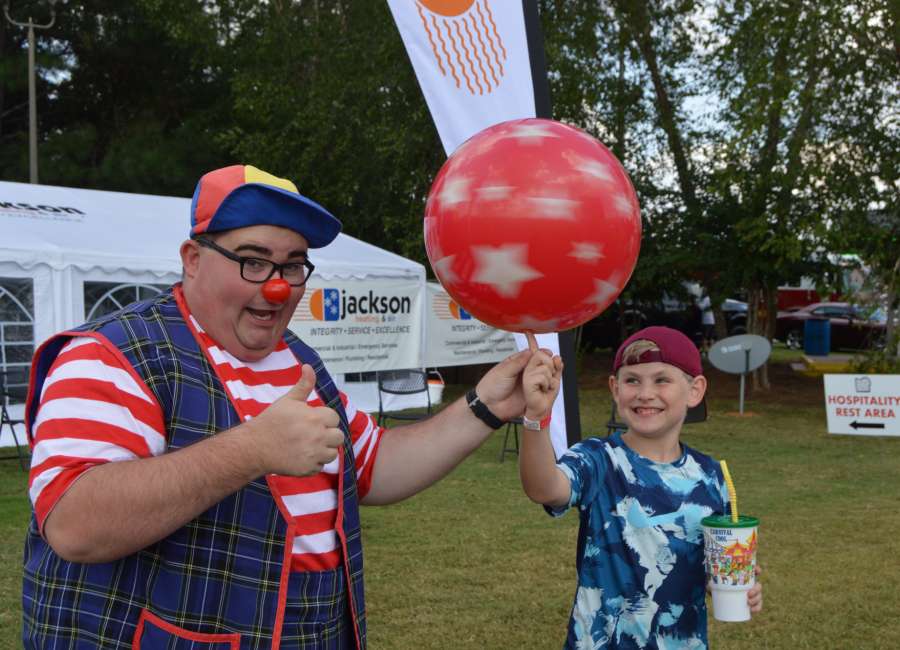 Smiles on the faces of children and adults were in abundance Saturday at the Kiwanis Coweta County Fair.
 The heat did not seem to bother people as they milled around the fairgrounds off Pine Road. Many immediately jumped on the various midway rides, while others headed to have their face painted, create an iron horseshoe, play games, watch a comedy show or just take in the sites inside the Agricultural Center and Exhibit Hall.
"I really like the rides, especially the 'Gravitron,'" said Dorien Carpenter, 16.
The fair also featured lots of entertainment including, "DeWayne the Balloon Man" and Lew-e's Comedy Circus.
"The kids are the real stars of my show," explained Lee "Lew-e" Andrews. "My job is to make people forget about their problems that they have that day. Just loosen up and have fun."
Blacksmith Marvin Gardner allows children to be creative in his pop-up iron work shop.
"I recruit the kids to help turn the fire which heats up the nail and we turn it into a horseshoe," said Gardner.
Gary T. Welden, chairman of the Kiwanis Fair committee, walked the fairgrounds Saturday afternoon.
"This is the nicest family-oriented fair in this part of the state," he said. "It's clean, safe and fun. All the money made stays in Coweta County.
"I enjoy seeing the faces of grandparents watching the faces of their grandchildren take everything in," Welden continued. "The fair makes good memories for them and it's fun."
Kiwanis member and Managing Director of Newnan Utilities Jeff Phillips agreed.
"I enjoy seeing the children. It's a festive time and the kids are having a great time and it's for a great cause."
"The excitement on the kids' faces is worth a million dollars," added volunteer Pam Johnson.
It seem everyone got their money's worth of smiles and excitement on Saturday.
"This was the best day of my life," one child exclaimed while leaving the fairgrounds.
****
Melanie Ruberti: melanie@newnan.com