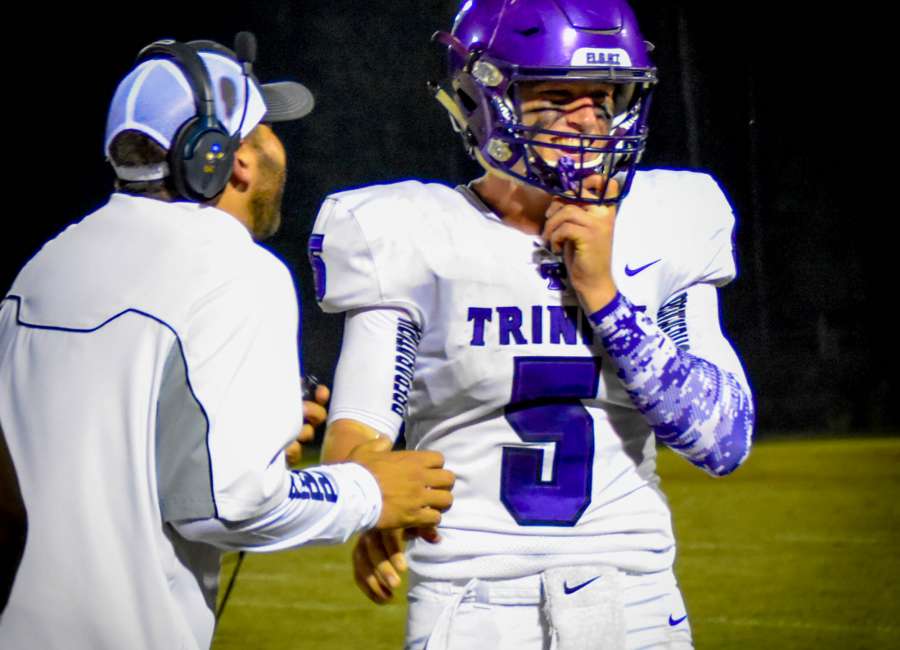 Here is a look at how local teams did Friday night in high school football action. Complete details will be in Sunday's print edition of The Newnan Times-Herald:
Trinity Christian 61, Loganville Christian 6:
Zach Seymour rushed for two touchdowns and the Trinity Christian Lions raced to leads of 33-0 after one quarter and 47-0 at the half en route to a 61-6 victory over the Loganville Christian Academy Lions Friday night in Trinity's homecoming game.
It was Trinity's first-ever win over LCA in four tries.
Trinity — which went with all-white jerseys for homecoming — won its fifth straight game to improve to 5-2 overall and 2-0 in GISA Region 1-AAA play. LCA lost its fourth straight game to fall to 2-4, 1-2.
Heritage 59, Holy Spirit 8:
The Heritage Hawks rolled to a 34-2 halftime lead and coasted to the 59-8 victory over the Holy Spirit Prep Cougars in GISA Region 1-AAA action in Atlanta.
Heritage running back Anthony Williams rushed for three touchdowns to lead the Hawks, who won their second straight game to improve to 4-2 overall, 2-0 in region play. Holy Spirit falls to 1-4, 0-2.
Northgate 28, South Paulding 14:
Nick Carter scored two touchdowns to lead the Northgate Vikings to a 28-14 homecoming victory over South Paulding Friday night in Region 5-AAAAAA action at Henry Seldon Field.
Tanner Hughes and Devontae Johnson also scored one TD each for the Vikings, who improve to 3-2 overall and 2-1 in the region. South Paulding remains winless at 0-5, 0-3.
West Forsyth 20, Newnan 10: 
The West Forsyth Wolverines built a 10-7 lead at the half, and spoiled homecoming Friday night at Drake Stadium with a 20-10 victory.
Kellen Lynch kicked a 39-yard field goal and homecoming king P.J. Harris caught a 78-yard touchdown pass from quarterback Bryant Walker to account for the Cougars scoring.
The game was delayed by 30 minutes because of lightning.
West Forsyth improves to 4-1 while Newnan falls to 1-4.
Newnan is off next week.
Central 46, Praise Academy 44: 
Down 44-22 at one point in the game, the Crusaders rallied for the two-point victory to win on the road.
Central needed a goal-line stand on fourth down late in the game to earn the victory and break the losing streak.
Marcelous Giles caught a 52-yard touchdown and quarterback Riley Byers threw for 92 yards and rushed for 62 more to pace the victory.
The Crusaders stay on the road next week against Lafayette Christian.
With the win, Central improves to 2-3 overall.