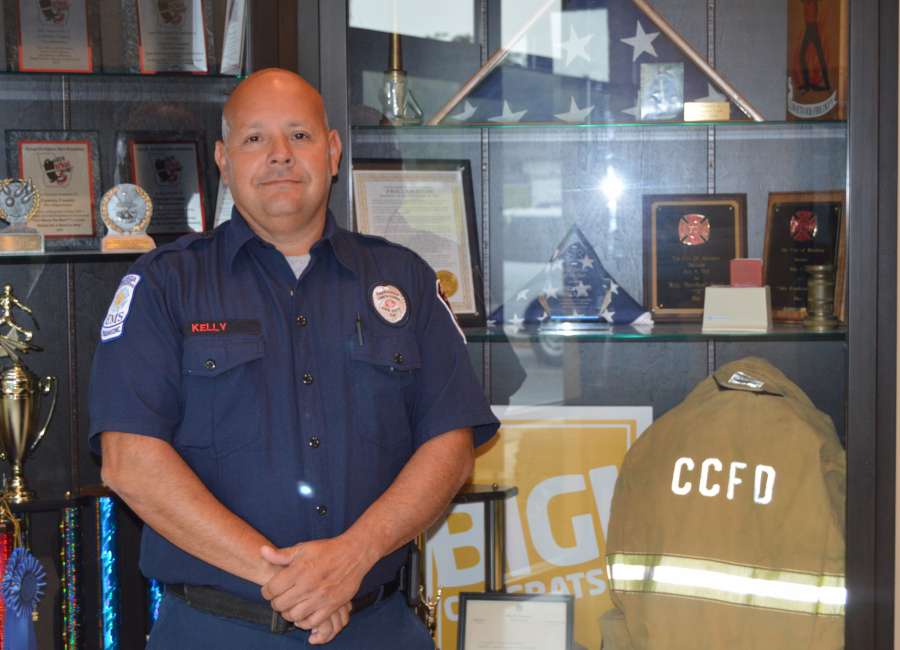 By MELANIE RUBERTI

melanie@newnan.com
There are never too many chefs in the kitchen when it comes to cooking inside the Newnan fire station off Jefferson Street. 
Dinner is the most popular meal of the day.
While the firefighters usually cook typical Southern cuisine, they also like to prepare some unique dishes on occasion. 
"I've made goat curry," said Newnan firefighter Joe Lofton. "I put some curry on the goat.Then I marinate habaneros and onions and brown them off in some oil. I add chicken stock with goat and let it cook for an hour and a half. Then I add two or three potatoes. I serve it with plain white rice mixed with coconut milk."
Bacon-wrapped venison rolls are the specialty of  Lt. Howard Martin, who also is with the Newnan Fire Department.
"I cut the venison up into cube steak and marinate in Italian dressing for a minimum of six hours. I usually do it for 24 hours because it makes the meat taste less 'gamey,'" Martin said. 
"I soften some cream cheese and spread it onto the cube steak. Then I saute some onions, mushrooms and jalapenos and put that on top of the cream cheese. I roll the meat and mixture up, like a  burrito, and wrap it in thick-cut bacon. Then I put the meat on the grill for 15-20 minutes."
The meals at Station One are not always so elaborate.
Fried pork chops, chicken, black-eyed peas, spicy cabbage, collard greens and cornbread are typical dishes that make it to the firefighters' dinner table.
Grilled pork chops were on the menu Wednesday night for Coweta County firefighters stationed in Senoia. Side dishes included grilled corn on the cob and buttered broccoli, said firefighter/paramedic Daniel Kelly.
Kelly was also the chef on duty that night. It's a task he doesn't mind taking on. 
"I've cooked since an early age and became more proficient at it in the military," he said. "Cooking is something I enjoy doing. As long as everyone enjoys the meal and eats, then I get enjoyment out of it."
Kelly said the most popular food request is his homemade lasagna, followed by Boston butts cooked over a smoker, sausage and gravy (mainly for breakfast) and his coconut cake.
Both fire stations describe their dishes as "Southern, country" cooking.
No matter what's on the table, firefighters from both departments said the best part is sharing a meal together.
"It's our time to get together and conversate," said Newnan firefighter Cory Scott. "Eating dinner together lets us sit down and 'rag' on each other."
"With the stress of our shifts, there needs to be something that lets us sit down and relax," Kelly said. "They (firefighters) are my family. They may not be blood, but they are my family. I don't cook at home so it's a joy to cook for people."
****
Melanie Ruberti: melanie@newnan.com