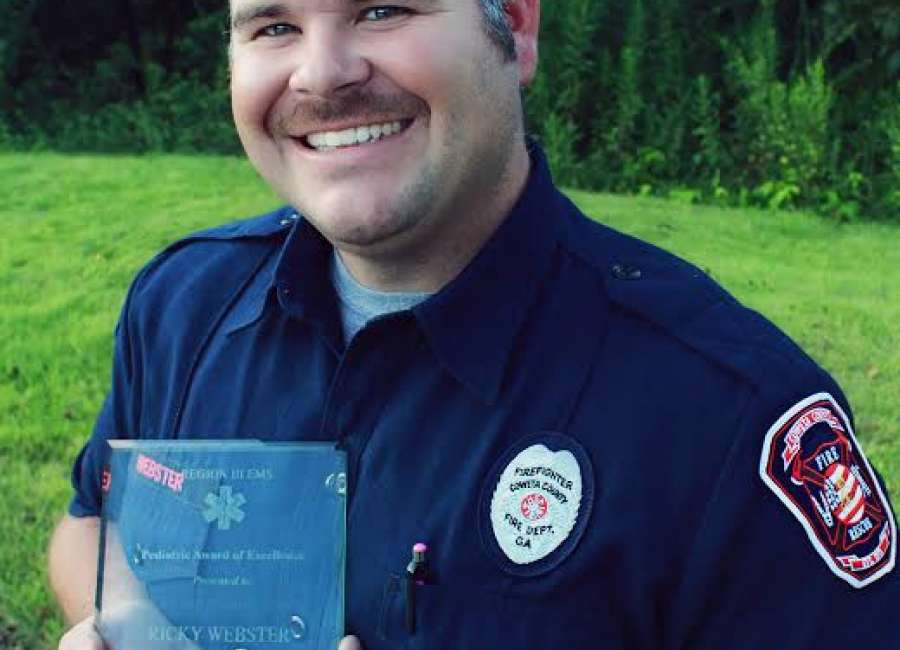 Coweta County Firefighter and Paramedic Ricky Webster is a humble man when it comes to talking about his career. 

But his 25-plus state awards for trauma life saves, cardiac life saves and medical life saves speak for themselves.
Webster added another plaque to his collection in May when he was honored with the State of Georgia Pediatric Award of Excellence. He was recognized by the State Office of EMS for saving a baby born prematurely at 25 weeks in October 2016.
"The call came out as an OB call, a woman in labor," Webster remembered. 
The birth process had already begun when Webster arrived, but there were complications. "The baby wasn't breathing, so I automatically started CPR then intubated the baby and started breathing for the infant before we transported it to the hospital." he said.
Amazingly, the baby survived.
"That is highly risky delivery and the survival rates are extremely low for babies born that early," explained Jules Webster, Ricky's wife who is also a firefighter and paramedic. "So for him (Ricky) to keep that baby alive and for the infant to survive is a miracle."
Webster and his fellow firefighters went one step further and collected money for the new mom so she could buy items for the baby.
A few months later, Webster learned he was being recognized by the state for saving the baby's life.
"I was honored and excited to receive the award, but I was kind of embarrassed because I'm really humble about stuff like that," he said. "It always feels good to know you made a difference in someone's life and people recognize your hard work. Medical and firefighting techniques are always evolving so you have to constantly keep up your training and skill level."
Webster knew as a young child he would become a first responder.  
"When I was a kid, I always said I wanted to be a ambulance driver," he explained. "Everyone in my family is in law enforcement. I wanted to do that too, but my dad said, 'No. Go into the fire service so you can spend more time with your family.' So I did. I started when I was 20 years old."
The firefighter/paramedic worked at fire stations in Clayton and Meriwether counties, plus in the Piedmont Healthcare emergency room in Fayette County as a technician.
He's been a first responder for more than 14 years.
"We're glad to have Ricky on our team and I know he'll continue to provide that same service to residents in Coweta County," stated Coweta County Fire Chief Pat Wilson. 
"We want people to know that's the kind of people we have on our team. It's always a good feeling as a fire chief to know I have those people that make a difference in someone's life. Ricky's efforts allowed someone to still be with us and that's awesome."
"I wrote in our wedding vows that he's the kind of paramedic all of us strive to be," Jules said. "He exceeds the standard. He's the paramedic you want working on your family members."
For Webster, the real reward is saving people's lives and helping them through their darkest hours. 
"It's truly about making a difference in people's lives," he said. "When you make that difference, it makes all the difference in the world to you."
Webster is stationed at the Coweta County Fire Department off Fischer Road.
He would like to go back to school and either become a physician assistant or nurse practitioner.
****
Melanie Ruberti: melanie@newnan.com