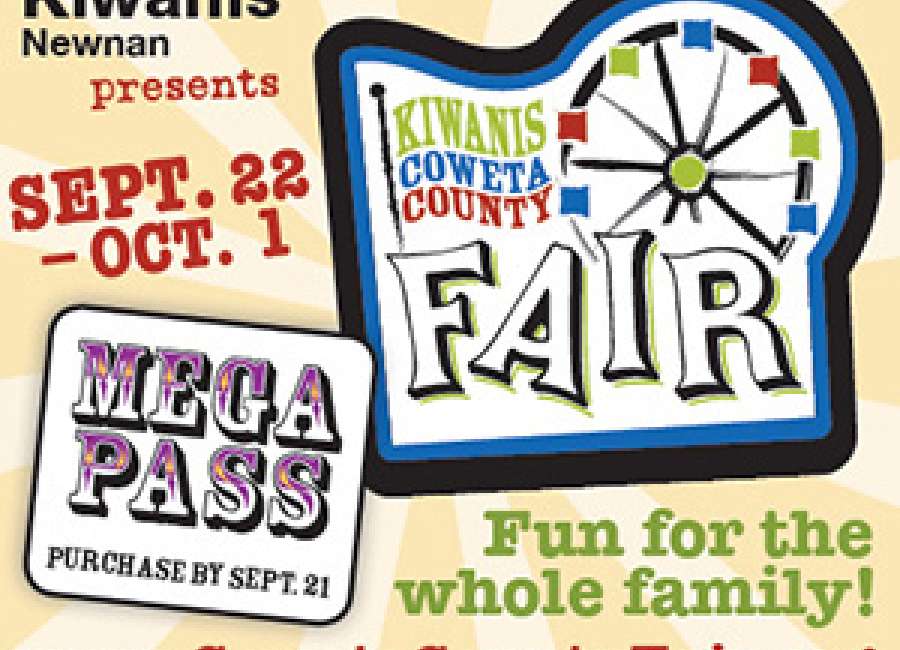 Fall begins Friday and with it comes the Coweta County Fair.

The annual celebration of autumn with rides, prizes, animals and favorite foods – think funnel cakes, candy apples and corn dogs – starts Friday and runs through Oct. 1 at the Coweta County Fairgrounds on Pine Road, south of Newnan. The Newnan Kiwanis Club, sponsor of the fair for years, contracts with the Dixieland Carnival Company for the midway.
Dixieland always partners with another company to provide a larger variety of rides, and this year there is a new partner – and several new rides rising from the fairground soil.
The fair also offers contests that area citizens can enter, including the Family Scarecrow Contest, the Lumberjack/Lumberjill competition and the Cattlemen's Steak Cook-off.
Birthday cake decorating contests for children and adults are planned, along with a gingerbread house decorating contest.
There also will be a scavenger hunt for all ages.
Saturday is Family Fun Day, with many events scheduled.
A highlight of the fair each year is exhibits with entries from Coweta residents. Art, photography, agriculture, baked goods, horticulture, handicrafts and preserved food exhibits are on display.
Fairgoers often wander the barns looking at exotic fowl and farm animals. Livestock shows and entertainment are scheduled.
Fair hours will be Monday-Thursday from 5-11 p.m.; Fridays, 5 p.m.-midnight; Saturday, noon-midnight; and Sundays, 2-10 p.m. Gate admission will be $5, and ride armbands will be $25.
A special newspaper section about the fair was published earlier this month in The Newnan Times-Herald. The section is available online and will remain online through Oct. 1.
The address is: https://issuu.com/times-herald/docs/2017kiwanisfairtab