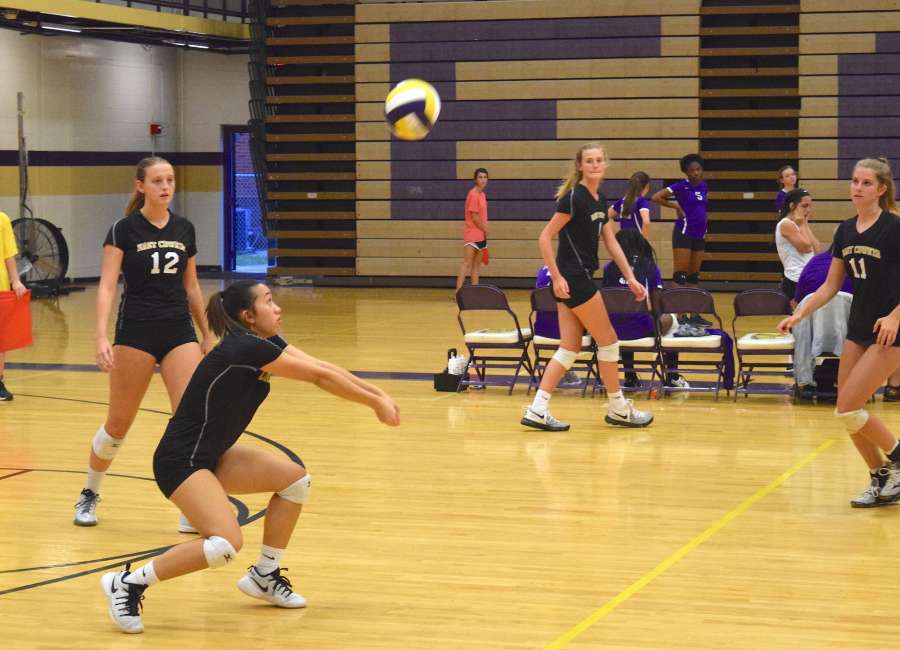 The East Coweta Lady Indians volleyball team made quick work of the Pebblebrook Lady Falcons Tuesday evening, defeating them 3-0 in Area 2-AAAAAAA action at ECHS.
The Lady Indians won 25-13, 25-10 and 25-10 to put them at 9-4 overall and 3-0 in area play, but it also was win No. 659 for Lady Indians head coach Paul Collins, who is now third in the state in career volleyball victories. He only trails former Marist volleyball coach Sergio Stadler (855 career wins) and former Westminster volleyball coach Marcia Ward (844), both of whom are retired.
"It just shows if you hang around long enough, you can accumulate wins. Sooner or later, someone will come along and break my wins total," Collins said with a smile. "I'm glad we stopped giving Pebblebrook points and remained focused. Everybody also got to play tonight, so that was a plus."
The Lady Falcons were no match for EC Tuesday. In game one, the Lady Indians bolted to a 4-0 lead and junior hitter Becca Sieckmann had several kill shots to keep EC in front. But scrappy Pebblebrook fought back to tie the game at 10-all. A kill by junior Nahla Muhammad put EC up 12-10 and that led to a run from the home team. Kills by senior Paeton Robinson and Sieckmann fueled the 13-3 EC run, and they won 25-13.
Early mistakes by the Lady Indians put them in a small hole in game two, but they rallied to take a 10-5 lead and didn't look back. EC senior Alani Wight made great passes, and her senior teammate Allie Edwards had a few kill shots to help EC win 25-10.
Pebblebrook again took an early lead in game 3 thanks to the EC errors, but the Lady Indians got back on track and took a 12-10 lead, thanks to a block for point by Robinson and sophomore Maddie Stewart.
Both players had another block for a point seconds later, and the Lady Falcons wouldn't score again. Emily Jimerson had a kill and minutes later, Muhammad ended Pebblebrook's night with a resounding kill shot to win the game and the match, 25-10.
"In this match, we wanted to work on our new sets. We had to stop making errors, settle down and play our game," said Wight. "Once we did that, we came out on top."
"We had to remain upbeat and positive in a match like this, and that's my specialty. I'm always smiling and cracking jokes," said Robinson. "We want to win, but we also want to have fun."
East Coweta travels to Whitewater High on Thursday for a tri-match between Veterans and Whitewater, starting at 6:15 p.m.