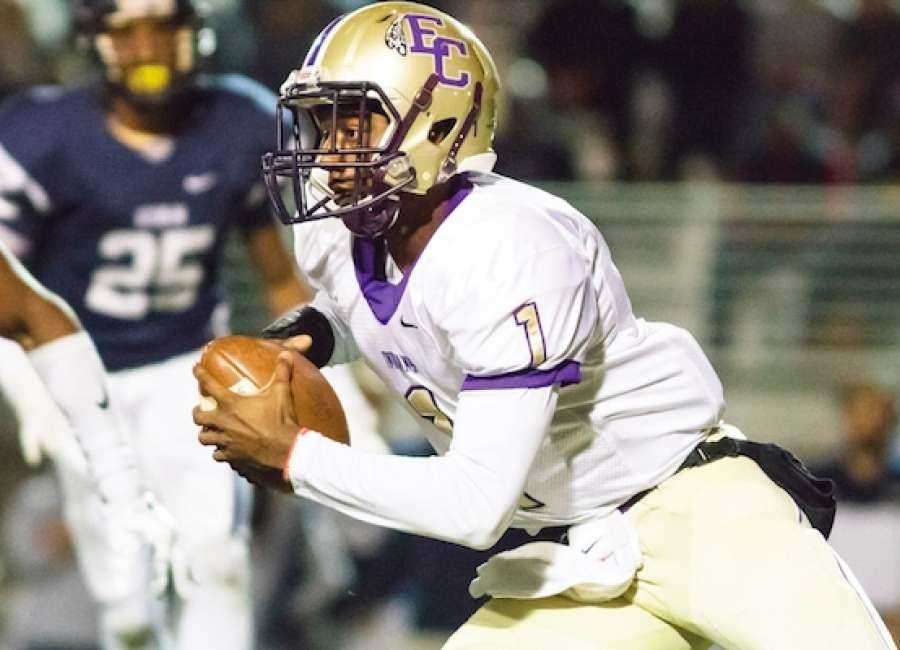 East Coweta head football coach John Small earned his first victory with the Indians Friday night as his team knocked off visiting Maynard Jackson 42-27.
"It was a great win for our kids," he said. "They have been working hard and it's great to see them get rewarded."
The victory comes two weeks after the Indians (1-1) fell in the season opener to Lovejoy, and one week after they had an open date.
Gerald Green was the offensive catalyst for the Indians, scoring three times. Green finished with 89 yards on 14 carries and a rushing touchdown.
Green also gave a spark to the Indians' special teams, scoring on two kick returns.
East Coweta senior quarterback Christian Reid showed he could move the football through the air and on the ground.
Reid completed 10 of 19 passes for 116 yards, a touchdown and two interceptions. He also rushed for 111 yards and a touchdown.
The victory came on a night when the school raised money and awareness of childhood cancers.
"It was really great to get a win on such a special occasion," Small said. "What these parents and these kids have gone through is unbelievable."
Despite rolling up 363 yards of total offense, Maynard Jackson (1-1) was its own worst enemy, turning the ball over four times.
Jalen Whisby and Dantarius Chun each had an interception for the Indians. The Indians' defense also forced two fumbles.
East Coweta made it look easy early, putting together scoring drives on its first two series.
The Indians marched 87 yards in eight plays on the first series of the game.
Reid put an exclamation point on the first drive of the game with a 24-yard touchdown run.
After an 11-yard punt stopped Maynard Jackson's first series of the game, East Coweta need just one play to find the end zone for their second score.
This time Reid went to the air, finding Ramal Holston on a 21-yard scoring strike.
Maynard Jackson used two quarterbacks Friday night with Roderick Hammond and Charles Daniels each taking snaps and throwing a touchdown.
Hammond helped cut the East Coweta lead to 14-7 early in the second quarter when he hit Marquis Colzie on a 14-yard touchdown pass.
It didn't take long for the Indians to strike right back as Green quickly scored on the first of his two kick returns for a 21-7 lead.
Maynard Jackson trimmed the East Coweta lead to 21-14 after Anthony Ballard intercepted Reid's pass and returned 34 yards for a touchdown.
East Coweta struck one more time in the first half when  Reid connected with Juan Calipolitti on a 7-yard scoring strike.
Calipolitti and Holston each had four catches in the Indians' victory.
The Indians defense rose to the occasion right before the end of the first half, stopping the Jaguars' on fourth down after they marched inside the 10-yard line with under a minute to go.
Green added to the Indians' side of the scoreboard with the squad's final two scores of the game in the second half.
His 19-yard touchdown with a little more than a minute to go was the only score by either team in the third quarter and gave the Indians a 34-14 lead.
Maynard Jackson cut the lead to 34-21 when Charles Daniels completed a 28-yard pass to Colzie.
Green followed it up with his second kick return for a touchdown for the Indians to give East Coweta a 42-21 lead.
Maynard Jackson's Daniels added the final score of the game for either team on a 12-yard run.
East Coweta's Peter Walker was perfect on all six extra points.
The Indians return home next week in a non-region game against LaGrange.
"These early non-region games are good for us because they don't count toward the playoffs and we can use them to play a lot of different people. It gives us a chance to get better," Small said.