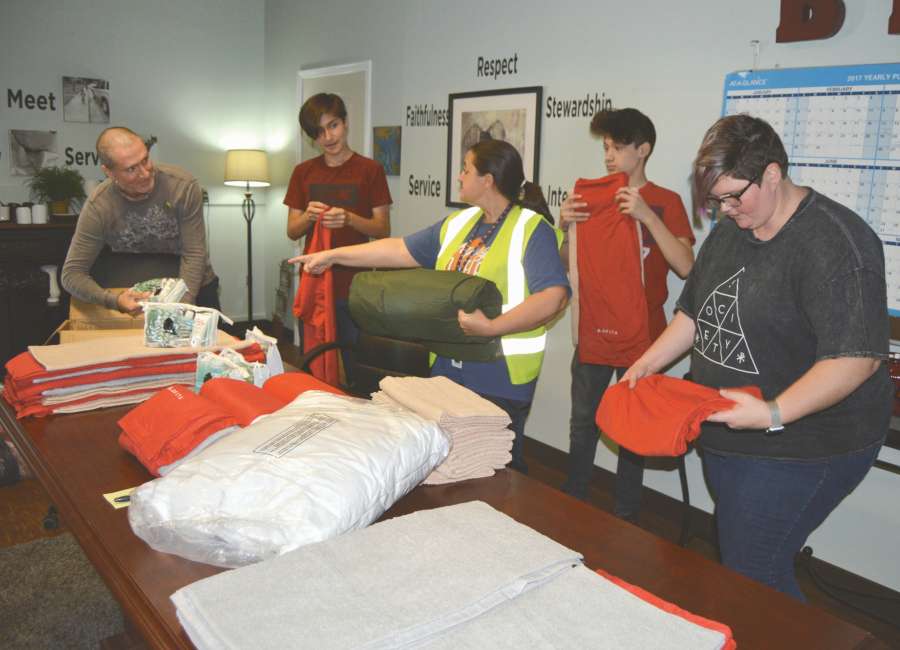 Hurricane Irma has been keeping forecasters guessing as the storm continues to move farther west – meaning greater impacts are expected in Coweta.
As of 1 p.m. Saturday, the center of the storm was expected to pass over Columbus and continue to move west, with Coweta in the more dangerous northeastern quadrant.
Though confidence in the storm's path was increasing, "there is still a possibility that the track could shift further west," said Meteorologist Sid King with the National Weather Service office in Peachtree City.
What is sure is that there will be tropical storm impacts in the area, he said.
As of 1 p.m. Saturday, the forecast was calling for sustained winds of 40 miles per hour and possibly 45 mph, with gusts up to 55 or 60 mph and 3-5 inches of rain, with the possibility of heavier rain in some areas. 
There is a slight tornado risk based on the current path, according to King.
The storm is expected to approach Monday morning, though "that is difficult to nail down because there are rainbands that could be coming ahead of the storm," King said. "Some of those rain bands could arrive as early as late Sunday night and early Monday morning."
The worst part of the storm will arrive overnight Monday into Tuesday.
The storm will start to move out late Tuesday, and "by early Wednesday, before sunrise, it should return to normal, with the exception of some trailing rain and maybe a gust or two," King said.
No matter what happens, Coweta will be ready. Coweta and Newnan public safety officials, as well as representatives from local utilities, the school system and hospitals, have been meeting for briefings daily on the storm, according to Coweta Emergency Management Director Jay Jones.
Coweta will open the "emergency operations center" Monday at 8 a.m. Representatives from most agencies around the county, including local utilities, will man the operations center for the duration of the storm event, to improve the speed of interagency communication and coordination.
Coweta has an interactive map that shows road closures, accidents, and the like. You can view the map at http://arcg.is/2vMr6Q1
By Friday, Piedmont Newnan was housing two medical evacuees who had been transferred from hospitals closer to the coast, and approximately 17 patients were being transferred to Newnan Health and Rehabilitation (formerly Beaulieu) on East Broad Street.
"We are zeroing in on our preparations," Jones said Saturday. There is plenty of fuel in stock for public-safety vehicles, and the power companies are ready. 
Coweta Fayette EMC recently pulled back all of its crews from where they had been dispatched to help with the recovery from Hurricane Harvey in Texas, according to Jones.
Bridging the Gap in downtown Newnan was setting up a shelter for 30 people. The shelter is for anyone displaced by the storm – and that could mean Cowetans if homes are damaged by high winds or falling trees. 
Those wishing to use the shelter must first visit the Newnan Police Department. At least one person in the party must have a photo ID and will be checked for active warrants. 
For more information, contact the NPD at 770-254-2355 or visit the station at 1 Joseph Hannah Blvd., off Jefferson Street/Bullsboro Drive across from Oak Hill Cemetery.
"We're preparing. We can't do anything to stop it, but we are prepared," Jones said.
Cowetans were preparing, too, and there were shortages of gasoline and bottled water reported. Some stores were reportedly wiped out of bottled water, and several gas stations around Coweta were, at times, out of regular unleaded.
Stations typically have premium fuel when the unleaded is out, but that can be pricey – 50 cents or more per gallon than regular. 
Because mid-grade fuel is a mix of regular and premium, stores that are out of regular are out of mid-grade.
Colon Hemrick of Hemrick's Super Thrift in Newnan said he was supposed to get a fuel delivery Friday morning, but it didn't arrive until 4 a.m. Saturday. The store was out of regular from Friday evening until the delivery, though premium never ran out.
His supplier was adding an $85 logistics fee to every load because of the current issues.
In an email sent Friday afternoon, Hemrick's supplier said that supply is tight and many fuel haulers were sending trucks to Florida to help deliver fuel where it was most needed.
There were also reports that suppliers were prioritizing stations near interstate exits.
Hemrick said late Saturday morning that the store was averaging 400 gallons an hour in fuel sales. 
At that rate, the stock of regular he had Saturday morning would last 17 hours. Hemrick said he was told he wouldn't get another delivery until Monday, at the earliest.
The store was busy Saturday just before noon, and Hemrick said he's selling a larger-than-normal amount of ethanol-free gas, likely for generators.
He's sure the store will run out of regular before Monday's delivery. How soon that happens will depend on how much people continue to panic and top off their tanks.
There were reports Saturday morning that the Flash Foods at Thomas Crossroads was out of gas, and that QuikTrip only had regular unleaded. Frazier's at Madras was out of regular Friday evening.
****
Sarah Fay Campbell - sarah@newnan.com