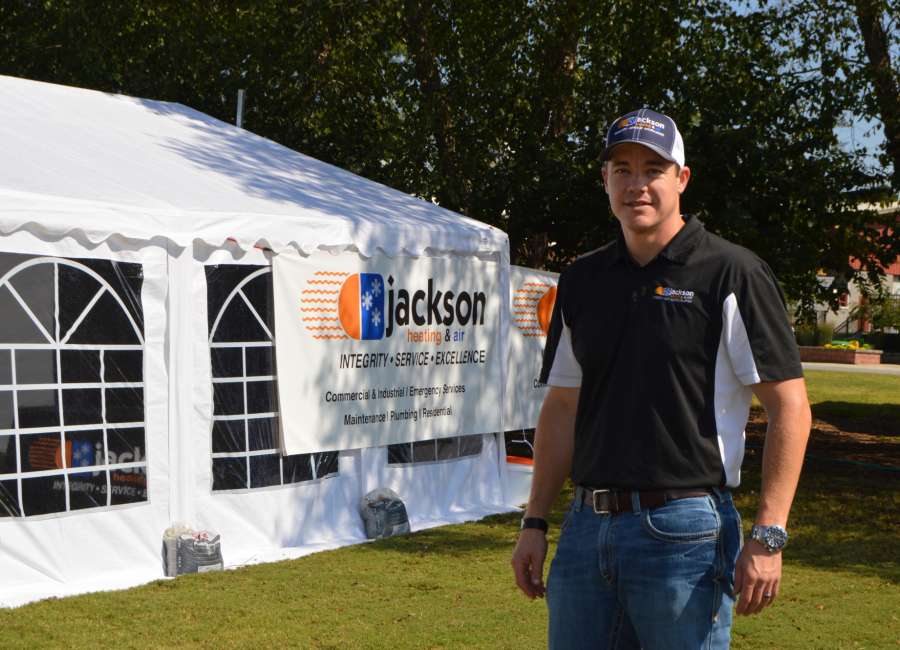 Dale Jackson has not taken his family to the Kiwanis Coweta County Fair for several years.

His son Colin, 9, has a severe form of autism and can quickly become overstimulated by the lights, sounds, smells and crowds that come with big events, such as the fair.
But the family's plans may include a trip to the fairgrounds this year.
Jackson and his business, Jackson Heating and Air, placed a huge tent near the entrance of the fair for families with special needs children like Colin. The air-conditioned tent provides parents a place to go should their child become overstimulated, sick or upset.
"I know so many parents who don't participate in community events, and they're missing out on life," Jackson explained. "Most people don't understand how much planning is involved for a special needs family to attend an event – even if it's just going to dinner at a restaurant. You always need to have a 'Plan B', which includes transporting special equipment, like wheelchairs, to bringing extra changes of clothes."
Jackson's idea took on a life of its own during the summer when he set up a tent during a Fourth of July fireworks show.  He thought of ways to make the space "friendly" to special needs children. 

The tent is handicap accessible and insulated from the rain, extreme temperatures and outside noise. Jackson partitioned off a small corner inside the tent with curtains as a "privacy room." The area is for special needs children who may need to change their clothing.
Chairs are set up for adults and kids to relax and rejuvenate before heading back out to the fair. The tent also has large windows so children can watch the events outside, without hearing the loud noises or becoming disoriented in crowds.
"This is such a great thing," wrote Candi Davis. "My son is special needs … when he was younger and smaller and needed changing at an event, he was small enough for me to change him in the back seat of the car.
"Those days are long gone," she continued. "He is now 13 years old and roughly 6 feet tall, 200 pounds and in a wheelchair. With this, we will be able to go to … other wonderful events without worrying that he might need to be changed."
The Jackson Heating and Air Special Needs Community tent had become so popular, Dale purchased two more with his own money.
The vice president and owner of Jackson Heating and Air provides the tents at no cost.
Currently, the tents are primarily used during high school and college football games plus special community events, such as the Walk to End Alzheimer's, in Troup County.
"The one thing that has meant a lot to me is to know we've helped other people join community events they wouldn't have otherwise, like the Alzheimer's walk," Jackson said. "That satisfies me that we're helping people serve their community because we're here." 
The fair will be the first time the special needs tent is used in Coweta County. It is always staffed by Jackson Heating and Air employees and volunteers.
"We've had a business here (in Coweta) dating back to the 1980s. We consider the county a part of our community," Jackson said.
The special needs tent is free and open to everyone.
****
Melanie Ruberti: melanie@newnan.com