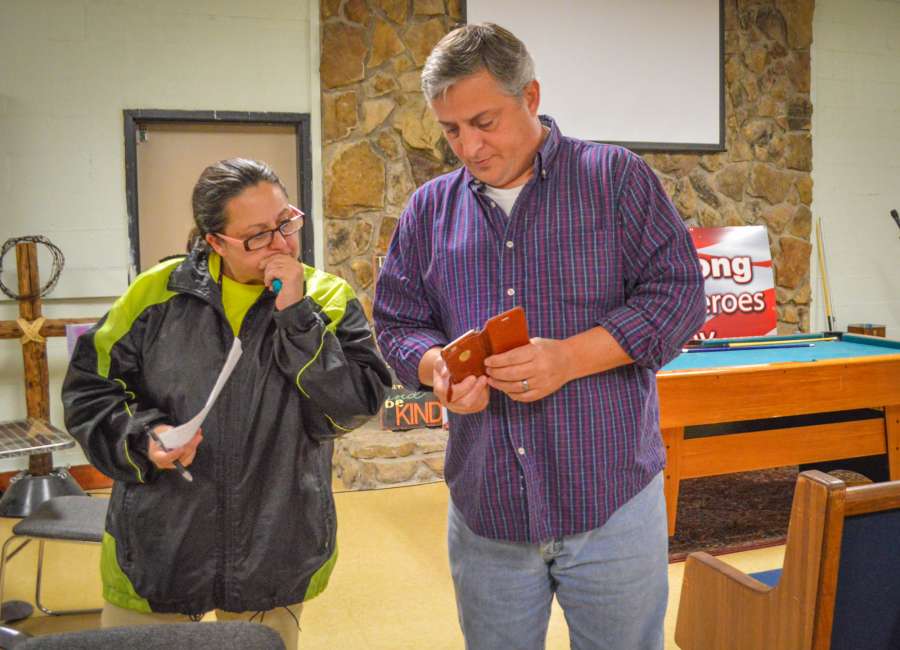 There weren't many evacuees at Bridging The Gap's shelter in Newnan, but it was a great opportunity for a trial run for future events.
The temporary shelter from the hurricane, which had room for up to 30 people, was Bridging the Gap's first. It wasn't only for people evacuating from the storm, but also for any Cowetans who may have been displaced by storm damage. Bridging the Gap also welcomed its usual homeless clients, so they could get out of the weather.
Glenn Queener and his wife and daughter came up from Brunswick on Sunday. They moved to Brunswick from Coweta in July. Queener had worked for a time at Bridging the Gap, so it was no surprise they ended up in Coweta when Irma attacked the Georgia coast.
When the Queeners head home, likely Thursday, they won't leave empty-handed. Instead, Glenn Queener will be driving a U-Haul truck loaded with supplies for his neighbors on the Georgia coast. Alison and Kevin Wallace of Bridging the Gap will be taking a load of supplies to Tybee Island later this week, once they find out what is needed.
Bridging the Gap opens up for locals in the winter when the weather drops below a certain temperature, but this was the first time the organization has opened a storm shelter.
"Even if this is just a trial for us, we know that we've got a team that can knock this out in about two hours," said Executive Director Alison Wallace on Monday.
BTG wasn't set up like a shelter you might see on television, with rows and rows of cots in an open room. Instead, there are beds – real beds – with cubicles to offer some privacy. Beds were set up in three different areas of the Bridging the Gap buildings, and security personnel were on standby in case they were needed.
The cubicles and the beds arrived out of the blue a few months ago.
Bridging the Gap got a call from the Georgia State Patrol cadet hall. "They said, 'We're getting all brand-new cubicles. Would you like cubicles?' I was like yeah, sure," Wallace said.
Her husband wasn't so sure. "He was like – what are you going to do with them?" she said.
She wasn't sure, then. But, "They couldn't have come at a better time."
The cadet hall was also getting all new beds, and asked if Bridging the Gap would like the old ones. The organization doesn't take second-hand mattresses, but these were encased in plastic and able to be sterilized.
Walmart donated sheets and pillowcases, and, "We'd already been donated thousands and thousands of Delta blankets and pillows," Wallace said. Some of those blankets will be heading to Texas for those recovering from Hurricane Harvey. "We've got eight more huge pallets that are ready to go," Wallace said.
"We are over-abundantly blessed with everything that could possibly be needed," Wallace said.
Cowetan Priscilla Western spent a few hours at Bridging the Gap Monday during the height of the storm. She lives in a trailer home surrounded by several tall trees, and decided staying at home during high winds wasn't the best idea. Later on Monday, some folks who live on the top floor of an apartment complex came by for a few hours, and a man who had just been released from jail was brought by for clothes, shoes, a shower and a meal.
The Queeners had planned to shelter in Macon but as the storm continued to track west, they decided to head back to Newnan. Glenn Queener called Alison to ask if she had some room for them to stay. "She said absolutely. She said, 'By the way, we're opening a shelter. Do you want to help?'" he said.
His in-laws and his oldest daughter decided to stay in Brunswick, and they were keeping up with things on Facebook.
Queener's sister and her family were caught up in Hurricane Harvey in Texas and had to be rescued by boat. That was a big part in his decision to evaluate. "I felt like my family in Texas had been through enough stress and they didn't need to worry about us," he said.
He's not sure why he contacted Wallace about shelter from the storm – but now that he's taking a truck full of supplies down to the storm-struck areas, he has an idea that might just have been why.
Though his family only lived in Coweta for a short while, "One of the things I felt strongly about Coweta is that it could become the seat of compassion for the state of Georgia," he said.
****
Sarah Fay Campbell - sarah@newnan.com