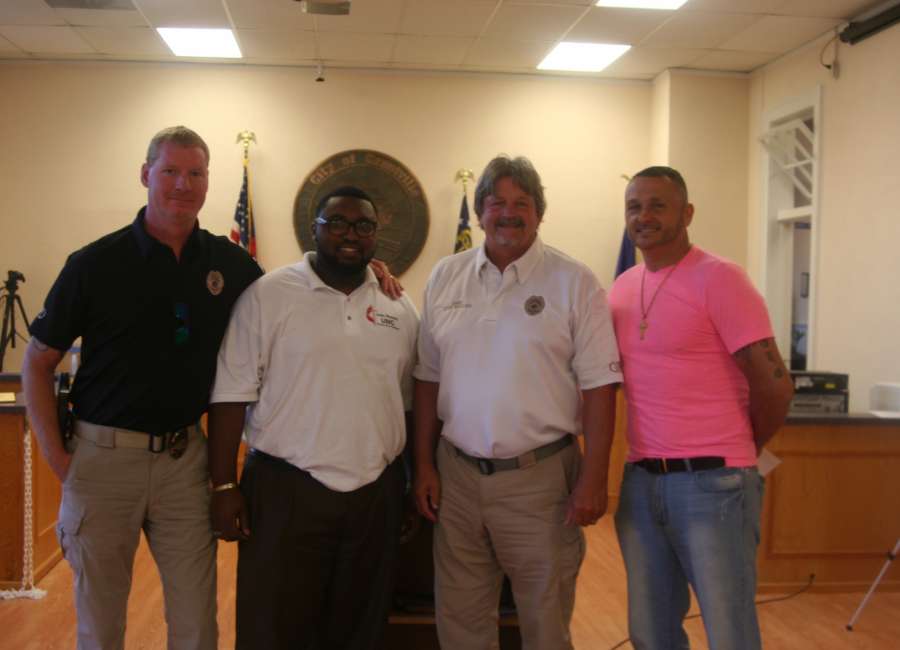 Pastors T.J. Boyd and Brandon D. Fletcher will serve as volunteer chaplains for the Grantville Police Department.
The appointment unanimously passed at the city council meeting on Monday. The pastors will not receive any compensation for their service.
According to dictionary.com, a chaplain is a member of the clergy attached to a private chapel, institution, ship, branch of the armed forces, etc.
Fletcher serves as the pastor of John Wesley United Methodist Church in Grantville and is one of the youngest pastors in the LaGrange District of the United Methodist Church. Boyd is the pastor of Change Church in Grantville.
"I want to thank the both of you for stepping up and being willing to help the citizens," Mayor Doug Jewell said. "I appreciate the work you do every day."
Police Chief Steve Whitlock said it was honor to have both of the pastors as chaplains. Whitlock said the city had recently experienced some unfortunate deaths, which gave him the idea of needing a department chaplain.
In a letter to City Manager Al Grieshaber, Whitlock said police chaplains serve in a wide variety of ways and may be called upon to assist in death notifications and to assist and support victims in times of crisis, respond to suicide incidents and serve as part of a crisis response team.
"I've know T.J. for many years," Whitlock said. "I appreciate everything they do in the community, and everyone speaks highly of them. I'm glad to have them to assist with us with our needs."
Fletcher said, "It's a honor and and a pleasure to serve in my community. It's a pleasure and a honor. They could have chosen anyone."
Boyd said, "It's a great opportunity and a blessing to give back to a community I was raised in and currently live in."
In other news, the city:
Canceled the regular scheduled meeting for Monday, Nov. 27 because of the Thanksgiving holiday.

Canceled the regular scheduled meeting for Monday, Dec. 25 for the Christmas holiday.

Approved the ordinance to amend the fiscal year 2016-2017 budget.