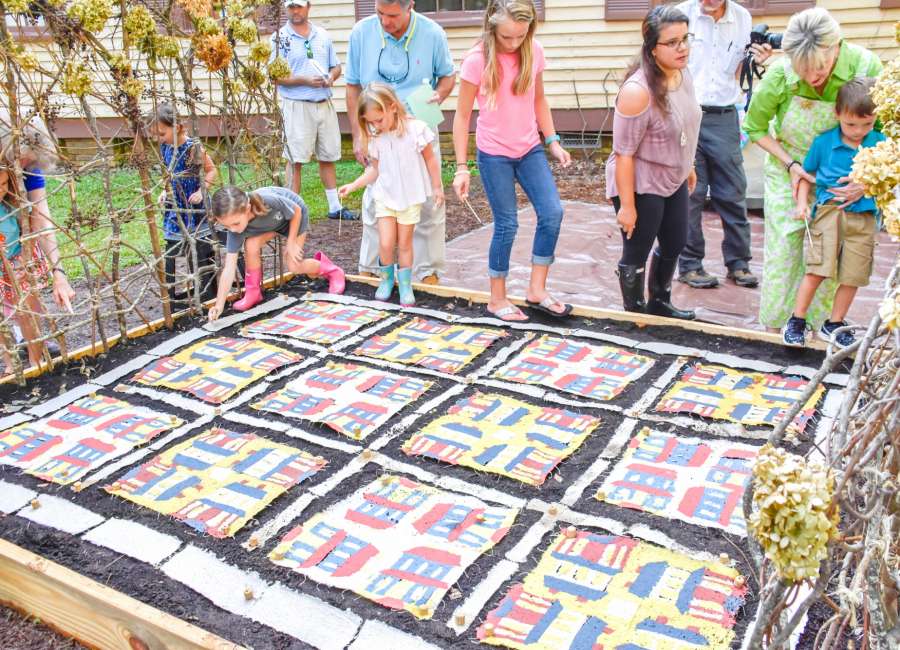 Some art is meant to last for a century or so – a quilt passed down in a family – while other art, like the pyramids of Egypt, have stood for millennia.
Along Temple Avenue, next to ChildrenConnect is art that is expected to disappear soon and then re-emerge as something new. Jane Ingram Allen, who recently finished up her stint as the artist-in-residence through the ArtRez program, led local citizens in creating an Eco Quilt.
For a gallery of photos from the event, please check out our SmugMug page here!
Handmade paper was created by local artists under Allen's direction. As the paper was made, seeds were embedded in the pulp.
"It's a really neat, different project," said Robert Hancock, ArtRez chairman.
Allen and her husband, Tim, a photographer, spent about a month in Newnan. Artists spent time in Newnan living at Gray Cottage on Clark Street in downtown Newnan.
The Eco Quilt has now been put in place and dedicated. Passersby can enjoy the plantation-house image on the quilt squares and – as rain comes and goes – watch the quilt disappear and a flower garden emerge from the soil just east of the children's museum that was built in the 1800s as a school for boys.
Dedication ceremonies were held on Thursday afternoon. Hancock noted that Allen, who lives in Santa Rosa, Calif., had not been to Newnan before but learned she had ancestors buried at Oak Hill Cemetery. She chose an antebellum house design for the quilt squares, basing it on a home that is part of her family's history.
"I'm thankful to be completing this big project," Allen said. "It takes a lot of people to do this kind of project."
Allen spoke of the day when the quilt will disappear and the seeds will "make flowers and blooms." Of the bed of soil where children placed the squares at the dedication ceremony, she said, "I hope it will stay here for many years and bring joy to the community."
At the dedication, Newnan Mayor Keith Brady praised the ArtRez program. "They have brought lots of different kinds of artists to Newnan," he said.