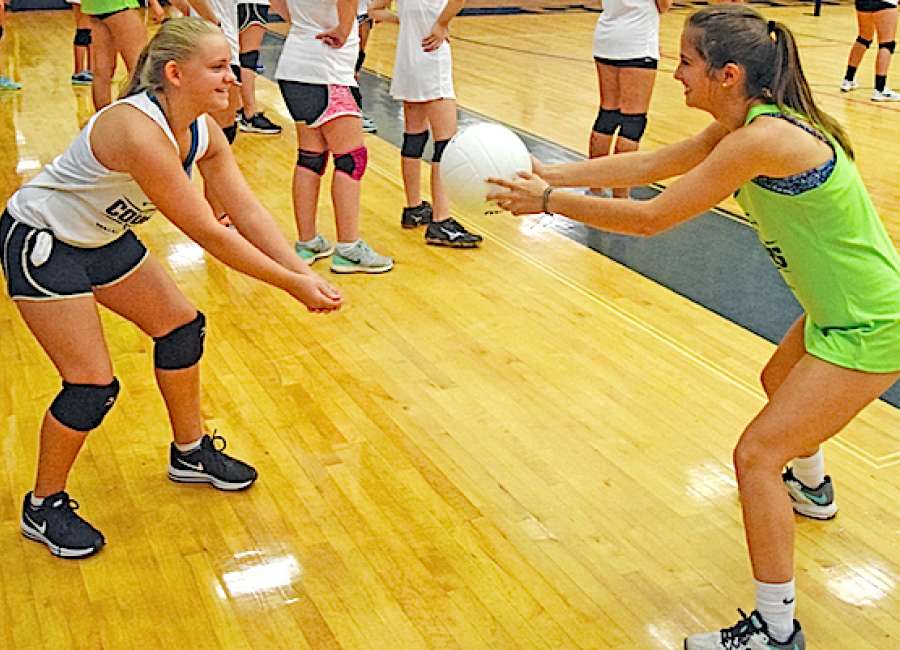 The Newnan High Lady Cougars volleyball team completed their two-day middle school volleyball clinic Wednesday evening, and the 50 girls who attended should be ready for their upcoming volleyball seasons.

"The girls looked very good, and they gave 100 percent on both days. They came in our gym with an open mind, and they were ready to learn," said Newnan head volleyball coach Krista Wilson. "A lot of these girls are also about to attend their team tryouts at their schools. I believe our clinic will be the springboard to them making their middle school volleyball teams."
The middle school girls did their best to emulate several members of the Lady Cougars varsity and junior varsity players who were there teaching and coaching them all evening long. The campers practiced hitting and serving the ball. They played defense, and they even watched the high school girls play a quick simulated game so they'll know what to expect when volleyball season begins.
The campers had truly good teachers in the Lady Cougars, who went 35-6 last season and advanced to the Elite Eight. The 2016 Newnan varsity volleyball team won the Coweta Cup title and the first-ever Region 2-AAAAAAA championship.
"I have to say that these girls were determined out here. There were no bad attitudes, and they all listened to us," said Newnan rising senior volleyball player Anna Marie Campbell. "The one thing I tried to tell each camper was to go all out and not be scared of the volleyball."
The campers were divided into groups, with each group led by at least three Newnan High volleyball players. The Lady Cougars had no problem teaching the campers about the basics of volleyball, from how to open their hands to hit the ball to how to get in a defensive stance. With volleyballs flying through the air over two sets of nets, the Lady Cougars made sure the young campers got into position and performed to the best of their abilities at all times.
"This camp was a lot of fun. I learned how to set, how to hit and I learned the value of teamwork," said Mariah Holt, a rising sixth-grader at Madras Middle School. "I enjoyed talking to the Newnan players, and they really did a good job of teaching us about volleyball."
Holt hadn't played organized volleyball before, and she hopes to transfer what she's learned at the Newnan clinic to make the Madras volleyball team.
"Before this clinic, I couldn't hit the ball well. After two days here, I was hitting the ball over the net and making good passes. I'm pretty happy about that," Holt said.