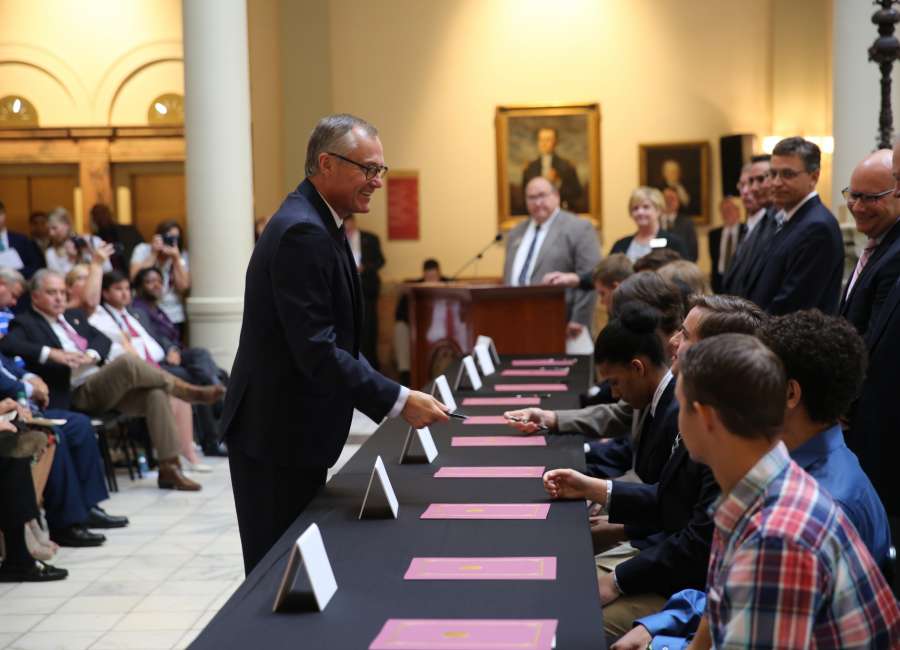 By MADELINE SCHINDLER

madeline@newnan.com
Lt. Governor Casey Cagle hosted the Georgia Consortium for Advanced Technical Training (GA CATT) Program signing ceremony Monday, setting the apprenticeship program in motion for a second year.
This event was held to recognize the importance of workforce development through GA CATT, the first apprenticeship program of its kind for high school students in the United States. GA CATT students begin their apprenticeship with a combination of traditional high school academic classes, college level manufacturing courses, and apprenticeship modules.
Companies pay their apprentices a starting salary of $8 per hour. By the 12th grade, students will spend 80 percent of their day learning at the manufacturing site, earning $12 per hour.
The German model has proven effective in developing high-skill talent, increasing student work ethic and securing a professional career track at no additional cost for students or their families.
Sixteen Georgia manufacturing companies signed their apprenticeship acceptance letter with 21 incoming high school sophomores who are part of the second GA CATT cohort of Industrial Mechanics apprentices. Approximately half of the Georgia manufacturing GA CATT sponsors operate in Coweta County, where the program was inaugurated last year.
Each of Coweta's eight industry sponsors – Grenzebach, E.G.O. North America, Yamaha, Kason, Yokogawa, Winpak, KCMA Corporation and Groov-Pin – will train at least one industrial mechanics apprentice.
The GA CATT apprentices from the Coweta area are: Kyler Gunn, Christopher Proctor, Joe Lanave, Patrick Hildenbrand, McKinley Hutcheson, Jacob Seals, Nick Atkins Trumpour and Jamie Kerr.
"It's hard to believe that this program was only an idea on paper just a few short years ago," said Cagle. "What began with a handful of students last year has now grown to include 27 students across four college and career academies who are taking steps every day towards meaningful and rewarding careers. I want to thank our business partners, college and career academies and the Technical College System of Georgia for their unrivaled commitment to Georgia's workforce development. Together, we are redefining the role of public education through innovative public/private partnerships that better equip our students for the modern, evolving workforce."
Newton County College and Career Academy, Rockdale Career Academy and Griffin Region College and Career Academy joined Coweta County's Central Educational Center in establishing their own GA CATT cohorts.
The apprentices were joined by sponsoring industry partners Bosh, FiberVisions Corporation, General Mill Inc., Haver & Boecker USA, Michelin North America Inc., Nisshinbo Automotive Manufacturing Inc., Verescence, American Woodmark Corporation, Hoshizaki America Inc., Norcom Inc., E.G.O. North America, Kason, Yokogawa Corporation of America, Grenzebach Corporation, KCMA Corporation and Groov-Pin.
Those companies, in partnership with their local technical college, are responsible for the oversight of GA CATT curriculum for the duration of the three-year program.
GA CATT unites the Office of Lt. Governor, local school systems, German American Chamber of Commerce of the Southern U.S. Inc. and the Technical College System of Georgia.
Cagle is currently working with numerous school districts throughout the state that are interested in implementing their own GA CATT partnership in the future.