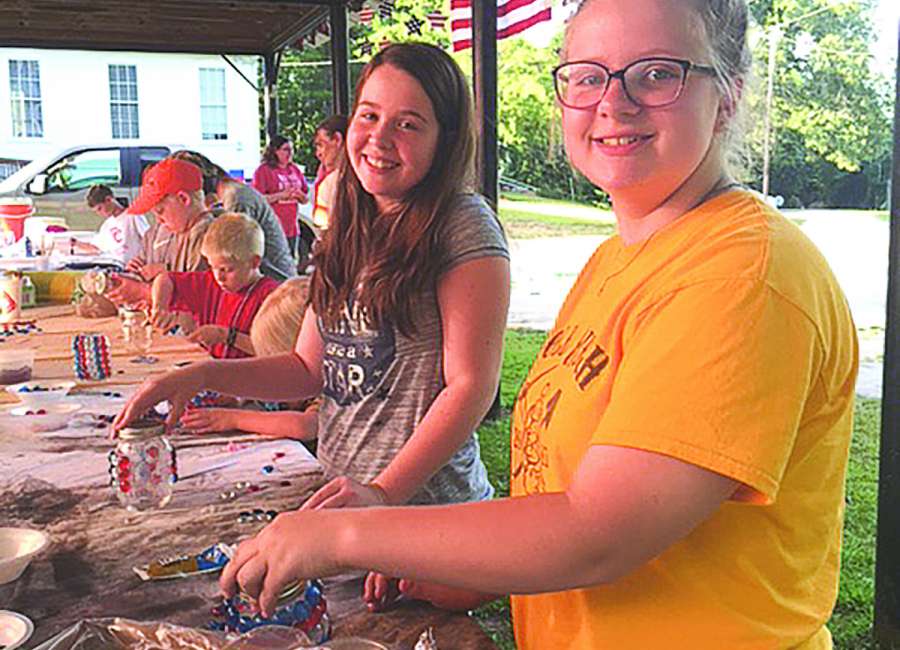 Classes are now underway again at Coweta's schools, and many youngsters sitting in their desks have memories of Vacation Bible School.

VBS has a long history, and Bible School sessions and themes have changed over the years. The space-themed Galactic Starveyors was a popular curriculum this year, but churches also held Bible School with a super hero theme, classes related to the armor of God, a camping focus and a "Created By God" theme.
In the midst of the hot summer, New Heights Baptist Church held an Operation Arctic VBS from June 25-30. A couple of churches used a theme with medieval motifs. 
The Newnan Campus of Griffin First Assembly had more than 40 children enroll in VBS. Pupils were divided into teams with various colors as they moved through the experience.
Resurrection Lutheran's VBS used the Maker Fun Factory curriculum. More than 50 children, youth and adult volunteers participated, and Lisa Saunders, the church's coordinator for children and family ministry, led VBS at Resurrection.
"The kids had a blast learning that they are each a unique blueprint that God created. Through the week they played, created, sang, danced and learned all about our incredible maker, God," Saunders said.
She said volunteers "did a superb job helping decorate, teach, lead the songs and keep the children safe." There was an average of 35 children each day, and the collection raised $140 for families in Peru to receive clean water.
"The kids did an amazing job feeding Penny, our coin-eating robot and raising this money," Saunders said.
Resurrection was not the only church to incorporate an outreach project into VBS. First United Methodist Church of Newnan collected funds for the church's ZOE partnership in Kenya. Also collected were toothbrushes, toothpaste, deodorant, puzzles, travel-sized games, diapers and pull-ups, wipes and new packages of socks and underwear for the United Methodist Children's Home.
St. Paul's Episcopal Church used the Hero Central lesson for four days with 26 children attending. Casie Groover and Rachel Carter welcomed attendees, and crafts were led by Mary Mills, assisted by Grace Groover.
The children made hero masks, shields and backpacks. Crystal McCollough took care of refreshments while Carolyn Groover and Dawn Harrison were storytellers, making Bible accounts come to life.
There was outdoor recreation at St. Paul's led by Mackenzie Teal and her assistant, Lanie Mae Henderson. Group leaders were Wallace Benton, Jane Huskison, Mark Huskison, Linda Tudor, Katie Teal, Austin Foster, Sarah Crow, Katie Payne, Angelina Tudor and Susan Payne.
Helping to keep things running smoothly were Wendy Llosa and Sarah Joyce. St. Paul's was one of several local churches where children shared some of what they had learned at VBS in a subsequent Sunday service.
Katie Faison was the director for Vacation Bible School at Central Baptist Church. Participants painted ceiling tiles for make the rooms at the Coweta County Department of Family and Children Services more cheerful. Charlotte Lunsford led the VBS participants in making pillowcases for children who have to go to DFACS.
Children at Central also prepared 40,176 meals for the Rise Against Hunger project.
Teachers and volunteers at Central were David Abt, Jacie Adcock, Sarah Kate Anderson, Evelyn Claire Bedingfield, Henry Bowen, Kirby Bowen, Jenny Boyce, Bill Boyd, Susan Boyd, Mattie Brady, Chandler Brown, Luci Canales, Jonathan Canseco, Jane Clifford, Susan Conlan, the Connections Class, Christina Corin, Anne Cronic, Ruthie Cuellar, Judy Daymont, Emily Dean, Sarah Dean, Thomas Dean, David Dominguez, Jane Duenckel, Ken Eggleston, Sharon Eggleston, John Faison, Hugh Farmer IV, Gabby Freeman, Stephanie Fregoso, Peyton Gann, Banks Glover, Debbie Glover, Michael Hadden, Lilly Hammond, Addy Hanusiak, Grey Hanusiak, Lili Haynes, Caroline Headley, Carol Hendrix, Allison Herdic, Bette Hickman, Maggie Hickman, Clay Hudson, Robin Huff, Dixie Johnson, Katie Keith, Jamie Keith, Betsy Kellogg, Patty Kellogg, Karen Knight, Shelley Land, Jennifer Lisborg, German Lopez, Charlotte Lunsford, Ida Lee Lunsford, Diana Macotto, Steve Mapel, Bill McGarity, Karen McGarity, Blaire Morgan, Cole Murphy, Taylor Kate Murphy, Jesus Najera, Lee Nall, Susan Nall, Debbie Neely, Luz Otanez, Julio Perez, Ben Robuck, Christofer Sanchez, Cliff Seyler, Karen Seyler, Henry Smith, Laura Smith, Misty Smith, Ashleigh Smitherman, Becca Springfield, Amber Steele, Jenny Trammell, Melvin Vazquez, Barbara Waites, Finn Warner, Ava Kate Welch, Jenny Welch, Barbara Wiley, Kelli Zachry and Zach Zachry.
Keeping the nursery at Central were Naomi Cavender, Hope Corbett and Mimi Smith.