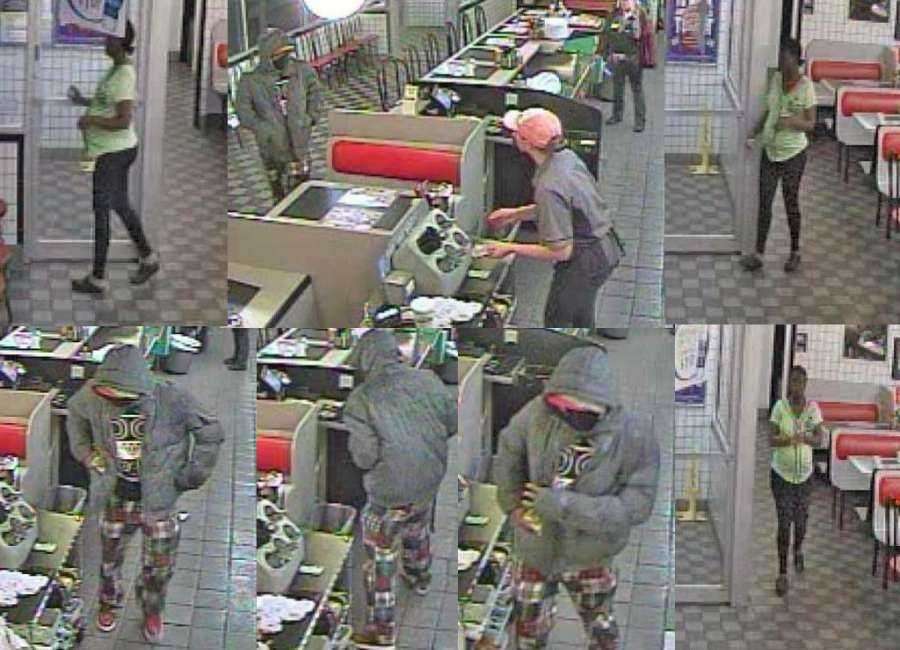 Two very distinctive suspects who allegedly robbed a local Waffle House are now behind bars.
Authorities said Breanna Noble, 27, and Jontavious Darden, 24, are believed to have robbed the restaurant back in June, along with at least 12 others in the metro-Atlanta area.
The duo's unique features led authorities to breaking the case, according to Lt. Jason Fetner with the Coweta County Sheriff's Office. Noble was visibly pregnant at the time, while Darden sported some very colorful pants.
On the evening of June 24, investigators said Noble was seen backing her car into a faraway parking spot – an unusual thing to do for a woman in the third trimester of pregnancy.
After entering the restaurant to use the bathroom, she left and allegedly drove across the street to wait.
Darden then reportedly entered the restaurant and displayed a handgun. He took an unknown amount of money and ran across the street to where Noble was waiting in the car, Fetner said.
After reviewing surveillance footage, investigators say they noticed the pregnancy and colorful pants.
Fetner used the images taken from the robbery and circulated them throughout metro-Atlanta law enforcement agencies.
Meanwhile in DeKalb County, Detective D.D. Evans with the DeKalb County Police Department was working a case of local restaurant robberies. The duo had allegedly robbed up a dozen different establishments including Waffle Houses, Subways and Pizza Huts.
On Aug. 7, a DeKalb County patrolman recognized the car and pulled it over. Inside, the officer encountered Noble and Darden who was reportedly in possession of a handgun and a small amount of cocaine.
During his incarceration, Darden ordered Noble to return to their apartment to destroy evidence, Fetner said. After obtaining a search warrant for their residence, authorities reportedly found substantial evidence linking the couple to the robberies.
Fetner later received word that Evans and the DeKalb County Police Department believed they solved the case in Coweta.
"Both offenders confessed to the robberies in Atlanta and here in Coweta," Fetner said. "They didn't remember many of their robberies, but they recalled this one because, according to them, it was so far out in the sticks and it was raining that morning."
The couple remain in jail and are facing at least 12 charges of armed robbery. Fetner said there may be potential federal charges pending.   
The Waffle House at 4410 Hwy. 154 has earned a reputation as being a hot spot for armed robberies. The restaurant has been robbed three times in the past year.
****
Clay Neely: clay@newnan.com, @clayneely