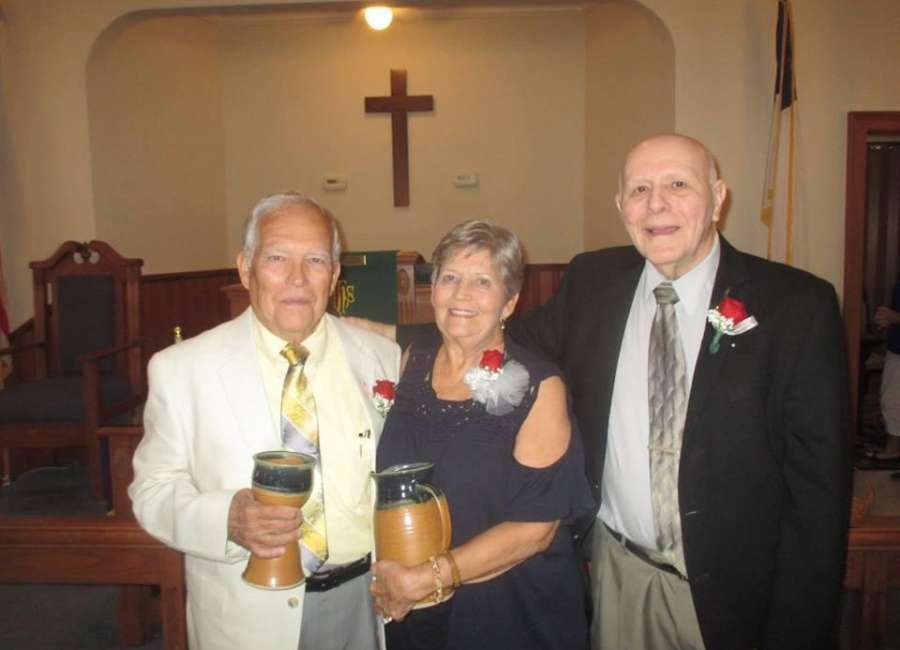 Homecoming is a longtime tradition at Luthersville United Methodist Church, and this year's celebration had an extra element with the decision to honor longtime members Tommy and Sue Adams.

The Adamses have been active members of the church since moving to Luthersville, the hometown of Tom Adams' mother, in 1990. They were recognized during the service by the congregation and also were presented with a pottery communion set that had special meaning to them.
The service included a piano solo by Brianna Dalton, a college student with generations of Luthersville UMC members in her family tree. A large number of former members attended, and members of Allen-Lee Memorial United Methodist Church in Lone Oak, which is on the same charge as Luthersville, also attended the services.
A covered dish meal followed worship.
Church member Teresa Bryan spoke during the July 16 service. She described Tommy and Sue Adams as "two individuals who selflessly dedicate themselves to the service of the Lord."
Tommy Adams grew up East Point and Sue Adams in Ben Hill. They were baptized at First United Methodist in East Point and Mt. Gilead United Methodist in Ben Hill, respectively.
They met on a blind date on New Year's Eve in 1964 and married two years later at Palmetto United Methodist Church.
They joined the Luthersville church after moving to Tommy Adams' family home from College Park in 1990. Last year, they renewed their weddings vows on their 50th wedding anniversary with Michael McFarlin, the pastor at Luthersville UMC, officiating.
Both have served on the church's pastor-parish relations committee, nominating committee and administrative council. Both have helped with the food ministry and served as communion stewards and delegates to the North Georgia Annual Conference.
They have been active with church fundraisers. Tommy Adams has been a member of the United Methodist Men and served as church treasurer and on the finance committee.
Sue Adams, a United Methodist Women member, has been church secretary and secretary to charge conferences.
The two have spent "countless hours" in work at the church, Bryan said. "They've kept lightbulbs changed, candles replaced, taken trash to the road. They have even been known to dig up a bush or two and plant a plant or two," she said.
Rance Sprayberry, who was pastor of Luthersville UMC from 1998-2002, was the homecoming preacher this year. He brought with him a pottery communion service that was given to him by the Adamses. He gave it back to them for use at Luthersville UMC.
"These have been used for hundreds of communion services," Sprayberry said.
"I am retired, and I want to give this back to you … that it would continue to be used," Sprayberry said. Turning to the congregation, Sue Adams said, "Y'all will be seeing these soon."
"These are two special people," Sprayberry said.