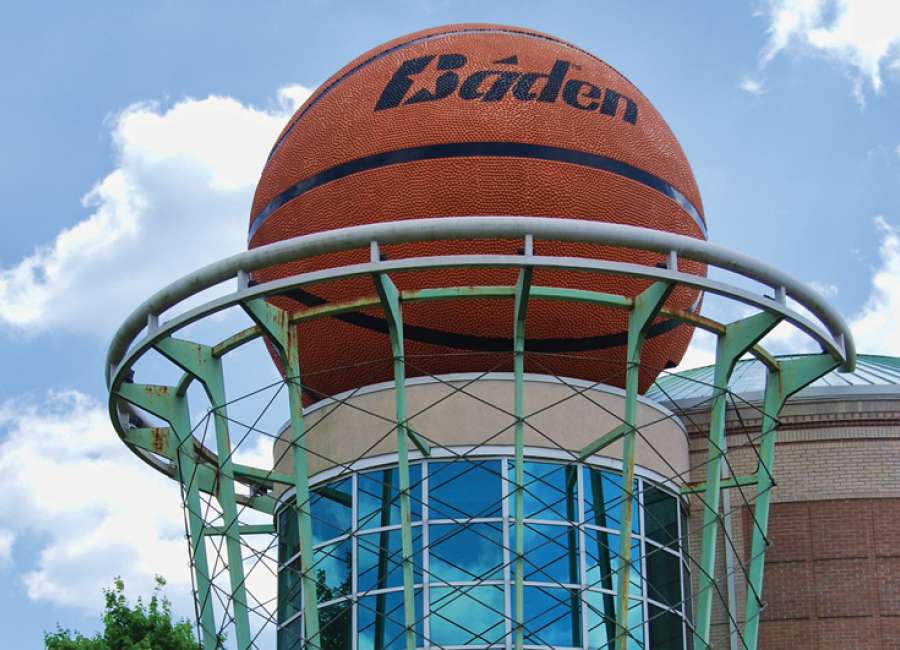 For those who attend the Women's Basketball Hall of Fame in Knoxville, Tenn., they will see Coweta County resident and former basketball player Macile Wilson Taylor among the inductees.
Taylor, 90, is enshrined in the Hall with her teammates on the Sports Arena Blues semi-pro basketball championship team from 1947. She found out about her enshrinement a few years ago thanks to one of her daughters, and she made the trip to Knoxville see it for herself. She was taken on a tour of the facility and was overwhelmed to see herself and her former teammates regarded as pioneers of women's basketball.
"It was amazing to see that, and it almost made me cry. They had a big ol' long wall just for us," said Taylor, who attends East Newnan Baptist Church. "To think, a country girl from Pickens County who used to run around barefoot all day is in a hall of fame. It's really touching."
Taylor said it all started with a rubber ball she got for a Christmas present at age 8 and an old potato basket.
She said she remembers seeing the boys at her elementary school playing basketball on her school's clay courts and thinking how fun that looked. She soon joined the boys at the game and was hooked.
When her parents asked her what she wanted for Christmas, she said a basketball, but she ended up with a rubber ball the size of a grapefruit. When her father saw how much she enjoyed playing with that rubber ball, he cut the bottom out of the old potato basket and nailed it to a tree.
And just like that, a Pickens County basketball star was born.
"I loved playing basketball, and I had no problem playing with the boys," said Taylor. "My school had a girls basketball team when I was in the sixth grade, and I was pretty rough on the other girls. I couldn't help being rough because of all the games against the boys."
Taylor said she was so good at basketball that by the seventh grade, her coach marveled at her shooting ability and told her she should try out for Pickens County High's girls team. Her seventh-grade coach took her to the high school for tryouts, and she made the team, averaging 15 points per game as a forward.
"The high school coach, Mr. Carroll, took me home every day since he lived near our home," she said. "High school basketball became so much fun."
After Taylor graduated high school in 1944, she moved to Chattanooga, Tenn. and worked as an Army switchboard operator. Basketball was the last thing on her mind — she concentrated on making a living.
A couple of letters from coach Carroll eventually changed her mind in 1947. He told her about the Sports Arena Blues, a women's basketball team in Atlanta that traveled around the country playing good teams. He said he knew she could make the team and wanted her to try out for it.
"At first I didn't want to do it. I was working and I wanted to keep working," Taylor said. "But in his last letter, he sent me $50 bus fare for the trip to Atlanta. I decided then to go try out for the team."
Before making the trip, she took care of her employment situation, requesting and receiving a transfer to Southern Bell Telephone Company in Atlanta.
"We had to have jobs back then. It wasn't like the team was going to give us a huge salary," Taylor said. "We didn't get paid like the players of today."
So after three years away from basketball, Taylor made the team and traveled around the country with the Sports Arena Blues. The team name was a combination of the team's gym, The Sports Arena, and the blue uniform color.
She said the team management would help the ladies catch up on bills and things like that, but there wasn't a huge payday each week. But Taylor said she and her teammates enjoyed the game and had
a great time, even though they had to travel by airplane, which was unheard of at the time.
"We traveled on a cargo plane for the games, and that was thrilling and a bit scary. We all had to sit around the wall of the plane," she said. "It wasn't like today's airplanes."
Taylor and her teammates even got the chance to play a team in Mexico City on television. They won a lot of games in 1947, dominating the semi-pro league.
"The rules were different back then. Centers could stand in the paint for more than three seconds, and our center was good," Taylor said. "She averaged about 30 points per game; no one could guard her. I could play defense and steal the ball as a roving guard, but I wasn't the only good player. We had an 11-time All-American and several other talented girls on that team."
They were so good that they won the 1947 National Tournament championship in St. Joseph, Mo. pretty handily.
"We were all so excited to win a championship," Taylor said. "That was so much fun."
Taylor then got married to the late Herman Lee Taylor and played on The Tomboys and a few other basketball teams. She said she had to keep her basketball career a secret from Herman's mother.
"His mother was very religious, and she didn't believe women should wear shorts and pants," Taylor said. "She would've had a fit if she ever saw me in my uniform."
So with a supportive and secret-keeping husband, Taylor kept playing basketball. But that wasn't the only sport she played — she also starred on various Southern Bell teams, like the company bowling and softball teams.
"I also played some tennis, but I wasn't into that sport as much," said Taylor, who has two daughters, Pam and Pat, who didn't share her love of basketball.
Taylor said she recently had a reunion with the four other living members of the Sports Arena Blues and said she had a great time. She also had a great time talking about her granddaughter Andrea, who did get the basketball gene and got a full basketball scholarship to Augusta University.
Andrea actually played an NCAA Tournament game in St. Joseph, where her grandmother won her championship.
"I was excited when I heard that she was playing in St. Joseph," she said.
Taylor is also excellent at cooking and started a catering business years ago. She provided a lot of food for church events.
"Ms. Macile is a fine cook, and she was great at basketball. It's an honor to have her as one of my church members," said East Newnan Baptist Church pastor Frank Powers. "We definitely enjoyed her cooking at church."